Pau Gasol Speaks on His Rehab and Returning to the Trail Blazers in a New Role
Pau Gasol was once one of the most well-respected big men in the game. Over a career that spanned across 20 seasons, Gasol played in 1,226 games and averaged 17 points, 9.2 rebounds, and 3.2 assists per game. The 39-year-old was hoping to extend his career with the Portland Trail Blazers this season, but a nagging left foot injury has forced Gasol out of action.
The Trail Blazers waived Pau Gasol on November 20. But while waiving a player usually means that the team is cutting ties with the player, Gasol announced at the Portland Trail Blazers are working to keep him around, potentially in a new role.
Pau Gasol talks about his rehab and relationship with the Trail Blazers
Pau Gasol took to Twitter on Wednesday to explain his situation in Portland. He posted one video in English and one video in Spanish to go over his injury and his future in the game of basketball.
"As of today, I will no longer be a member of the Portland Trail Blazers players roster," the veteran said in the video. "The injury that I've been dealing with, for which I underwent surgery last May, can take anywhere from six to 12 months to heal completely. I underwent surgery in hopes that it would expedite my return, but unfortunately, in the last few days we have assessed that my recovery will take longer than we originally hoped for."
Gasol went on to explain that his contract had allowed for this type of waiver in the event that he couldn't play. This would give the Trail Blazers the freedom to make a move for a roster player that was able to contribute, and would allow Gasol to focus on his rehab without feeling pressure to return and not let his team down.
"In the meantime, and while I continue to recover in Portland, I am excited to together with the Trail Blazers organization, explore how I can continue to contribute to the team from a different role, not yet defined," Gasol continued. "I'm very grateful and flattered by their desire to find ways to continue to work together, and I look forward to a good year with this great organization."
Damian Lillard says Gasol has already had an impact on the team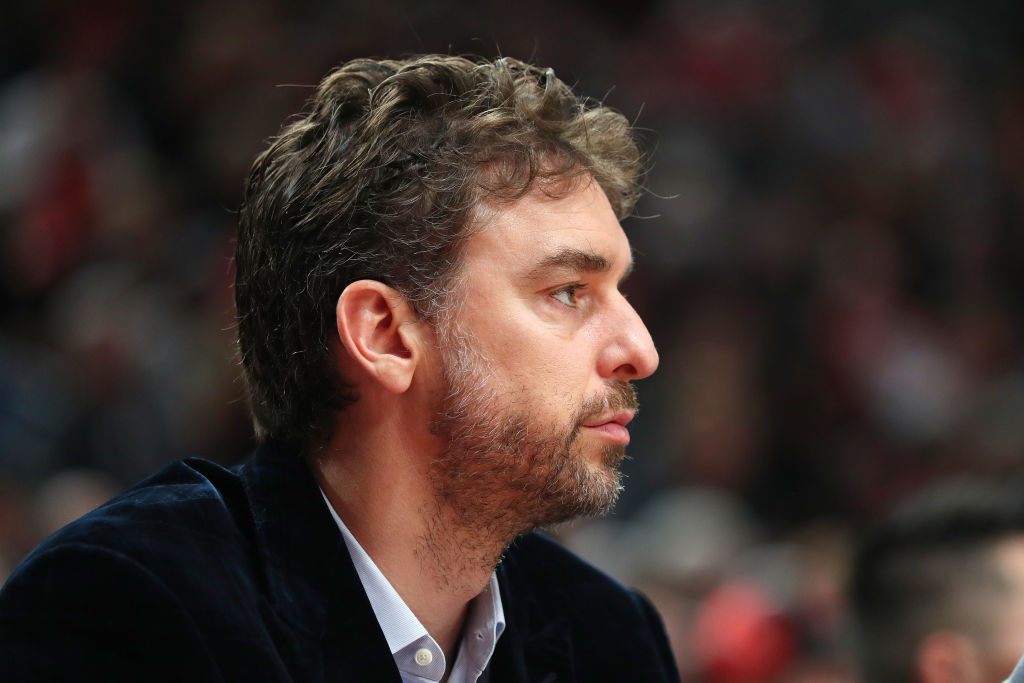 Trail Blazers Head Coach Terry Stotts and star player Damian Lillard are both disappointed that Gasol's injury will prevent him from contributing on the court this season. They were hoping he'd be able to return, both for his sake and for the team's.
Lillard told the Oregon Live that Gasol has already had a positive impact on the team as a leader. He talked about how he organized a team dinner on Portland's first road trip and has been giving advice and pointers during practices.
"Pau is a great dude," Lillard said. "He's been very present for somebody that wasn't healthy so far this season. His experience and what he knows has had an impact on our bigs, the guys that haven't played until this season. [The injury situation] is unfortunate, we both acknowledged that, but I'm happy that he's probably going to be around our team still because he can help us."
Gasol still hopes to return as a player
So it sounds like for the time being, Pau Gasol is being groomed to move into a different role with the team, perhaps as a coach or someone to help out with player development. And while he seems excited about this opportunity, his primary goal is still to get healthy and return as a player.
"I have the same excitement and passion for the game of basketball that I had when I first started playing," Gasol said in his Twitter announcement. "And I will work as hard as I can on my recovery with a clear goal in mind; to get healthy in order to continue to play the game that I love."
It's refreshing to see a veteran player like Pau Gasol still so in love with the game of basketball after such a long career. He should excel in a coaching role, but let's hope that we get to see him on the court one more time before he hangs up the shoes for good.