Weary Paul George Admits Carrying The Kawhi Leonard-Less LA Clippers Is Taking A Major Toll On Him
It's easy to imagine that when Paul George glances around sometimes, he sees endless fields of corn instead of the skyline of downtown LA. That's because, for the first time since he was with the Indiana Pacers, George is his team's lone star. The Los Angeles Clippers don't have Kawhi Leonard, possibly for the duration of the season, and the responsibility of carrying the team falls solely on George's shoulders.
Just four games into the campaign, it's not his shoulders that are bothering George. Instead, it's his back, from carrying the entire franchise on it. After starting the season on fire with 70 points on 27-of-48 shooting in his first two games, George regressed to the mean in mean fashion. He had 26 points on 12-of-36 accuracy in LA's last two games. The six-time All-NBA player admits it's taking a toll.
Paul George is ice-cold from 3-point land
In the Clippers' stunning loss at home to the Cleveland Cavaliers on Oct. 27, Paul George had his worst shooting night from 3-point range in almost three years.
George was 0-of-8 from deep against Cleveland. Not surprisingly, the Clippers responded with their lowest scoring output in nearly a year. LA put up just 79 points against the Cavs, their lowest total since an embarrassing 124–73 thumping at the hands of the Dallas Mavericks at Staples Center on Dec. 27, 2020.
It was the first time George took a goose egg from long range since March 24, when he was 0-of-6 in a 33-point victory over the San Antonio Spurs. The blowout win cushioned the sting considerably, one would believe.
George was 10-of-23 from the great beyond in LA's first two games. He's 2-of-16 since. It's a small-sample-size theater at its finest, but the jump shot is usually the first thing to go when the legs get weary.
Perhaps more telling of how George is trying to conserve energy is this stat: he's attempted only six free throws in four games, all of them in the Clippers' loss to the Memphis Grizzlies on Oct. 23. George averaged 4.2 foul shots per game last season and had a career-high 7.0 attempts nightly with the Oklahoma City Thunder in 2018–19.
George readily admits he's experiencing fatigue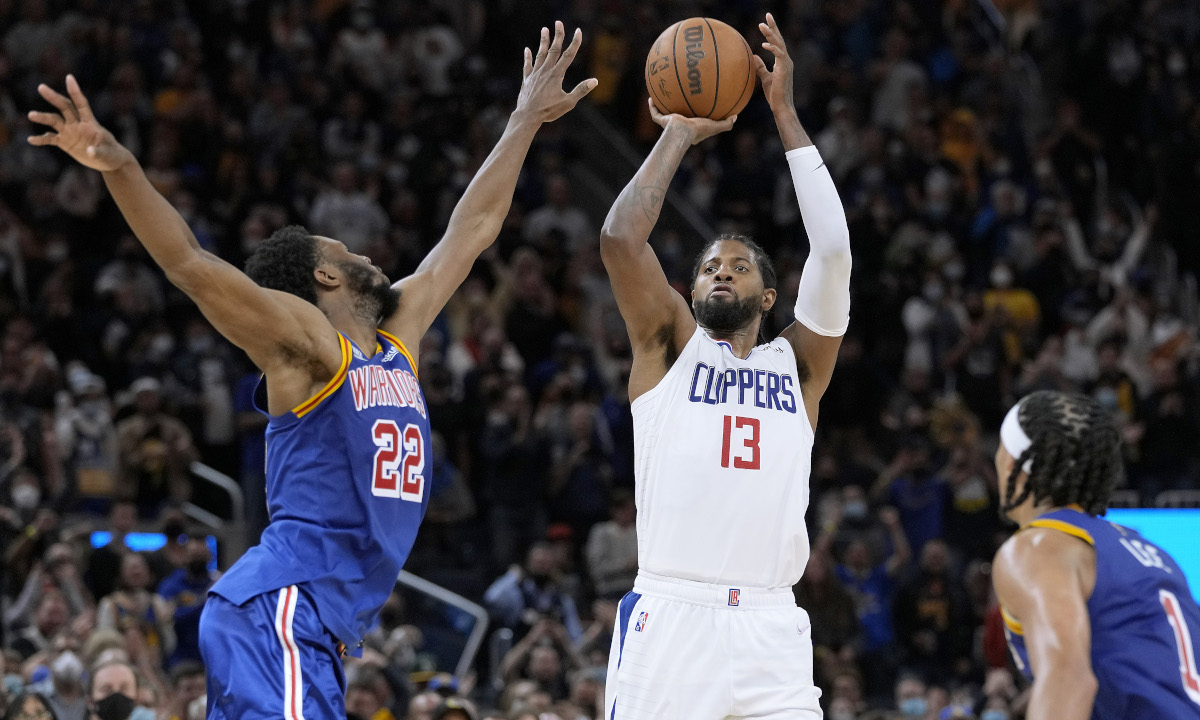 Paul George is still getting it done defensively. He's averaging 4.0 steals per game. That's not a surprising statistic; George led the NBA in steals two seasons ago. He's also a four-time All-Defensive selection. As a switchable 6-foot-8 wing, his defensive versatility meshes well with Leonard (when he's, you know, playing).
After the loss to Cleveland, George said he was experiencing some tired legs, per SI.com:
"As games come up, my body will get used to playing this load. Thirty-five minutes … that fatigue will go away."

Paul George
George is averaging 33.0 minutes per game, which is skewed by logging only 27 in a blowout victory over the Portland Trail Blazers on Oct. 25.
Still, it's not as if George hasn't experienced a heavy workload. In 2018–19, he averaged 36.9 minutes per game. He averaged 33.7 a season ago.
The problem for the Clippers is that without George firing on all cylinders, their offense doesn't have much else going for it.
The Clippers are shooting terribly as a team
Even with his struggles the last two games, Paul George is shooting 46.4% overall. It's the other perimeter-oriented players that are lacking. Luke Kennard is hitting 45.7% overall and 45.8% from deep off the bench. From there, it gets ugly fast for the Clippers.
Terance Mann (41.9% and 33.3%, respectively), Eric Bledsoe (40.5% and 15.4%), and Reggie Jackson (32.4% and 30.0% on 10 3-point tries a game) are endangering the paint on rims all over the West Coast right now due to the sheer volume of bricks thrown at them.
Jackson revived his career with a tremendous playoff run last season when he averaged 17.8 points a game and shot 40.8% from long range. His reward was a two-year, $21.6 million contract to return to the Clippers. With Leonard and Serge Ibaka still recovering from injuries sustained during the 2021 playoffs, the last thing LA needs is Jackson returning to the form that prompted the Detroit Pistons to buy out his contract in February 2020.
The Clippers are 23rd in the NBA, shooting 42.7% overall. Their 3-point numbers are horrific, with their 30.7% accuracy ranking 27th in the league.
Paul George must be relied upon to do the bulk of the scoring, but the rest of the club needs to show it can hit a shot occasionally, as well. Otherwise, even if Leonard can return this season, it might already be too late to save the Clippers.
Statistics courtesy of Basketball Reference and Stathead.
RELATED: The 35/1 Longshot for NBA MVP You Should Be Betting Right Now