Paul George Finally Admits the Truth About Damian Lillard
Paul George's time with the Los Angeles Clippers has come with the star forward having issues with some NBA players. Last season, he and Portland Trail Blazers guard Damian Lillard had a war of words in the bubble. The two had a history before that, as Lillard eliminated George and the Oklahoma City Thunder from the 2019 playoffs with his epic game-winning shot.
George didn't think Lillard's epic shot was a good one by NBA standards in 2019. After seeing the Trail Blazers star scorch his opponents in the 2021 All-Star Game, the five-time All-NBA selection recanted his criticism of Lillard's range from 3-point land.
Paul George and Damian Lillard had beef with each other
RELATED: Paul George Just Sent an Irritated Message to Other NBA Players
Paul George and Damian Lillard have had a simmering beef between them over the past few seasons. It started in 2019 after George commented on Lillard's shot that eliminated him and his Thunder team in the first round of the playoffs. The Blazers guard hit a sidestep 35-foot 3-pointer over PG13 as time expired, winning the series 4-1.
"That's a bad shot. I don't care what anybody says. That's a bad shot. But, hey, he made it. That story won't be told, that it is a bad shot," said George in April 2019 about Lillard's series-clinching shot, per Ballislife.com.
Things became more intense in the NBA bubble when Lillard faced criticism by Clippers guard Patrick Beverley and George for missing two critical free throws against LA. The Portland point guard reminded both players that he sent them home in separate playoff series. George responded to Lillard's comments by saying his Trail Blazers team would be eliminated from the bubble shortly.
The feud between Paul George and Damian Lillard hit its climax with their spat in the bubble. After watching Lillard hit countless 3-balls from deep during the season and in the NBA All-Star Game, the Clippers forward had to admit the truth about Lillard's range.
George recants his 2019 statement about Lillard's playoff game-winner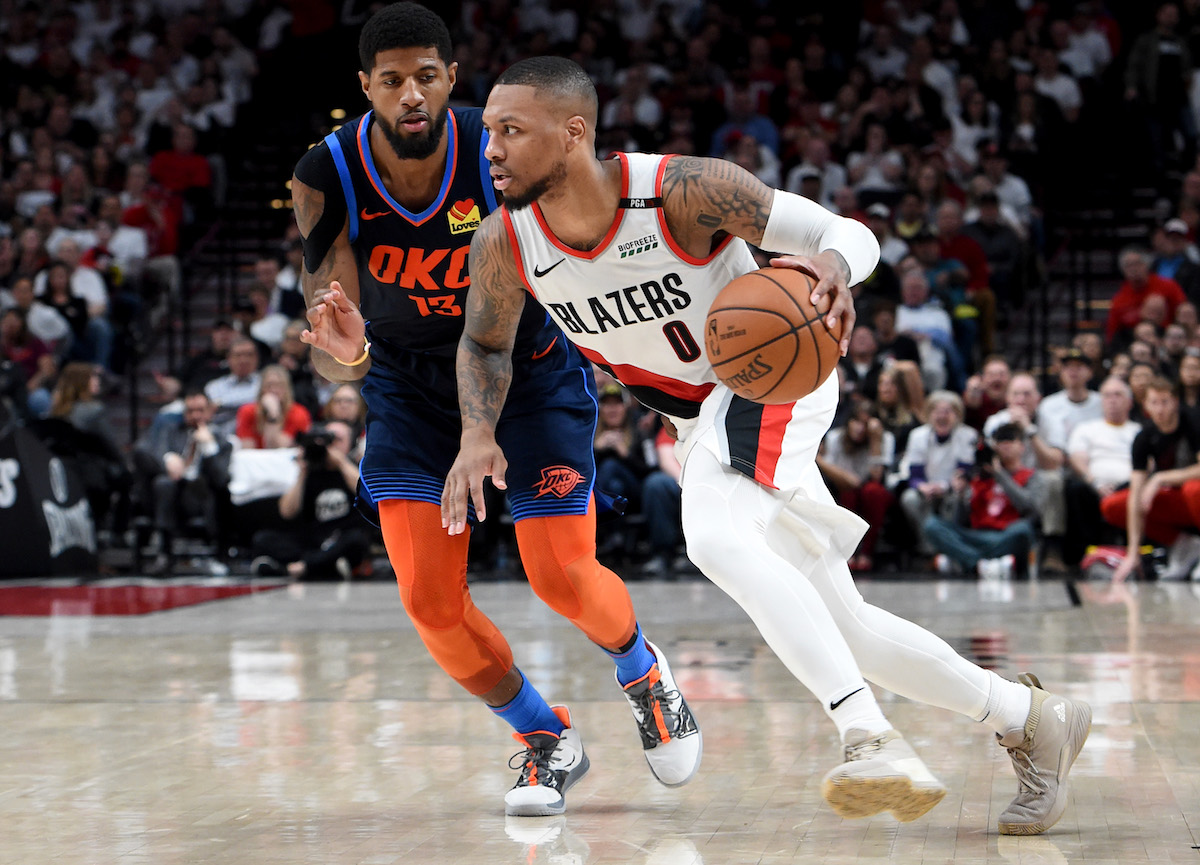 RELATED: Damian Lillard Has Endured Multiple Tragedies and Is Still Playing Like an NBA MVP
Since the NBA started favoring the 3-point shot, seeing Lillard pull up from way downtown in his No. 0 jersey has become the norm. The Trail Blazers guard has shot 34.9 percent on shots that are 30 feet or greater this season, according to NBA.com. He showcased his 3-point marksmanship in the All-Star game, hitting half of his threes and drilling the game-winning shot from almost half-court.
"I mean, I see this guy's [Lillard's] range is crazy, their ability to knock this shot down. And like you said, it's not like it's a half-court heave. These are shots that are well in their range. They probably could shoot them deeper," George said per Tomer Azarly.
George also commented on Stephen Curry's range from deep, putting him in the same conversation as Lillard with their accuracy from 3-point land. Curry also hit half of his threes in the All-Star Game and won the 3-point competition. After watching Curry and Lillard's supreme shooting, the LA Clipper understands all shooters aren't created equal.
"Well, I guess I was criticized for the right reason for calling Dame's shot in the playoffs a bad shot," George said during his postgame press conference.
Could George be the next player to shoot from the logo?
RELATED: The NBA Would Be Much Different Had Paul George Landed With LeBron James in Cleveland
George is playing exceptionally well in his second season with the LA Clippers. He is averaging 23.7 points per game on 49% shooting from the field. The 11-year forward also grabs 6.1 rebounds and dishes out 5.3 assists per contest. He's having a career year shooting the 3-ball, averaging 45% from deep.
He might not pull up from the logo, but George's 3-point shooting has become a big part of his game. Since 2015, he's attempted at least six 3-pointers a game each season, and his shooting percentage from deep has trended upward since.
Lillard is one of the best shooters in the NBA, and George finally understands that his range is limitless. Even though they might have beef, the seven-time All-Star can't refute that the Blazers guard is a talented shooter.
Stats courtesy of Basketball Reference