Paul George Could Return to the NBA in March; Should He?
Halfway through the current NBA season, it's no surprise that the Indiana Pacers are sitting on the outside of the playoff picture, with a record of 17-32. After all, it was just this past summer that superstar Paul George suffered a gruesome leg injury during a Team USA scrimmage. His injury was so horrific that it was widely assumed that George would miss the entire 2014-2015 season. But apparently, that might not be the case after all.
According to Pacers President Larry Bird, there is the possibility that George could be ready to go as early as next month.
"It seems like every week Paul is getting better and better," Bird said. "So if we do have an opportunity to get into the playoffs and [George] can get some games under his belt and get ready to go next year. … I always say if a player is ready to play, they gotta play. We're not going to hold him back if he's able to go out there and play. When you're out like that, you lose something. … I still think it's important if he's able to play, he should be out there."
Considering the circumstances surrounding George's injury, it would be pretty impressive if he was actually able to suit up for the Pacers this season. Regardless of whether George is physically able to get back on the court, is it even worth it for him to return this year?
All statistics are courtesy of Basketball-Reference.com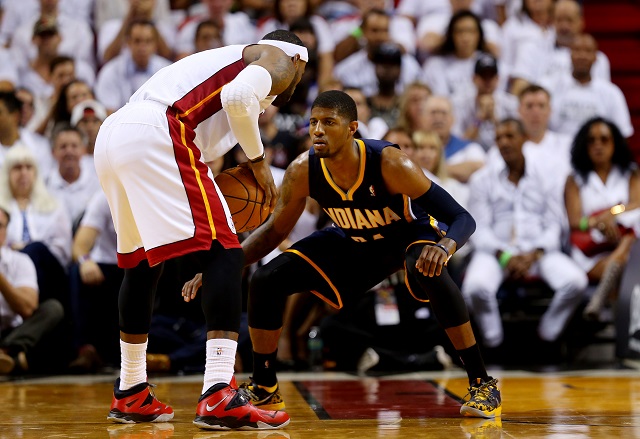 First and foremost, it should be noted that George is one of the best young stars in the NBA. In his four seasons in the league, his game has improved each year, and last season he averaged a career-best 21.7 points per game. He is the best player on the Indiana Pacers, and his ability to effectively defend the NBA's best is another reason that he has such a bright career ahead of him. But even with George in the lineup, the Pacers are not ready to compete for a championship, something they clearly proved last season.
In the 2013-2014 seaspn, The Indiana Pacers had the best record in the Eastern Conference. They had the highest defensive rating (99.3) in the league, were second in the league in opponents' points per game, and had a legitimate chance at challenging the Miami Heat for Eastern Conference supremacy. Unfortunately, even with home-court advantage, the Pacers couldn't prevent the Heat from coming out of the East. The Pacers lost in the Eastern Conference Finals and once again were forced to go back to the drawing board. And then, of course, George went down, and things really changed for the Indiana Pacers.
Now, it appears the Pacers might get their star back earlier than expected. It would obviously be a major upgrade for the Indiana roster to have George in the lineup, but if they weren't ready to compete last season, what good would it do them to bring him back now? Whether or not he's ready, it doesn't make sense to us. And it shouldn't make sense to the Pacers.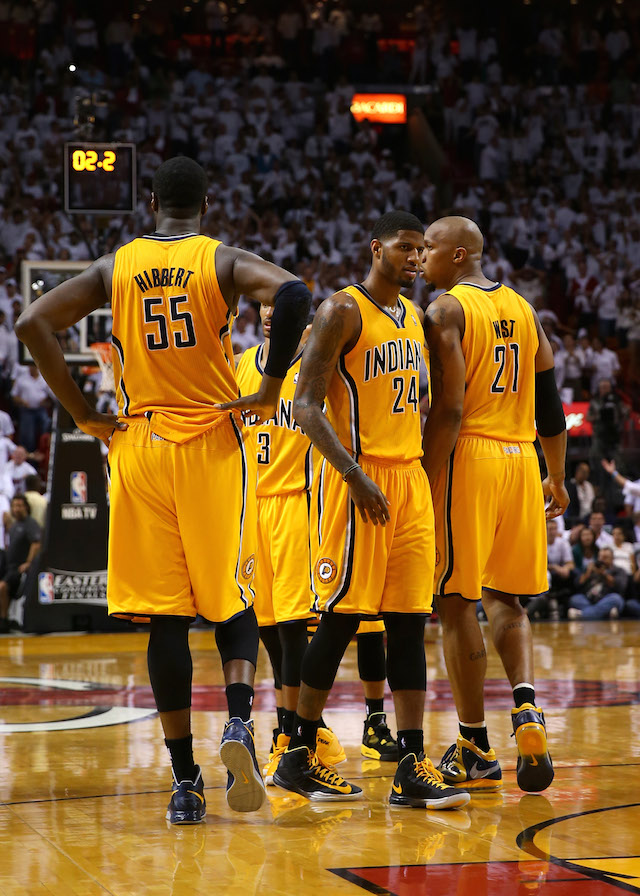 There is no doubt that both George and the Pacers are all about that competitive spirit. We'd have to assume that he's dying to get back on the floor, and Indiana is ready for its main attraction to turn this team around. But we don't believe it serves the best interest of anyone involved. This injury was something out of a horror movie, and it's difficult for us to even watch it again, so we can only imagine what it was like to experience it firsthand. This is where it would be best to act with total caution, even if it goes against Bird's human nature.
Perhaps George is physically able to compete in the NBA next month. But just because he is able to do it doesn't mean he should. This is not the Pacers' year. However, with him on the roster, Indiana has an exceptional piece to build a championship-caliber team around. This isn't the time to bring George back. This is the time to let his body rest, so that by the time the Pacers do bring him back, there's something to play for.