Paul George 'Was at a Crossroads' After His Injury: 'I Thought I Was Just Going to Be Elite Forever'
Paul George is part of an LA Clippers team hoping to go the distance this year. After suffering a compound fracture and missing most of the 2014-15 season, George made his health a priority. He revamped his diet and incorporated muscle recovery into his routine.
Now, George takes a more sensible approach to working out and eating. He wants his play to be top-notch. But he's also thinking about his future off-court.
Paul George revamps his diet and fitness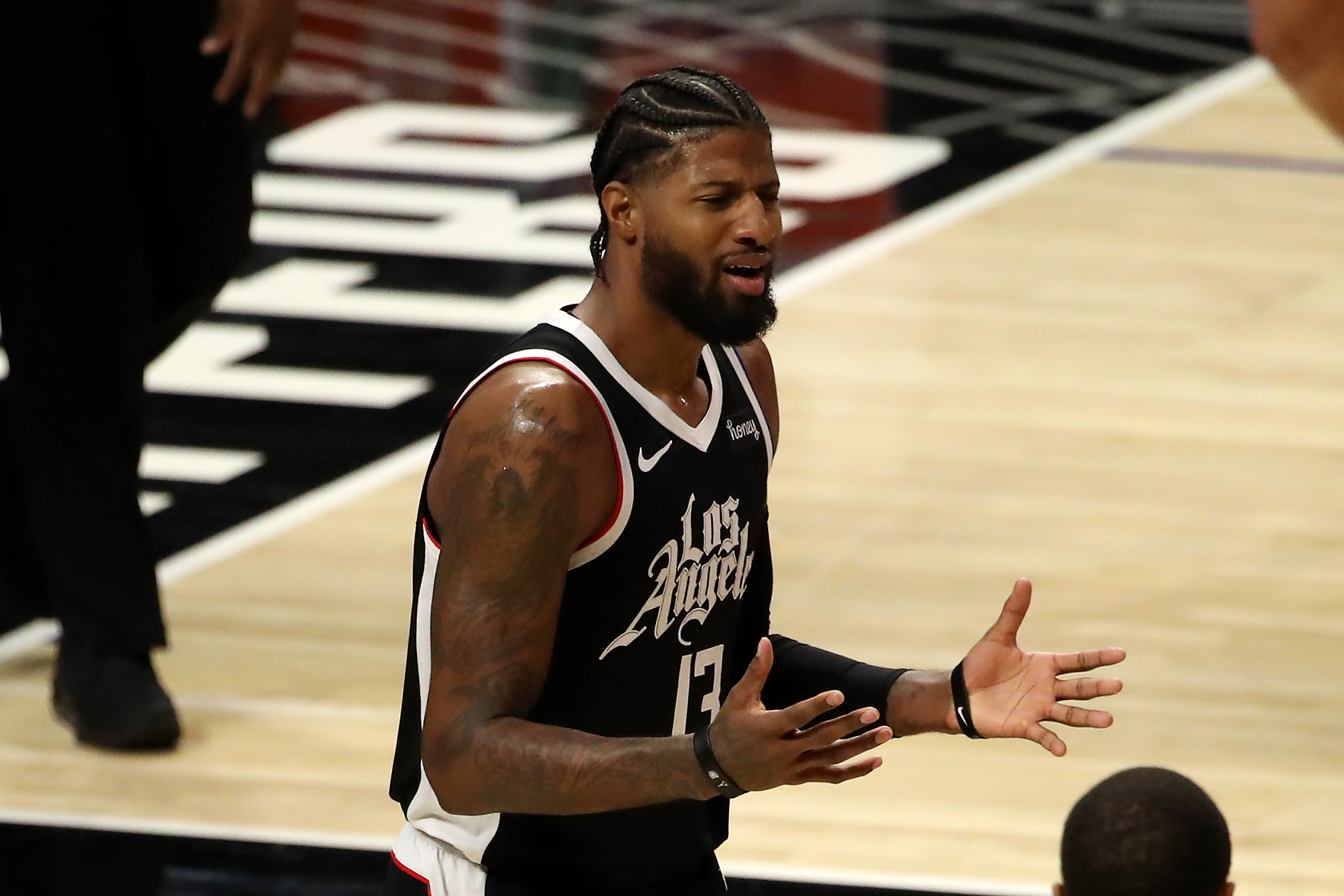 RELATED: Jimmy Butler's Workouts Are Not For the Faint of Heart
George was in the league a few years before his major compound leg fracture and considered himself indestructible. He didn't really worry about his diet or recovery after big games. He told GQ:
"When I was a young guy, definitely not. I didn't believe in being sore. I thought I was just going to be elite forever. I realized I needed to take care of my body. As I got older, I was seeing more wear and tear. Also, when I'm done playing this game, I want to be able to do normal things and not hurt from them."
The revelation led George to hire a professional chef and change his diet. He got serious about fitness, especially recovery. He uses a Theragun after games and practices to massage his muscles and reduce inflammation.
George is also an investor and promoter of Tonal, an at-home strength training machine that uses electromagnetism for resistance. The machine allows George to replicate gym workouts all from the comfort of his home. He says it's the reason he's staying in great shape.
What Paul George eats
RELATED: LeBron James' Daily Routine Includes a Staggering Amount of Sleep
To fuel his body, George knew he had to keep an eye on his diet. While recovering from his leg injury, the 30-year-old hired a personal chef so he wouldn't gain weight. Now, George will start the day with a cup of coffee, avocado toast, and a smoothie packed with fruits and veggies. The 6-foot, 8-inch athlete says adding veggies to the smoothie is key; it's an easy way to get his daily serving. 
Lunch is a salad and protein, usually fish, followed by snacks of cashews, sunflower seeds, and fruit. George's dinner is the most substantial meal of the day. He usually cooks a protein, either chicken or steak, but sometimes he'll have a bowl of spaghetti and meatballs if he's craving them.
While he isn't a big dessert or sweets man, his weakness is fried chicken. He'll have some on occasion but knows he can only eat it in moderation, or he won't feel his best the next day.
Fit and healthy in quarantine
With the world on hold due to COVID-19, many players upped their health and fitness. Whether recovering from nagging injuries or tweaking their diets, it was the perfect time to improve for the upcoming season.
With nowhere to go, no games or practices, many players used that extra time to lose weight, build muscle, or work on speed and agility. And just like Paul George learned after his injury, there's nothing better than being healthy.
While his injury was devastating and painful at the time, it allowed him to make changes to his diet and fitness so he'll stay at peak performance for many more years to come. "It excites me to be in my 11th year playing basketball professionally and still be kind of at the top, and to be one of the lead players in the game. I'm looking forward to staying healthy."