2 Free Throws May Have Proven Why Paul George Doesn't Deserve to Be Called a Superstar
Game 2 of the Western Conference Finals won't be a happy memory for Los Angeles Clippers star Paul George. In a game that stayed within reach of both teams throughout, the Phoenix Suns led by six with 2:56 left before the Clippers clawed their way back to take a one-point lead. George had a chance to be the hero and give LA a three-point lead with 8.2 seconds left.
Two free throws were all the Clippers needed. George had this. A player who entered the game shooting 89.2% from the foul line in the playoffs doesn't miss these. He had just hit a pair of shots from the line to give LA a 103–102 lead. After George made his shots, Phoenix would be reduced to a 3-pointer to tie. But he left the first free throw short. The miss opened the door for the Suns at least a crack. George followed up by over-compensating, shooting the second free throw long.
Phoenix got a fantastic alley-oop from Jae Crowder to Deandre Ayton to come away with a 104–103 victory and a 2–0 series lead. In the process, the oft-criticized George likely cemented an opinion regarding his status within the NBA's hierarchy of stars.
Paul George gets paid like a superstar
In July 2017, Paul George got his wish. George went to the Oklahoma City Thunder, traded from the Indiana Pacers, with whom he had played his first seven seasons. It was a calculated gamble for the Thunder. Small-market teams must think twice before committing to a star on an expiring contract.
OKC's commitment paid off. The following summer, George signed a four-year max deal to remain with the Thunder. But a year later, George landed in LA. Superstar Kawhi Leonard, the freshly minted NBA Finals MVP, wanted George if he was going to sign with the Clippers.
Scrutiny has followed George before. The 10th overall pick in the 2010 NBA draft, George had to grow into his role in Indiana. He was the NBA's Most Improved Player in 2012-13, along with earning All-NBA honors. George came back from a potentially career-altering leg injury while scrimmaging with USA Basketball in the lead-up to the 2014 FIBA World Cup.
In December 2020, George voided his player option for 2021-22 to sign a four-year, $190 million extension that kicks in next season. That's superstar money.
But the $190 million question is simply this: Is Paul George a superstar?
There have been flashes, but George has also come up small
Paul George's run with the Pacers ended in 2017 after their season came to an inglorious end. Indiana was swept in the first round by the Cleveland Cavaliers, losing Game 4 at home by four points. That was a remarkable effort considering George was 5-of-21 with 15 points and four turnovers in the game.
In the bubble last year, George was wildly inconsistent in the playoffs. In 13 games, he had three games with 30 or more points. He had seven games with less than 20, including a nine-point clunker in Game 4 of the first round against the Dallas Mavericks. George was 4-of-16 with 10 points in Game 7 as the Denver Nuggets closed out the Clippers in the second round. That was a series LA led 3–1 before imploding.
George came up big in the conference semifinals this year against the Utah Jazz. With Leonard sidelined for the final two games, George dropped in 65 points to help the Clippers knock off the top seed in the West. That got them to their first-ever conference finals.
LA lost Game 1 despite 34 points from George. Then came the free throws heard 'round the NBA. A six-time All-NBA player who is a career 84.7% free-throw shooter must make those. You can forgive Shaquille O'Neal for clanking free throws because he never shot them well. George does not have that crutch upon which to lean.
The verdict? Paul George is a star, but that's all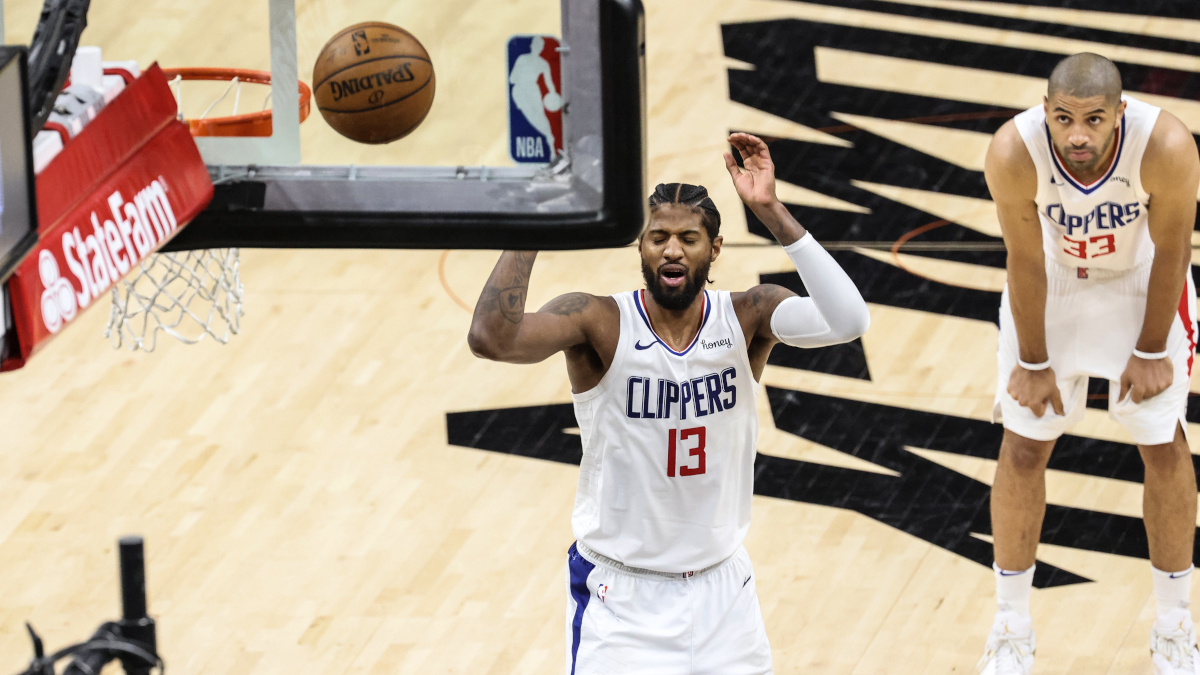 Paul George didn't face a clutch late-game moment in the two wins to close out the Jazz.
But against the Suns in Game 1, Phoenix, without Chris Paul, pulled away in the fourth quarter for a 120–114 win in a game tied after three periods. George scored one point on 0-of-5 shooting in that fourth period. He followed that with a solid fourth quarter in Game 2, undone by his shaky free-throw shooting at the end. LA won Game 6 by 12 points after taking Game 5 by eight.
It's hard not to conclude that Paul George is a star player in the NBA. But superstar — a term thrown around way too much — is a step too far.
Statistics courtesy NBA.com and Basketball Reference.