Paul George Expresses His Frustration With Staples Center Changing Its Name, Says the Move Is 'Stripping' History: 'Good Thing We Won't Be Here Too Long'
Article highlights:
Staples Center will change its name after 22 years
Clippers star Paul George gave his reaction to the news
Staples Center has hosted many iconic moments
The recent Staples Center news left many within the NBA world shocked. The current home of the Los Angeles Lakers and LA Clippers will soon go by Crypto.com Arena.
The announcement has some feeling sour, especially since the location has hosted so many historic moments; changing its name is almost like erasing its history. And that certainly seems to be how Clippers superstar Paul George feels, as he revealed his displeasure with the news during a recent press conference.
Staples Center is changing its name to Crypto.com Arena
After opening as Staples Center in 1999, the Los Angeles-based arena has had the same name ever since.
However, AEG, the venue owner, announced on Nov. 16 that it would change its name to Crypto.com Arena on Christmas Day, according to ESPN. The naming rights deal is reportedly worth $700 million over 20 years, which would be the richest in sports history.
If you're unfamiliar with Crypto.com, it's a cryptocurrency platform that was founded in 2016. It also has sponsorship deals with other sports leagues like Formula One and the UFC, and it has another with the Montreal Canadiens of the NHL. The Philadelphia 76ers also wear the company's logo on their jerseys.
No matter how successful Crpyto.com is and how much the deal is worth, though, Paul George doesn't seem too pleased.
Paul George isn't thrilled with the Staples Center news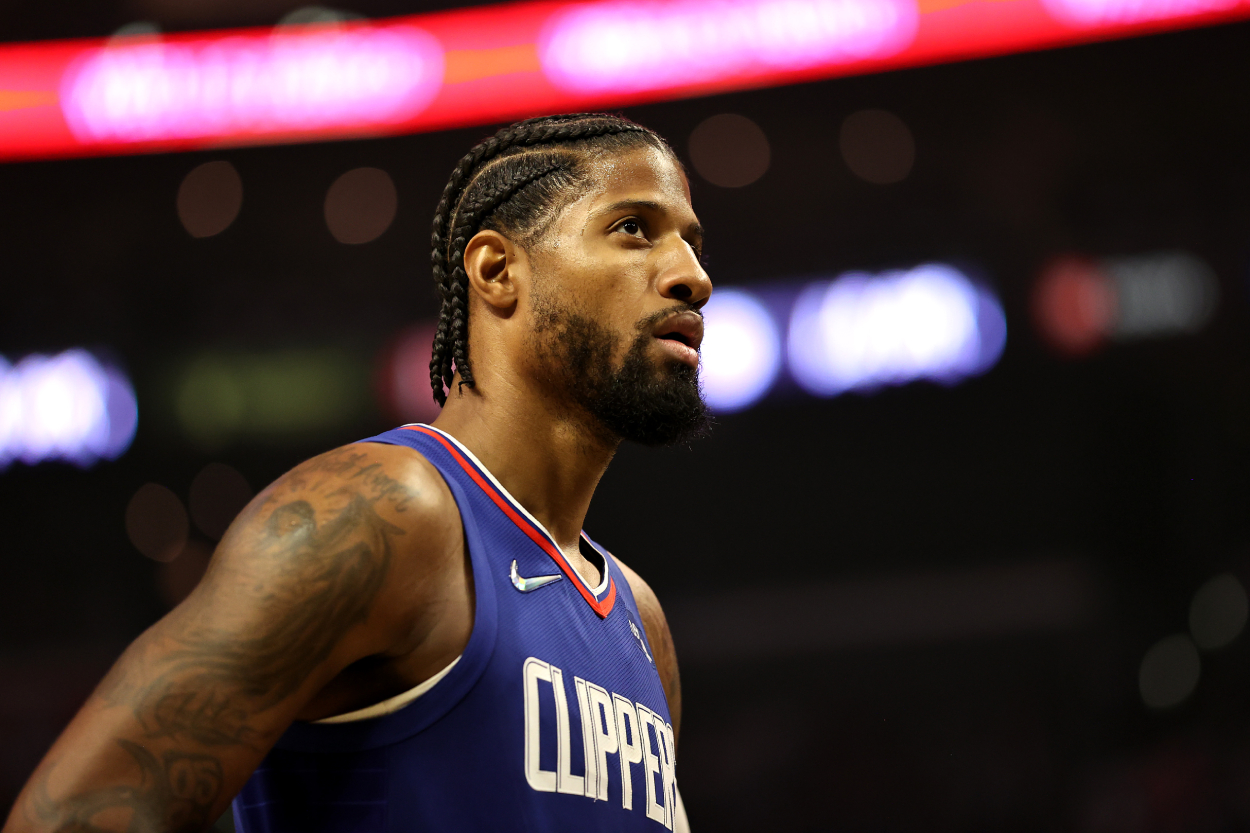 In light of the recent news, Clippers superstar Paul George, who grew up outside of LA, discussed the name change during a press conference, and he didn't seem too thrilled about it.
"It'll be weird. I grew up this being Staples and Staples being the place to play and the place to be. It will definitely be weird," George said, per Sports Illustrated's Farbod Esnaashari. "It's the same location, but it's kind of stripping the history here by calling it something else." 
George now seems even more excited about the Clippers moving into the new Intuit Dome in 2024.
"Good thing we won't be here too long; we'll be at our own place," he added.
George's teammate Reggie Jackson also didn't seem excited.
"[The Lakers] have their history here, Kobe, especially my era, growing up, watching those championships. Shaq. Nah, it's too many memories. It's gonna be hard to not call it Staples," he said.
It will definitely take some getting used to, as many players and fans grew up calling the arena Staples Center. It also doesn't help that it has hosted a plethora of iconic moments.
Staples Center has hosted many legendary moments inside and outside the NBA
The Clippers haven't had a ton of success inside Staples Center, but the Lakers have been a completely different story.
Since the arena's opening, the Lake Show have won six championships and have played in some epic contests. Staples Center hosted Game 7 of the 2010 NBA Finals in which Kobe Bryant and the Lakers beat the Boston Celtics. It was also where Bryant scored 81 points and later played in his final NBA game ever, dropping 60 in the process.
The Lakers aren't the only sports team to succeed there, though, as the Kings clinched two Stanley Cup championships in Staples, and the Sparks won three WNBA titles while playing at the arena.
According to ESPN, Staples Center has also hosted the Grammys 19 times in addition to holding the NBA All-Star Game there three times and the NHL All-Star Game twice. There have also been multiple memorials held there, including Michael Jackson's and Kobe Bryant's.
Christmas Day will mark the end of a legendary era, but the Crypto.com Arena will also likely host many iconic moments over the next two decades.
Like Sportscasting on Facebook. Follow us on Twitter @sportscasting19.
RELATED: Nicolas Batum Has Gone From Overpaid Castoff to the Clippers' $3.1 Million Savior