Paul George Seems Hungrier Than Ever to Capitalize on Golden Opportunity and Erase Humiliating 'Playoff P' Narrative for Good
Paul George and the Los Angeles Clippers will play with backs against the wall this season as they try to navigate an unpredictable Western Conference without Kawhi Leonard. But George is relishing the chance to be the lone star, which gives him the opportunity to make fans forget all about the degrading "Playoff P" narrative that has plagued his career in recent seasons.
The seven-time All-Star showed a bit of what he could do when Leonard first went down during the playoffs, though LA came up short against the Phoenix Suns. Should he lead the Clippers on a surprising run, George can erase any remaining skepticism regarding his place among the NBA's best.
Paul George is ready for the challenge of being the primary option
Paul George is not shying away from being the guy in LA with Leonard sidelined. He seems to believe he can energize the Clippers with his all-around skill set.
The 31-year-old said earlier this week that he is in a better headspace now than in past years. George also stated he feels he is in some of the best form of his career.
"I am looking forward to taking on all facets whether scoring, defending, playmaking," George said, via Ohm Youngmisuk of ESPN. "I am really going into this year being one of my most complete… I think I proved it and showed it a little bit to myself (in playoffs)… that really fed my appetite even more."
George had to do it all when Leonard suffered a knee injury during the conference semifinals against the Utah Jazz. He scored 37 points and had 16 rebounds in Game 5 to give the Clippers a 3-2 series lead, then had 28 points, nine rebounds, and seven assists in Game 6 as LA wrapped things up at home.
Though the Clippers faced another 2-0 series deficit in the Western Conference Finals against the Phoenix Suns, George helped them get back into the series. He overcame a poor shooting night in Game 3, racking up 15 boards and eight assists. When Phoenix won Game 4, George scored 41 points to help LA stave off elimination. The Clippers might not have made it to the finish line, but they proved how much fight they had even without The Claw.
It's become difficult to win an NBA championship without two true superstars. Still, George is confident he can be the leader and total playmaker LA needs to have a shot at contending.
This appears to be a different and more motivated Paul George than the one basketball fans watched in the Orlando "bubble"
Paul George appears to be abundantly more comfortable in his role as a star in LA than he had been during a tumultuous couple of months in the Orlando "bubble" last summer.
George struggled on multiple levels during the 2020 playoffs. He opened up about his mental health, which had been the subject of ample NBPA and NBA discussion heading to Orlando and remained pertinent throughout the remainder of the bubble. Meanwhile, PG-13 was downright woeful on the floor.
The California native couldn't deliver for his hometown team. George shot 35.8% from the floor against the Dallas Mavericks, though the Clippers earned a series victory thanks mainly to the heroics of Leonard. He stumbled again in the conference semifinals, scoring just 10 points in Game 7 as the Denver Nuggets completed a stunning comeback.
Those playoffs, in particular, seemed to shift the narrative around George and his "Playoff P" moniker. Rather than applauding his talent as one of the best two-way players in the NBA, fans seemed more intent on pointing to his shortcomings.
However, George's eagerness is promising, and it could go a long way toward the former Indiana Pacers star having one of the best seasons of his career.
No Kawhi Leonard and a sound mind might result in a huge year for PG-13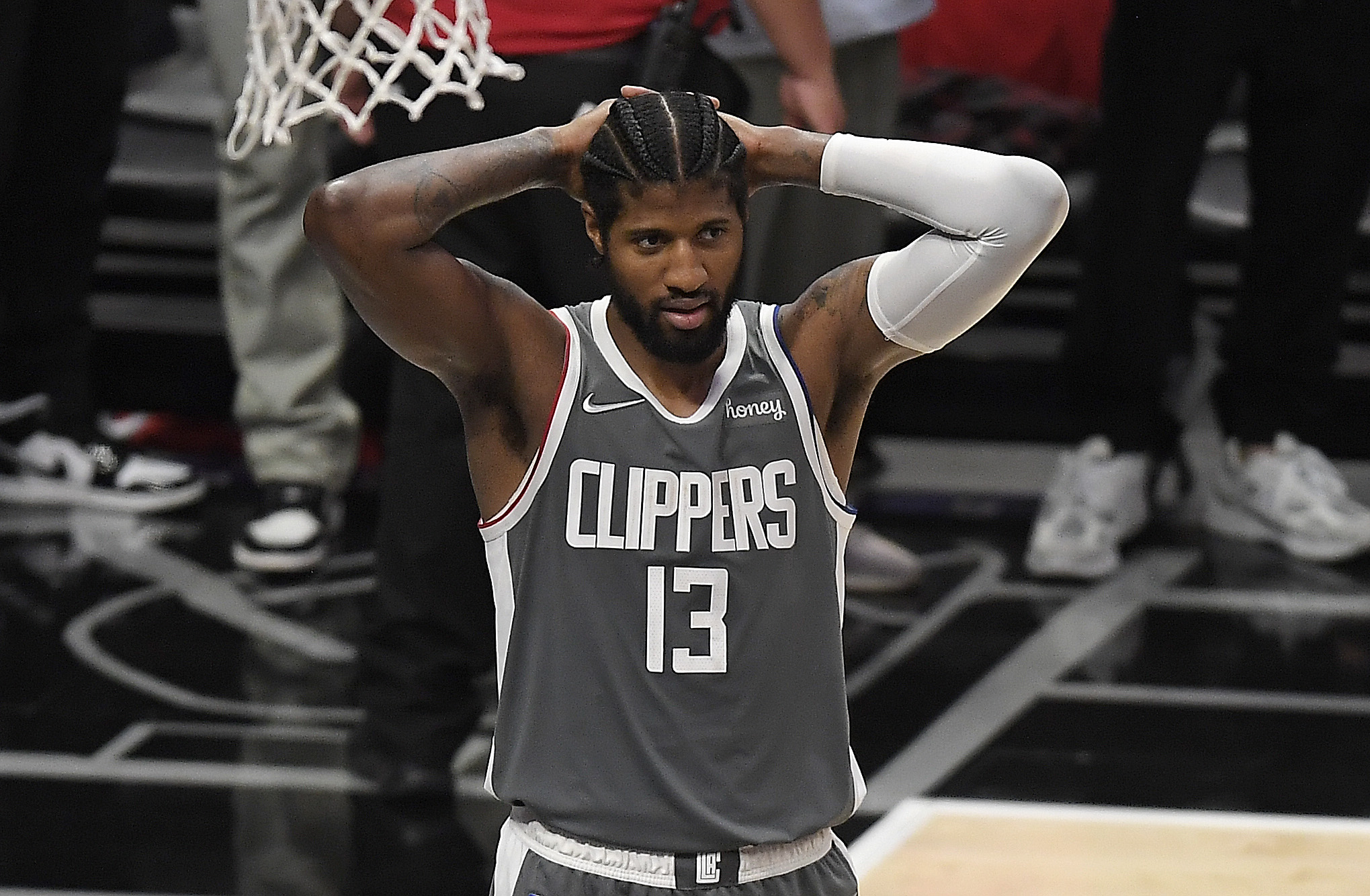 Lost in all the criticisms about George is his continued improvement on the floor.
George was at his best as a playmaker last season, averaging a career-high 5.2 dimes. He could well boost the assist numbers, given he'll have a higher usage rate without Kawhi Leonard in the rotation. Additionally, George shot over 41% on pull-up triples, per NBA.com, a sizable improvement from his 36.9% clip during the 2019-20 season.
The All-NBA Third Team member is more dangerous on the ball and as a shot creator. He is a more efficient scorer. Without Leonard on the floor, George might just have the best individual season of his career. That could go a long way in erasing the "Playoff P" narrative and helping fans appreciate his Hall of Fame resume.
Stats courtesy of Basketball Reference unless otherwise noted.
RELATED: 2 Free Throws May Have Proven Why Paul George Doesn't Deserve to Be Called a Superstar