Paul George Is on a List That Includes Larry Bird, Kevin Durant, and Scottie Pippen, but He's Still Infuriatingly Underrated
Every generation of NBA superstars seems to have a player who gets lost in the shuffle. George Gervin was one of the smoothest scorers of all time in the 1970s and early '80s. Hakeem Olajuwon owned the paint for a decade. Scottie Pippen was overshadowed by his own teammate (if you haven't heard). This generation's unlucky star seems to be the Los Angeles Clippers' Paul George.
George was underrated entering the 2010 draft. He almost single-handedly beat LeBron James and The Heatles. He's one of the best small forwards of the last decade.
And this season, PG has thrown the Clippers on his back and is carrying them toward the top of the Western Conference and himself to the top of the MVP conversation.
Paul George has played at an MVP level this season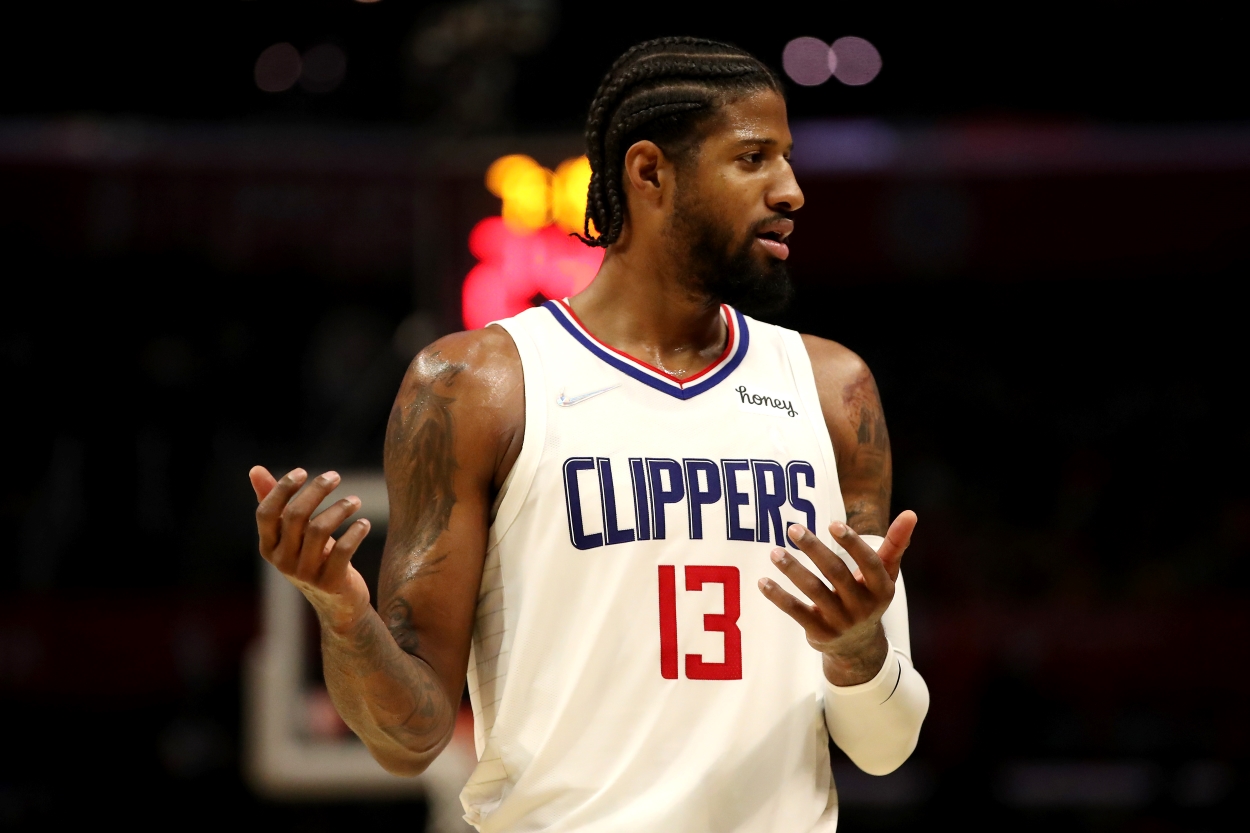 George and the Clippers have won seven straight games heading into a matchup with one of the best teams in the East, the Chicago Bulls. During that streak, PG13 has averages of 25.6 points, 8.0 rebounds, 6.4 assists, and 1.6 steals with shooting splits of 44.0/37.0/90.0.
For the season, the Fresno State product is fourth in the league in scoring (26.4 points per game), third in field-goal percentage for anyone with 20 or more shot attempts per night, and fourth in 3-point percentage for anyone tossing up more than 8.5 per night.
George is third in usage rate among starters, just behind Luka Doncic and Donovan Mitchell. He has a higher usage rate than Giannis Antetokounmpo (who's been the defending champ's only constant starter other than Grayson Allen) or Joel Embiid (with no Ben Simmons).
Without Kawhi Leonard, the 31-year-old is scoring nearly a third of LA's points and has his team at 8-4 with the aforementioned seven-game winning streak.
The Clips are seventh in the league in scoring. George's best teammate has been Reggie Jackson. After him, it's the likes of Luke Kennard, Nicolas Batum, and Eric Bledsoe.
As they say, it's not the 1927 Yankees.
PG13 sits in Hall of Fame company at his position
As noted above, George is a decade into a Hall of Fame career and, statistically, will go down as one of the 15 greatest small forwards in league history.
He has a legitimate case to be considered as one of the top 10 all-time at that position.
His six All-NBA nods and seven All-Star team berths put him in the company of Larry Bird, Kevin Durant, LeBron James, Pippen, Paul Pierce, Kawhi, and John Havlicek.
George earned the Playoff P moniker, but it's become an unflattering one in recent years. The biggest knock on the 6-foot-8 wing is his tendency to disappear in crucial games.
However, he began to shake that last season, averaging almost 27 points per game on 44.1% shooting as he helped Leonard and the Clippers make the Western Conference Finals for the first time in franchise history.
He dropped 41 points in Game 5 of that series to keep LA's season alive after Leonard tore his ACL. He averaged a double-double that series with 28.7 points and 10.5 rebounds and led the team in assists.
It's often forgotten that a 23-year-old George was also the best player on the 2013-14 Indiana Pacers team that took LeBron James, Dwayne Wade, Chris Bosh, and the Miami Heat to seven games in the Eastern Conference Finals.
PG has also made four All-Defensive teams and was the 2018-19 steals champion — at 6-8. George has been one of the best two-way wings in the NBA since he entered the league.
If he continues to lead LA, maybe Paul George will get the recognition he deserves
Leonard is likely out for the season. If he returns, it won't be until the playoffs. But if George doesn't maintain this level of performance, LA may not even make it that far.
It's odd. An MVP candidate is starring on a team that plays in Staples Center. Maybe PG's season is being swept under the rug because of how much the Lakers have struggled.
Or maybe it's just a remnant of the big brother-little brother dynamic between the two LA teams.
Either way, one of the best small forwards in NBA history is having the best season of his career, and it's time Paul George gets his due.
All statistics, unless otherwise noted, are courtesy of Basketball Reference.