Former Rival Paul Pierce Admits LeBron James Has Once Again Put Himself Alongside Michael Jordan and Kobe Bryant as He Displays 'True Signs of Greatness'
Los Angeles Lakers star LeBron James is getting up there in age. The King is now 36 years old and in his 19th NBA season. LBJ could go over, through, and past defenders when he was a youngster. But as he's begun to slow down physically (at least in LeBron terms), he's had to change his game — similar to the adjustments Michael Jordan and Kobe Bryant once had to make.
MJ went from one of the best dunkers in NBA history to a back-to-the-basket, overpowering player with an automatic turnaround fadeaway. Kobe went from a high-wire act himself as No. 8 to developing a game similar to Jordan's as No. 24.
Now James is experiencing the same skill renaissance as his Hall of Fame predecessors.
Michael Jordan and Kobe Bryant changed their games with age
Pierce is right. There's a delineation in how both Jordan and Bryant played when they got to a certain point in their careers.
For MJ, that came around the time when he returned from his baseball hiatus.
The GOAT's then-career-high in 3-point attempts was during the 1989-90 season when he averaged 3.0. His first season back from the Birmingham Barons, he took 1.9 shots from deep (in 17 games), but that went up to 3.2 the next year and 3.6 the following year.
By the time the '98-97 season rolled around, he was attempting more twos, shooting a lower percentage from the field and the free-throw line. His steals started to decline while his turnovers went up. He was still the best player in the league, but he became more of a back-to-the-basket post-up guard than a high flyer.
The same thing happened to Kobe around the 2009-10 season. He stopped getting to the free-throw line as much. He never shot more than eight per game again after averaging more than 10 from 2004-2007 and nine in '07-08.
He also passed the same eye test Jordan did — he started working in the post more than driving over and around defenders.
LeBron is experiencing the same transformation.
Now LeBron James is adjusting his game to fit his age as well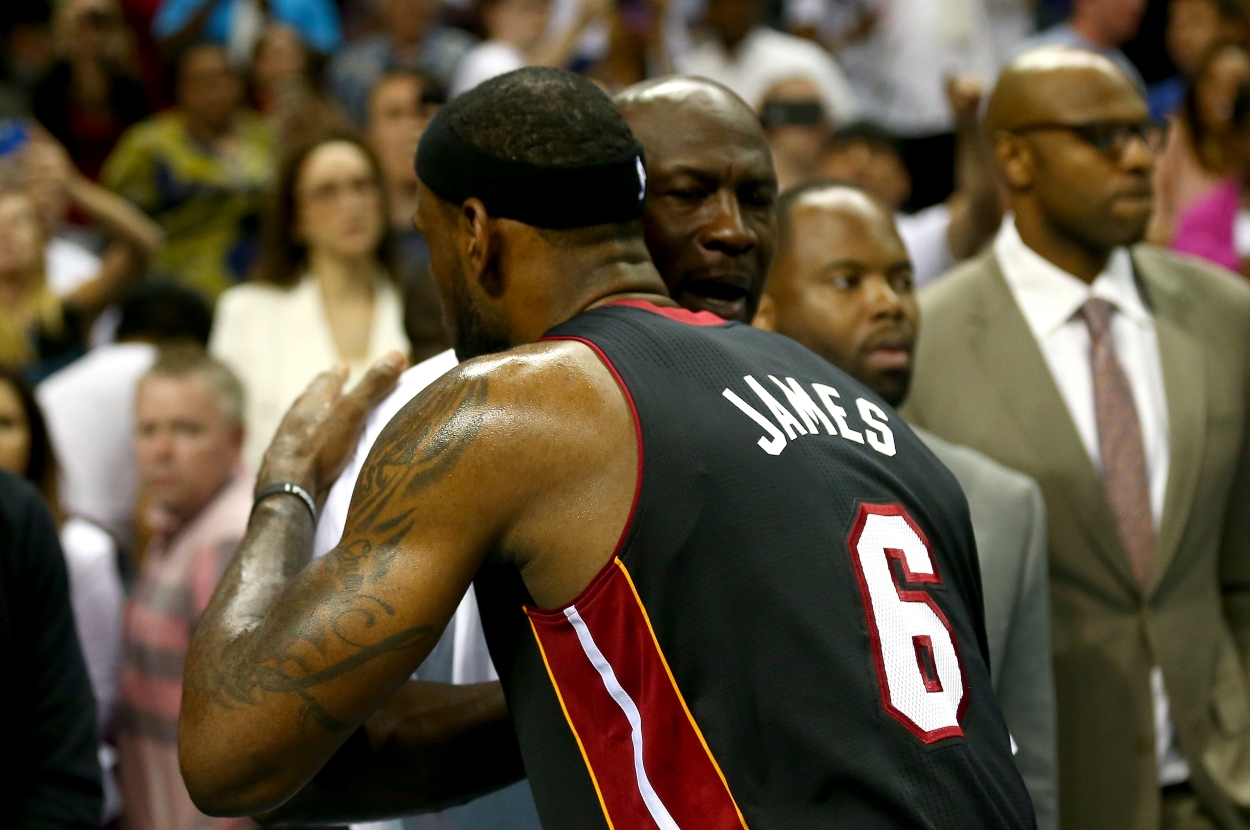 Pierce's comments came after LBJ took the Boston Celtics' Jayson Tatum onto the block and used Jordan's (and eventually Kobe's) turn-around fadeaway to score. This is the tell-tale sign — watching a player change his game with age is more of a visual test than statistical proof.
But he recognized the similarities immediately, via NBC Sports Boston:
You know what I like, as LeBron's gotten older he's gone to the post a lot more. That's what you saw with Kobe Bryant and Michael Jordan, when you get a little older you can't be on the ball as much.

That's just true signs of greatness, that he can change his game up and find other ways to be effective.

Paul Pierce on LeBron adjusting his game with age
Following a similar pattern as the two other greats: James began averaging a career-high in 3-point attempts when he arrived in LA. Since 2019-20, he's been shooting fewer free throws, and his field-goal attempts have also gone down.
As Pierce noted, The King has headed to the block more often and hovered around the 3-point line more than in past seasons. His days of using his speed and quickness to blow by defenders are over (for the most part).
It's a positive sign that James is changing his game to fit his age and physical decline. But some of those changes have become worrisome, this season in particular.
LeBron is finally (gulp) showing signs of slowing down
Caveat: LBJ has been dealing with injuries most of this year. Caveat to that caveat: That happens when your body gets older.
There are a handful of statistics that bear out LeBron's alteration of his game, but not all of them are good signs.
James is still putting the ball in the basket as evidenced by his 25.5 points-per-game average. But digging deeper is where things get concerning.
While his career-high in 3-point attempts can be considered an adjustment, the fact that he's only shooting 33.0% isn't great. He's averaging fewer free-throw attempts than he has since his rookie season.
He's also grabbing the fewest rebounds per game since his rookie year.
So LeBron has been injured. He's playing more on the perimeter. He's been less aggressive going to the basket.
The four-time MVP's game has been built on overpowering defenders with athleticism and will his entire career.
Yes, he's making adjustments because he can't do that anymore. Pierce is right — that is something the greats figure out how to accomplish.
At the same time, however, those adjustments don't paint a pretty picture as he approaches the twilight of his career.
LeBron is still great. But how great he continues to be is worth watching.
All statistics courtesy of Basketball Reference.