Paul Pierce Once Offered Celtics Rookies a $200 'Bounty' per Dunk During the NBA Summer League: 'He Gave Me Like $2,500'
For most of Paul Pierce's NBA career, he wasn't just on the Boston Celtics; he was the Boston Celtics. Pierce was the leader of arguably the most iconic franchise in the league, and he led the Cs to great success. However, he also knew what it took to get the best out of his teammates, especially young players hoping to get playing time.
In fact, Pierce once offered Celtics rookies a $200 "bounty" per dunk during the NBA Summer League. And the move may have actually helped him form a tight bond with his former teammate, Tony Allen.
Paul Pierce and Tony Allen went through challenges together on the Boston Celtics
After going to Boston with the 10th pick in the 1998 NBA Draft, Paul Pierce helped the Celtics become one of the best teams in the league. They missed the playoffs in his first three seasons, but in 2001-02, Pierce earned his first All-Star selection with 26.1 points and 6.9 rebounds per game.
He also helped lead the Celtics to the Eastern Conference Finals.
Boston had a talented team that year with Pierce and Antoine Walker, who added 22.1 points, 8.8 rebounds, and 5.0 assists per game that season. The Cs even took a Jason Kidd-led New Jersey Nets team to six games in the conference finals but couldn't quite reach the NBA Finals.
In 2002-03, though, the Celtics lost in the conference semifinals, and they then traded Walker after that. Boston then lost in the first round the next two years before taking a significant step back in the following campaigns.
Tony Allen's first season came in 2004-05. So, he and Pierce ended up being on some awful teams together, as Boston went 33-49 in 2005-06 and then 24-58 the following season. Those struggles likely bonded them, but Allen looks back to his rookie year when thinking about the first time he and Pierce started connecting.
The Truth offered Celtics rookies a $200 'bounty' for each dunk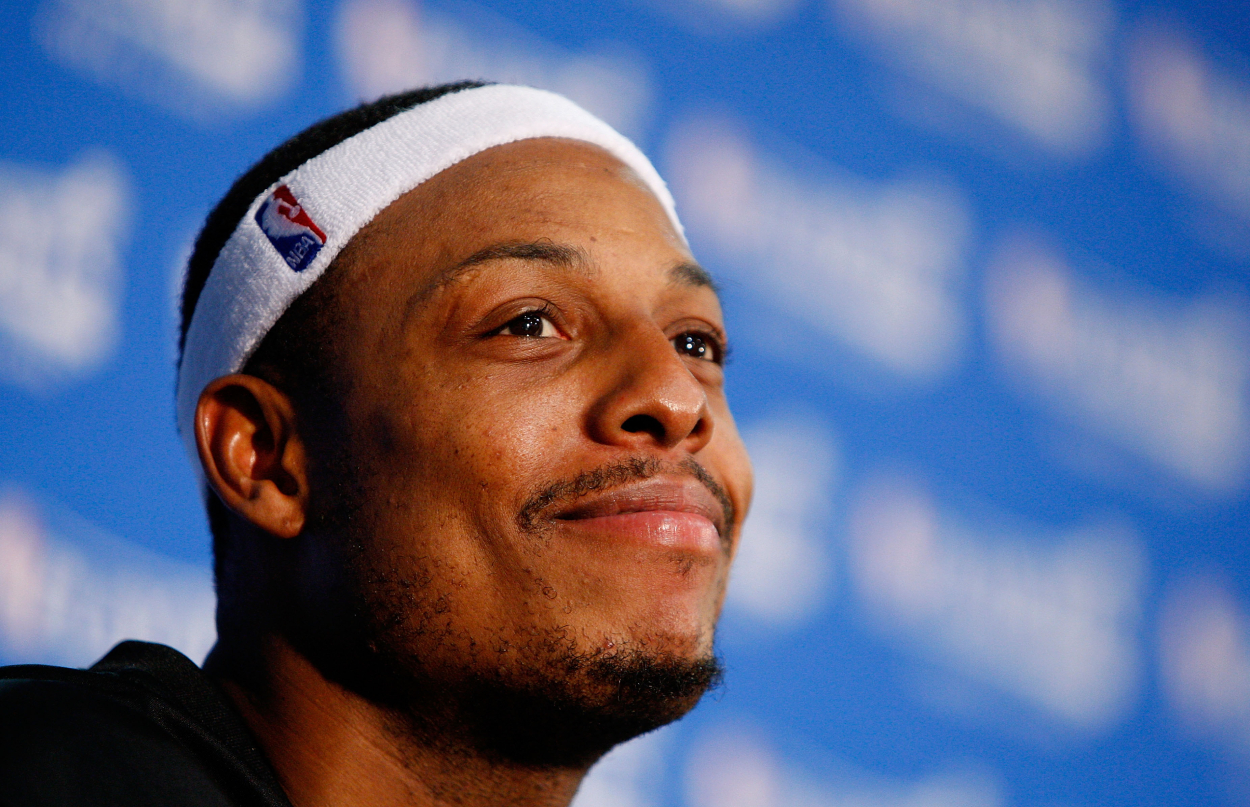 Paul Pierce had already started making decent money with the Celtics by the time Tony Allen entered the league. So, he essentially had some cash to spare for some rookies looking to make a buck or two.
"When I first got there, honestly, I gotta admit, we got a bond off the rip. I saw him in Summer League," Allen said to The Athletic. "… He wanted to motivate his troops. He had a bounty, a lucrative $200 for every dunk. I instantly looked at him, being a fan for one. I took the initiative. I thought, this is my application to starting. I took advantage. I got five dunks in a row. At halftime, I said, 'Have that thousand for me.'"
So, did Allen get paid?
"He came through. He gave me like $2,500," he said, per The Athletic.
That moment may have just been what launched Pierce and Allen's tight relationship.
"Then he started working out in Chicago with (trainer) Tim Grover," Allen said, per The Athletic. "He made me get up every morning, get to the gym. That was one of the things he instilled in me — if you want to be good in this game, you have to do the things behind the scenes."
The hard work paid off.
Paul Pierce and Tony Allen later won an NBA championship on the Celtics
The Celtics' struggles didn't last long. Boston acquired Kevin Garnett and Ray Allen during the 2007 offseason, which then made them immediate title contenders.
The Cs went 66-16 during that 2007-08 season, and after having two seven-game series in the first round and Eastern Conference semifinals, Boston beat the Detroit Pistons in six games during the Eastern Conference Finals before facing Kobe Bryant and the Los Angeles Lakers in the 2008 NBA Finals.
Pierce averaged 21.8 points, 4.5 rebounds, and 6.3 assists during the Finals, and he helped Boston beat LA in six games. He also won Finals MVP.
After combining for 57 wins in two seasons, he and Tony Allen became NBA champions.
Pierce might have one of the more interesting personalities in basketball, and he maybe did things like offer his teammates $200 per dunk. But The Truth knew how to motivate his guys and came up big when it mattered most.
Paul Pierce is an NBA legend.
Stats courtesy of Basketball Reference
RELATED: Paul Pierce Only Became a Boston Celtics Legend Because Dirk Nowitzki Was Unavailable: 'Well, if He's There, Just Don't Worry About What We Know or Don't Know'