Paul Pierce and Doc Rivers Had a 'Major Falling out' on the Celtics Until 'The Truth' Used 3 Words to Squash All Their Beef
Paul Pierce and Doc Rivers didn't achieve as much as guys like Phil Jackson and Michael Jordan/Kobe Bryant or even Greg Popovich and Tim Duncan, but the Boston Celtics legends had significant success together. They won one championship and made the playoffs year in and year out.
However, their relationship got off to a rocky start. In fact, Rivers even said they had a "major falling out."
Doc Rivers joined the Boston Celtics in 2004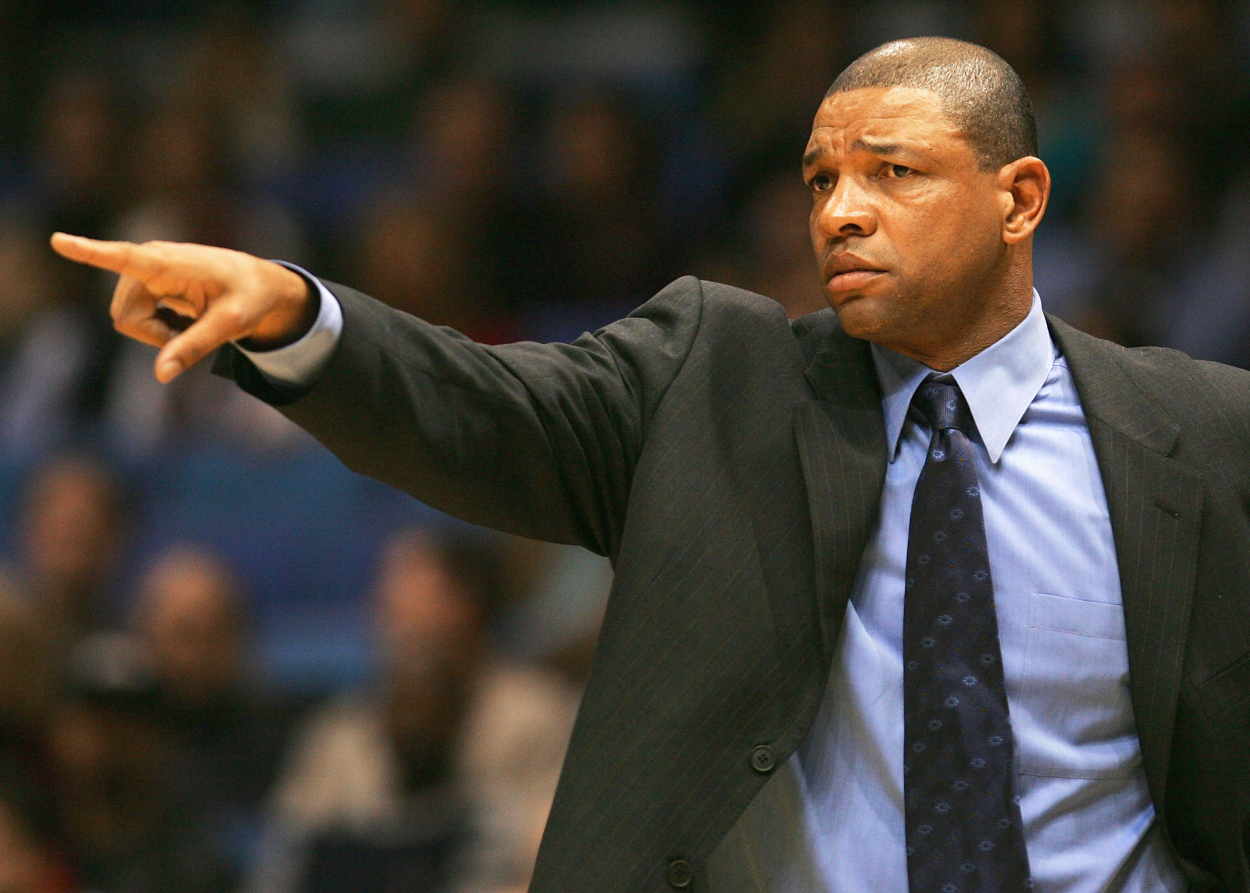 The Boston Celtics had a ton of success with Paul Pierce prior to Doc Rivers' arrival. In Pierce's fourth season, he and teammate Antoine Walker led the C's to the Eastern Conference Finals. They even gave the New Jersey Nets a tough fight but lost in six games.
Boston returned to the Eastern Conference semifinals in 2002-03 but traded Walker after that season. The team then had a disappointing 2003-04 campaign that not only saw it fall in the first round of the playoffs, but the franchise also parted ways with head coach Jim O'Brien.
So, with an empty chair, the Celtics hired Rivers to be their head coach before the 2004-05 season.
Rivers inherited a team that had an elite scorer in Pierce, also known as "The Truth." Between 2000-01 through 2003-04, the Kansas product averaged 25.1 points per game and shot 35.1% from 3-point range.
But his scoring prowess didn't result in preferential treatment over his teammates.
Doc and Paul Pierce had a 'major falling out' on the Celtics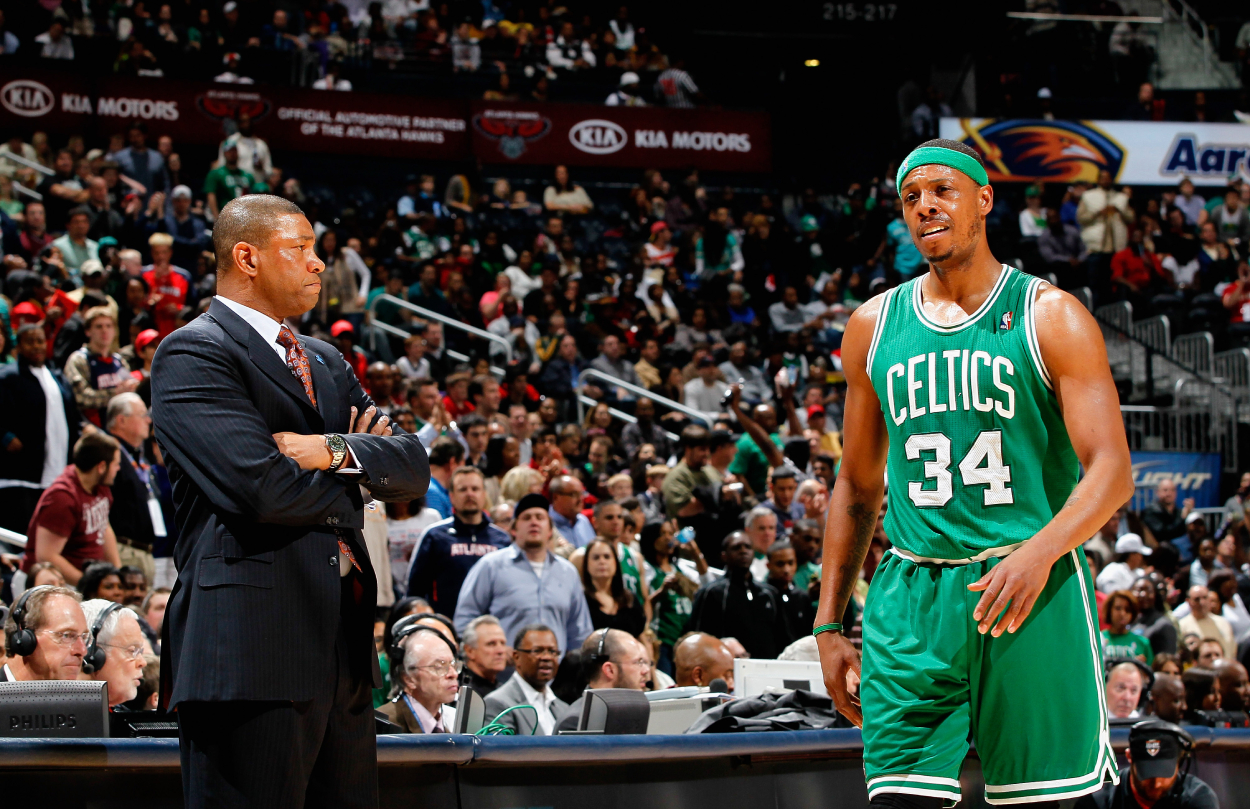 The Celtics weren't great throughout Doc Rivers' first three seasons. They made the playoffs in his first year but were absolutely horrible the following two, going 33-49 and 24-58.
Rivers' relationship with Pierce also appeared to be just as turbulent as Boston's play on the court.
"When I first got there, we had a major falling out," Rivers said to The Athletic. "I said, 'Paul, are you a good shooter, or a great shooter?' He said, 'I'm a great shooter.' I said, 'Well, then you're taking bad shots.' We come in, and I told him, 'Paul, you've got to move the ball. Every time the ball hits your hand it stops, and that allows the defense to guard you. All I want you to do is move it, quickly, then come back to it and attack. And if you do that, then your percentage is going to go up. Because now the defense can't load up on you.' But he wouldn't do it, early on."
During that first season, Rivers even took Pierce out of a game toward the end of a fourth quarter in a close contest, as the coach didn't think he was hustling on a fast break.
"I go in the locker room, and I tell him, 'I'm just telling you, straight up, I'm not changing. So, something's going to give, one way or the other,'" Rivers said, per The Athletic. "To his credit, and only his credit, we went on. Didn't say much about it for two or three more games."
Then, when Rivers was in his office one day, Pierce walked in and said three words that seemingly squashed everything: "I got you."
"I don't know why. Still don't know why. But he did. Probably because I kept taking him out," Rivers said, per The Athletic.
Paul Pierce and Doc Rivers won a championship together
Rivers said "from that point on," their "relationship was phenomenal."
"Trusted him," he said, per The Athletic. "He felt very good about coming in to me if he disagreed with something or if the team wanted to do something. We just had a great relationship that way."
That tight relationship later reflected on the court, too.
The Celtics added superstars Kevin Garnett and Ray Allen in 2007. They then went 66-16 during their first season with Pierce, Garnett, and Allen, and they won the NBA championship. That run then launched six consecutive playoff trips for the C's with them reaching the Finals twice in three years between 2007-08 and 2009-10.
Following that legendary stretch, though, Pierce and Rivers both left Boston after 2012-13. They, however, reunited on the Los Angeles Clippers in 2015-16 and 2016-17, which were Pierce's final two seasons in the league. 
He closed out his career with Rivers.
Sometimes, success comes on the other side of a struggle. And after initially having a "major falling out," Pierce and Rivers won a championship together and, as Rivers said, had a "phenomenal" relationship.
Celtics fans are probably thankful they worked past those differences, too; it resulted in another banner in the rafters.
Stats courtesy of Basketball Reference
RELATED: Paul Pierce Admits He Still Hasn't Watched 1 of the Most Devastating Losses of His Career: 'That's Tough'