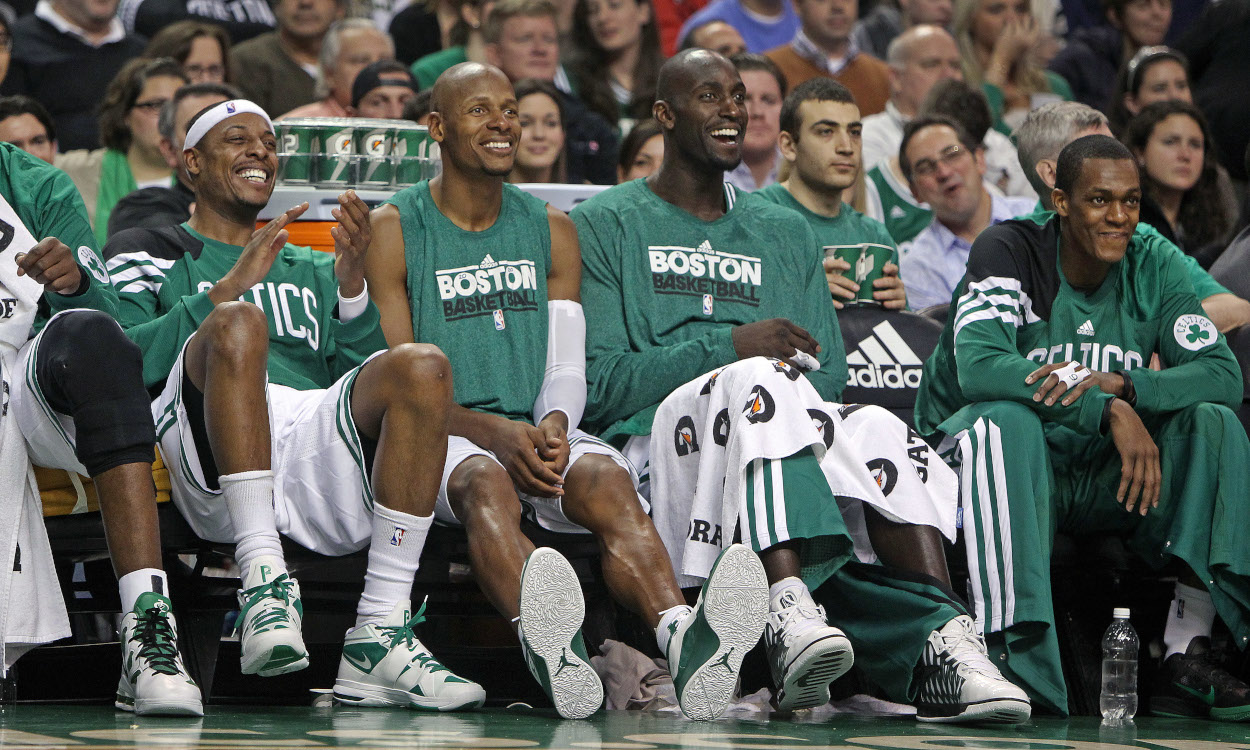 Paul Pierce Speaks out on Fixing the Fractured Relationships From the Boston Celtics 2008 Title Team: 'What a Moment That Would Be'
Paul Pierce is entering the Basketball Hall of Fame on Saturday. His bigger goal is to arrange a peaceful reunion for the 2008 NBA champion Boston Celtics, a group that fractured before breaking up for good in 2013.
Paul Pierce is the final Boston Celtics Big Three member that won the 2008 NBA championship to enter the Basketball Hall of Fame. Pierce's induction is Sept. 11, and that championship credibility was a significant factor in his election. He left Boston in 2013 as the franchise's second-leading scorer with 24,021 and with a handful of career records.
Presenting Pierce on Saturday is former teammate Kevin Garnett, whose arrival with Ray Allen in 2007 sparked a brief window as contenders for the franchise. That culminated with the title in 2008, the franchise's record 17th, and its only championship since 1986. In retirement, Pierce is eyeing a different goal for the "Three Amigos"-led group. Reunification.
Allen's departure was the beginning of the end of the Boston Celtics as contenders
Even as the team won a title and played in another NBA Finals, the Boston Celtics dealt with strained relationships from 2008–12. Rajon Rondo, a younger player who rose to prominence as the Celtics advanced to power, often butted heads with Allen.
When Allen opted to leave Boston as a free agent in 2012, it also alienated him from Garnett. Pierce was enraged by the decision. While Pierce and Allen settled their differences, Garnett and Rondo remained at odds with the first member of their group to enter the Hall of Fame in 2018.
Garnett was inducted in 2020, while Pierce goes in this year. Rondo may join them there once his career finally ends. He's back for a second stint with the Los Angeles Lakers, entering his 16th NBA season.
With Allen gone, the Garnett-Pierce-Rondo group made the playoffs one more time in 2013. But Rondo wasn't around for it, having torn up his knee in late January. When he returned nearly a year later, Boston was under a new coach in Brad Stevens en route to a 25-win season. Garnett and Pierce were with the Brooklyn Nets. The run was over.
Paul Pierce wants to facilitate a peace agreement for the 'Ubuntu' Boston Celtics
Coach Doc Rivers experienced diminishing returns in his first three seasons with the Boston Celtics. From a 45-win first-round playoff loser in 2004–05, Boston dropped to 33 and 24 wins, respectively, the following two seasons.
That was when Danny Ainge swung for the fences. He landed Allen in a draft-night blockbuster trade with the Seattle SuperSonics. A little more than a month later, it took five players — most notably young big man Al Jefferson — and two 2009 first-round picks to get Garnett from the Minnesota Timberwolves.
Bringing in two superstars to combine with the sometimes-volatile Paul Pierce was a daunting proposition. Rivers turned to an ancient African philosophy called "Ubuntu." The coach told Yahoo Sports in 2020 that the philosophy centers on putting the group ahead of the individual. It translated to, "a person can only be a person through others."
Rivers used it as a unifying force.
"I can't be all I can be unless you are all you can be. I can never be threatened by you because you're good because the better you are, the better I am."
It worked in 2008, with Pierce earning NBA Finals MVP honors while Garnett and Allen took on lighter offensive workloads. But despite the high hopes, the group only won the single ring together. Pierce wants to mend the damage done by the team's breakup.
Paul Pierce has a dream for the 2008 champions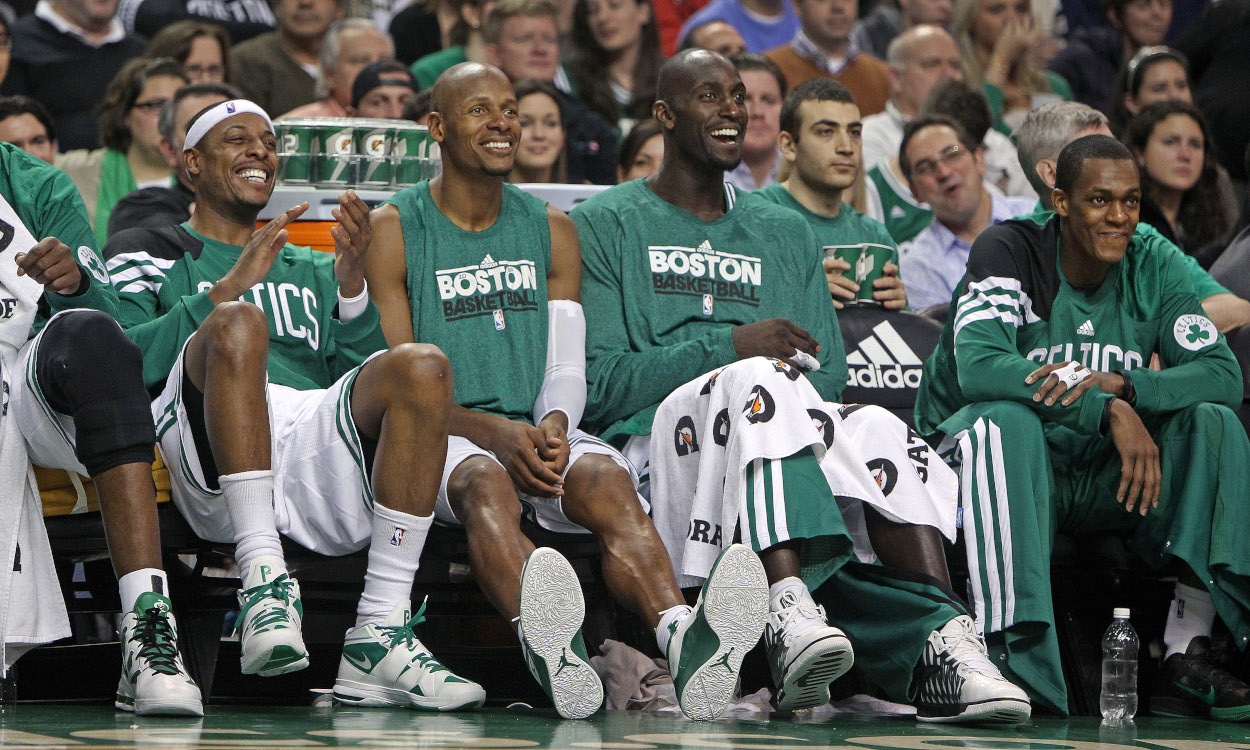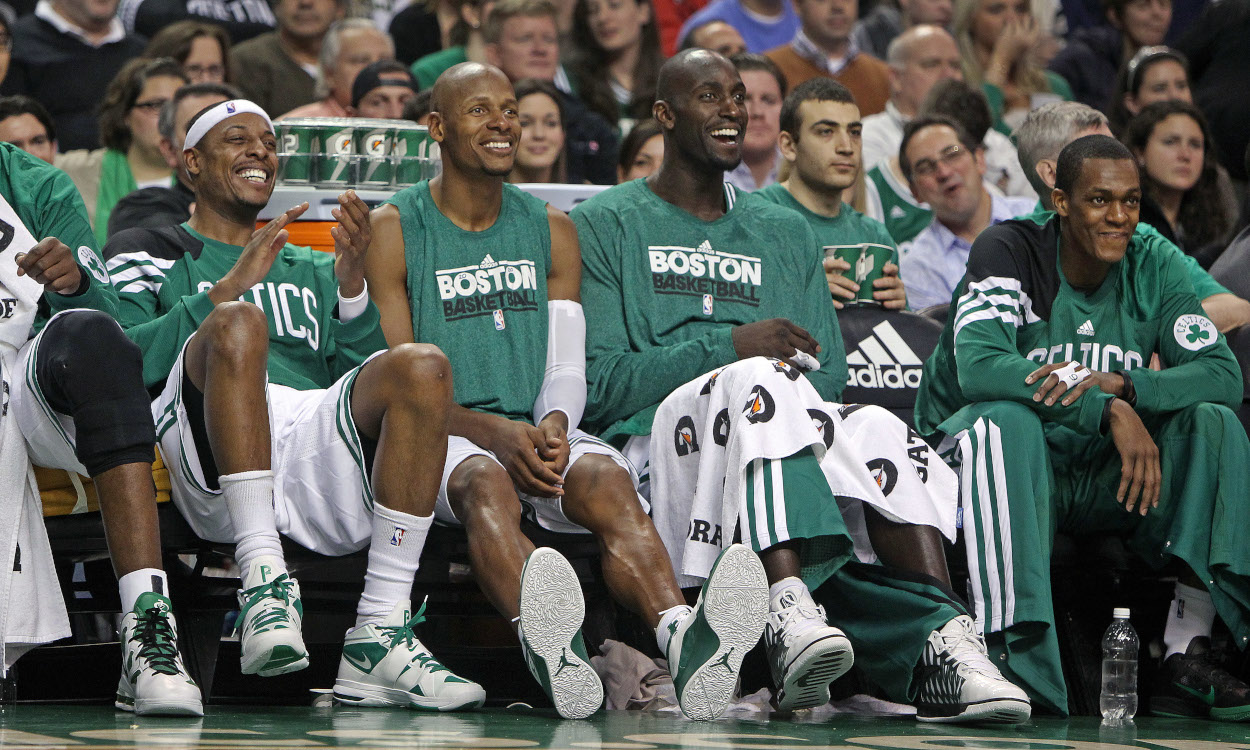 After retiring in 2017, Paul Pierce spent some time with ESPN as an analyst and told Sports Illustrated recently how desperately he wants to bring his championship teammates back together.
What he wants is to take the court at halftime with Garnett, Rondo, Allen, and the fifth member of that team's starting unit, Kendrick Perkins. Rivers couldn't put it together. Pierce knows there are obstacles, specifically the last active player of the bunch.
"KG, he's less stubborn as he gets older. (Rondo) is a problem. Rondo, he's still stubborn."
The 15th anniversary of the Boston Celtics' 2008 championship is coming up. If Rondo is still active in 2022–23, he'll come to Boston at least once. That gives Paul Pierce a little more than a year to broker a peace treaty to end the ongoing feuds. If he's as good at diplomacy as scoring, don't bet against him getting it done.
Statistics courtesy of Basketball Reference.