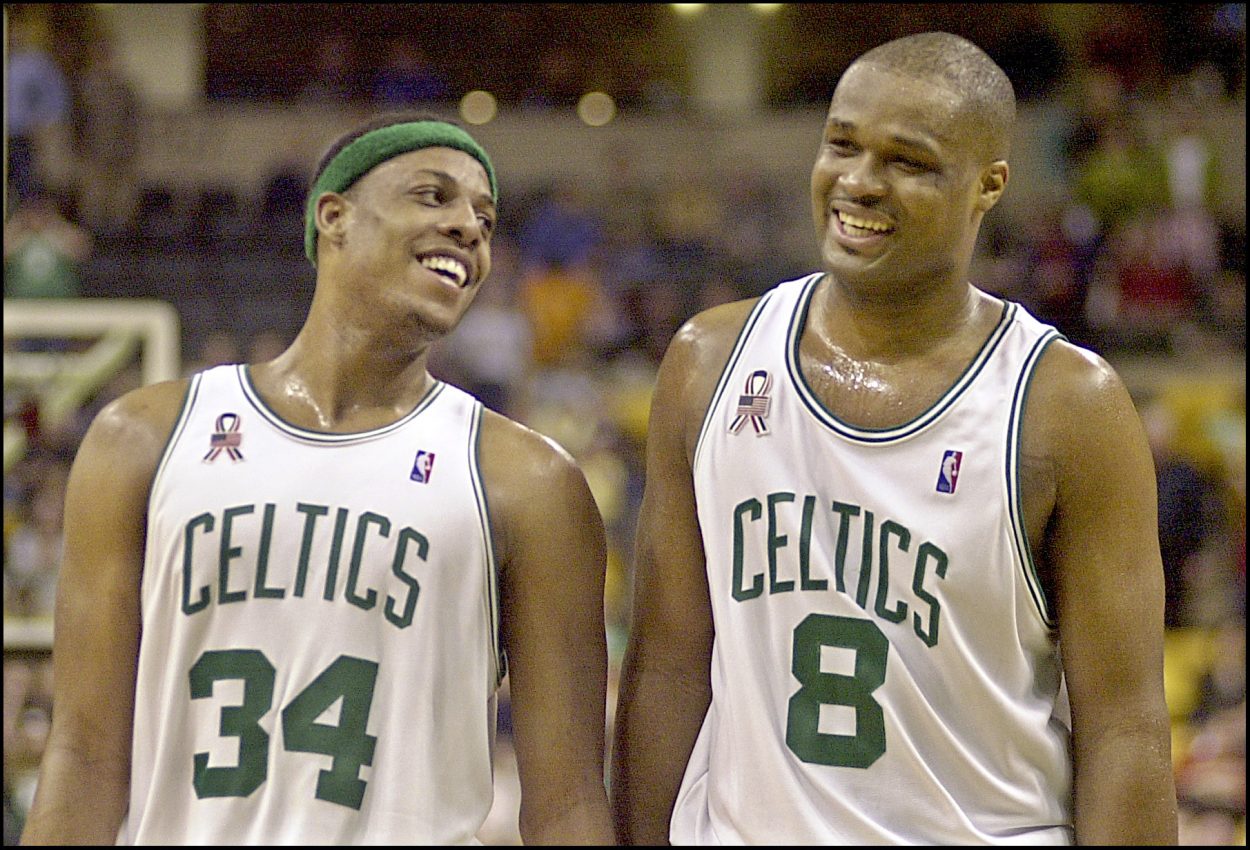 Paul Pierce Uses His Hall of Fame Induction Weekend to Remind Celtics Fans of a Forgotten Superstar
Paul Pierce was inducted into the Hall of Fame this weekend but took the time to shout out former Celtics teammate Antoine Walker.
Paul Pierce endured some tough seasons in his early years with the Boston Celtics, but he was fortunate to have a star like Antoine Walker on the roster. Walker's prime was terrific, albeit somewhat short-lived, and there was indeed a time when it seemed as though he would be the next Celtics legend.
It turned about Pierce was the guy who would etch his name into Celtics lore and chart a course for the Springfield. But he made sure to remind Celtics fans about Walker's brilliance during his induction into the Naismith Memorial Basketball Hall of Fame this weekend.
Antoine Walker was already an All-Star when Paul Pierce was drafted in 1998
The Boston Celtics took Antoine Walker with the sixth overall pick in the 1996 NBA Draft. It didn't take him very long to become one of the best forwards in the NBA.
Walker made All-Rookie First Team during the 1996-97 season. Just one year later, he was an All-Star. The former Kentucky Wildcat averaged 22.4 points, 10.2 rebounds, and 3.2 assists in his sophomore campaign. He displayed a diverse array of skills, including handling the rock and stretching the floor as an undersized power forward.
For all of Walker's individual excellence, though, the Celtics struggled. Boston went 36-46 during the 1997-98 campaign and got the No. 10 pick in the 1998 NBA Draft.
The Celtics stumbled into drafting Pierce after the Milwaukee Bucks took Dirk Nowitzki and traded him to the Dallas Mavericks. Now, they had a pair of forwards to build around.
Pierce's arrival didn't exactly galvanize the franchise, though he and Walker consistently put up All-Star-caliber numbers. Yet, The Truth noted that Walker's presence was absolutely pivotal for individual growth as a player.
Paul Pierce said he looked at Walker like a "vet"
Antoine Walker is only a little over a year older than Paul Pierce. But given he had already been in the NBA for two seasons when Pierce arrived, The Truth held him in higher esteem.
Pierce spoke about his friendship with Walker before his induction into the Naismith Memorial Basketball Hall of Fame. He credited 'Toine with being a vitally important mentor for him early in his career. Pierce also said he considered Walker to be the franchise player.
"Antoine was my guy," Pierce said, per Gary Washburn of the Boston Globe. "The crazy thing about it is I looked at him like a vet, but he's only one year older than me. It was like we was really the same class. He took me under his wing. He took me out. We did everything together. When I made the All-Star team, we drove down together.
"When I came into the league, Antoine was established. I'm looking like Antoine's the man. I'm trying to figure out how to be the man."
Pierce ultimately became the seminal figure for the Celtics as they escaped the doldrums of the late 1990s and early 2000s. Still, the absence of a title should not detract from what Walker accomplished in Boston and what he meant to the organization.
Antoine Walker's Celtics career is only missing a ring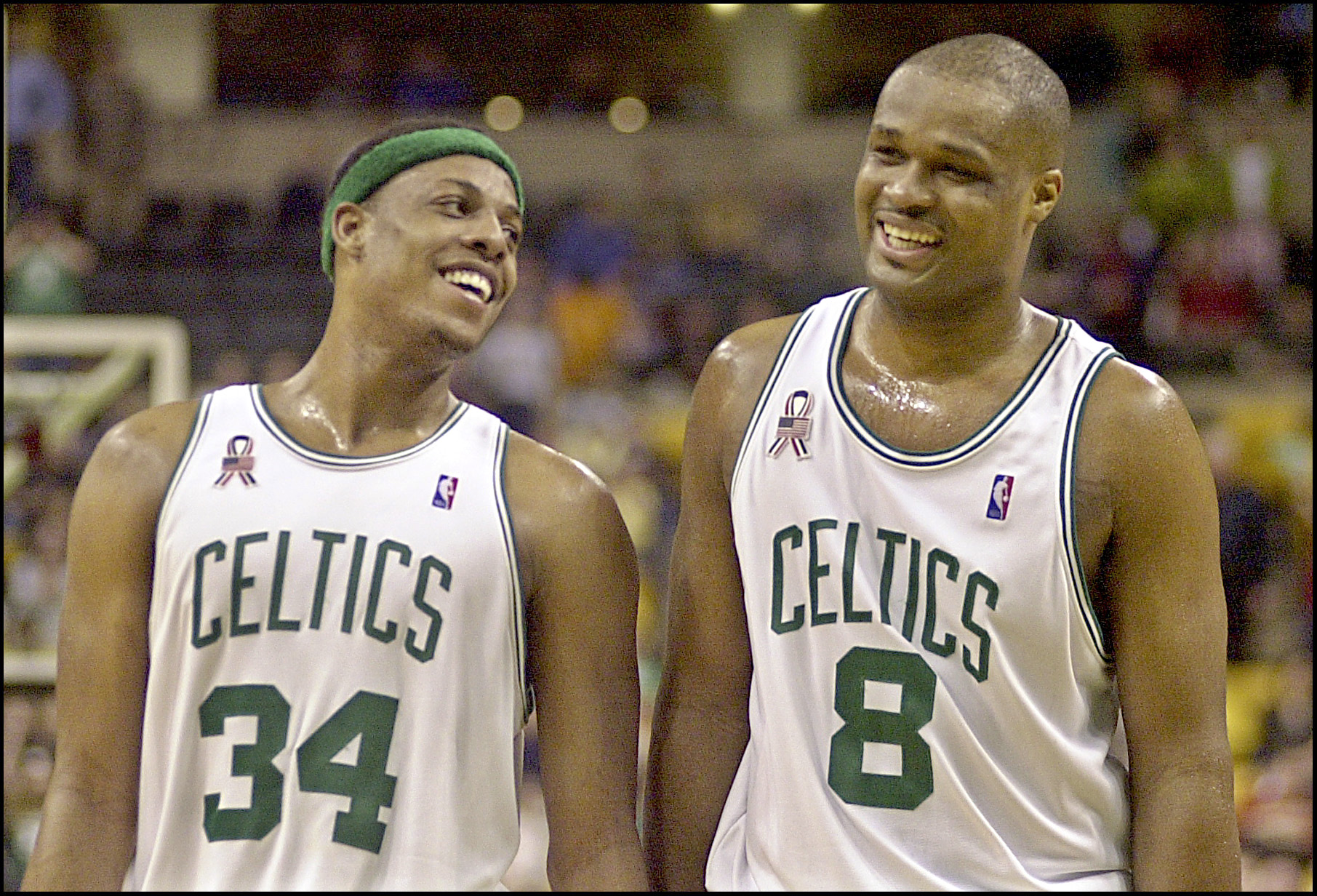 Younger Celtics fans likely won't remember just how good Walker was in Boston.
In seven-plus seasons with the Celtics, Walker averaged 20.6 points, 8.7 rebounds, and 4.1 assists. He made three All-Star teams and led the NBA in minutes played during the 2001-02 season. The Chicago native did it all in Boston, except win a ring.
Walker would eventually get a ring with Dwyane Wade, Shaquille O'Neal, and the Miami Heat in 2006. Pierce got his two years later when he teamed up with Kevin Garnett and Ray Allen. Both needed drastic roster shakeups to win their first title.
Walker's Celtics legacy might not seem as important given what the franchise accomplished a few seasons after he left. However, Pierce reminded the casuals that Walker helped to make Celtics basketball bearable and was a legend in Boston long before the "Big Three" era.
Stats courtesy of Basketball Reference.