Paul Pierce Used a Major Career Disappointment as a Catalyst to Reach the Hall of Fame: 'It Motivated Me Every Day'
Paul Pierce had an eventful career. Long before any all-star games, before any legendary battles with LeBron James, and before a wheelchair incident that had nothing to do with lower body "injuries," Pierce headed into the 1998 NBA Draft after his junior season at Kansas. Widely expected to be a top-five pick, the 21-year-old didn't go off the board until No. 10 when he was scooped up by the Boston Celtics. But Pierce put that draft-day slide to work.
Before he even stepped on an NBA floor, the Inglewood native had all the motivation he needed. What started 23 years ago as a disappointment eventually turned into a 19-year NBA career and a now spot in the Naismith Memorial Basketball Hall of Fame as part of the Class of 2021.
Paul Pierce was set to be a top-five pick in the 1998 NBA Draft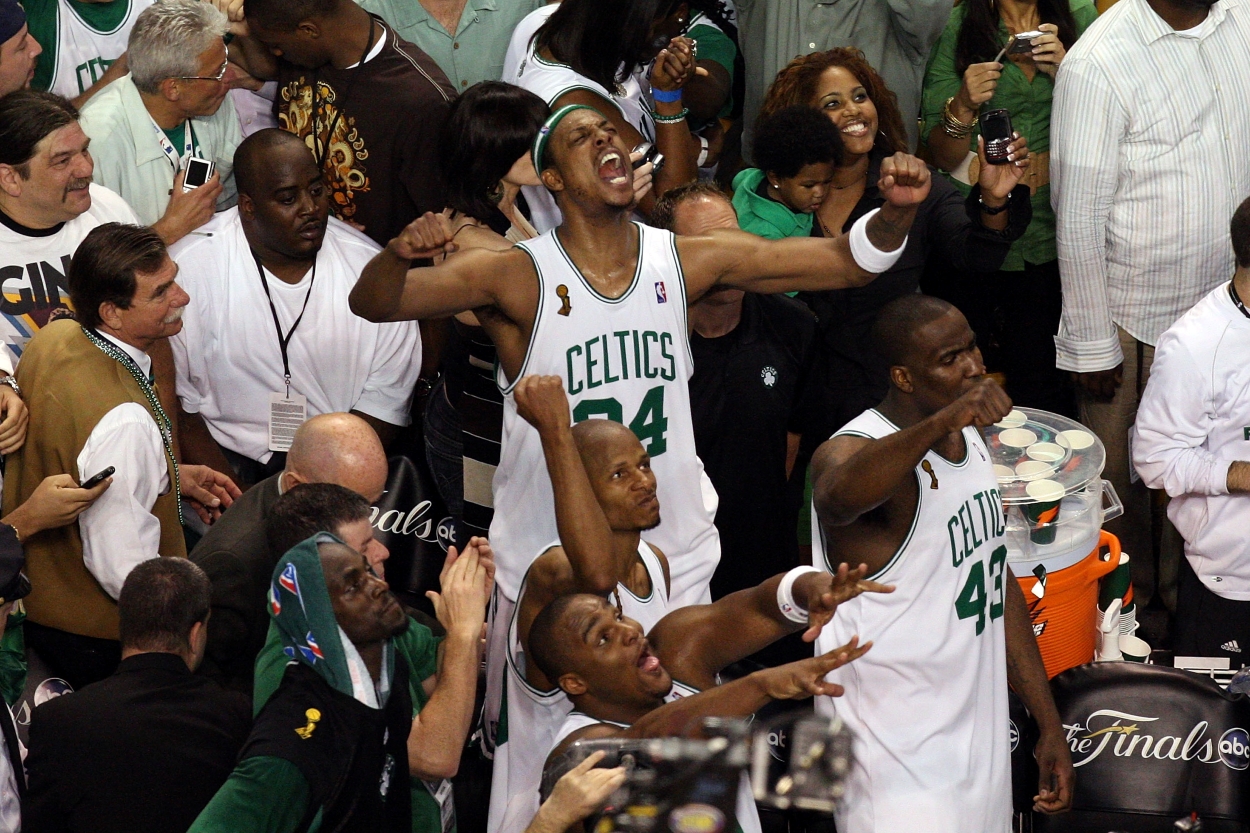 Pierce started 38 games during his junior campaign with the Jayhawks. He averaged 20.4 points and 6.3 rebounds per game with a 51.3/35.5/69.7 slash line. A proven scorer at the college level, the 6-foot-6 forward was projected to go as high as No. 3 overall. The 1998 draft is a goofy experiment in NBA scouting in itself, but Pierce slid much, much further than anticipated.
Pacific University center Michael Olowokandi went first overall to the Los Angeles Clippers. Other established collegiate stars like Mike Bibby of Arizona, and Antawn Jamison and Vince Carter of North Carolina, started hearing their names called. Even Pierce's college teammate Raef LaFrentz went in the top three.
Nos. 6-8 were Robert "Tractor" Traylor, Jason Williams, and Larry Hughes. Dirk Nowitzki went ninth overall before Boston stopped Pierce's free fall.
The Celtic legend's coach at Kansas, Roy Williams, was as stumped as anyone when asked about Pierce's draft-day slide by Chris Mannix in an article on SI.com:
"I think some people looked at Paul and wondered if he was athletic enough. I think there were questions about whether he could score in the NBA like he did in college."

Former Kansas coach Roy Williams on why Pierce fell in the 1998 NBA Draft
Pierce got to work quickly, wanting to prove to the league he had been overlooked
The NBA missed the early part of its regular season in 1998 due to a lockout. That gave Pierce extra time to work on his game before he got to Celtics' training camp, and he used every second of it.
The California native averaged 16.5 points his rookie season, shot 45.1% from the floor and 41.2% from three on 4.3 attempts per game, even when threes weren't yet in fashion.
"It pushed me into another gear. I played meaner. It motivated me every day. Every f***** day."

Pierce on using his disappointing draft day as a catalyst for his NBA career
Ironically, Pierce's future coach in Boston, Doc Rivers, was the head coach of the Orlando Magic that season. Rivers said what everyone was thinking — the rookie forward appeared slow, overweight, and unathletic, according to that same piece on SI.com:
"I said, 'How is a fat, unathletic guy f***ing killing us?' But then you realize—he wasn't fat at all, he was in great shape. He was a super athlete. But he was so fundamentally sound that you often missed his athleticism."

Former Celtics coach Doc Rivers on facing Pierce his rookie season.
The Truth went on to average 19.7 points per game during his decade-and-a-half career. Pierce scored 25.3 points per game his third year in the league and averaged better than 20 in seven of the next eight seasons. When the Celtics acquired Kevin Garnett and Ray Allen, it was the franchise veteran that led Boston to the 2008 NBA Championship, where he was named finals MVP.
Pierce is now the first member of the 1998 draft to make the Hall of Fame
Nowitzki will probably go down as the best player from the 1998 draft. But he's not in the Hall of Fame.
Pierce now is.
In almost every metric — games played, minutes played, total points, total rebounds, assists, win shares — Pierce is either second or third in the '98 draft class. He even beat Nowitzki to an NBA championship.
It was a mistake on the part of nine other franchises, but Pierce's fall to the 10th overall pick in the 1998 draft was the catalyst for what has now become a Hall of Fame career.
All statistics and draft information courtesy of Basketball-Reference.
RELATED: Ben Wallace Will Be the Lowest Point-per-Game Scorer in the Hall of Fame but Somehow Believes He's 'Tailor-Made' for Today's NBA