Paulina Gretzky Feels 'Like a Zoo Animal' When She Watches Fiancé Dustin Johnson Play Golf
Being the child of an incredible athlete can't be easy. For Paulina Gretzky, it's on a different level. Her father, Wayne Gretzky, isn't just a fondly remembered NHL legend from the past. He was and remains, without exaggeration, the greatest hockey player of all time.
Paulina Gretzky wasn't about to indulge in NHL dreams. But she still grew up under the spotlight, starting with her childhood in LA. She was born at the height of her father's fame. Yet even with all that experience, she still feels overexposed when she watches her fiancé Dustin Johnson compete on the PGA Tour.
Dustin Johnson would be famous without the Gretzky family connection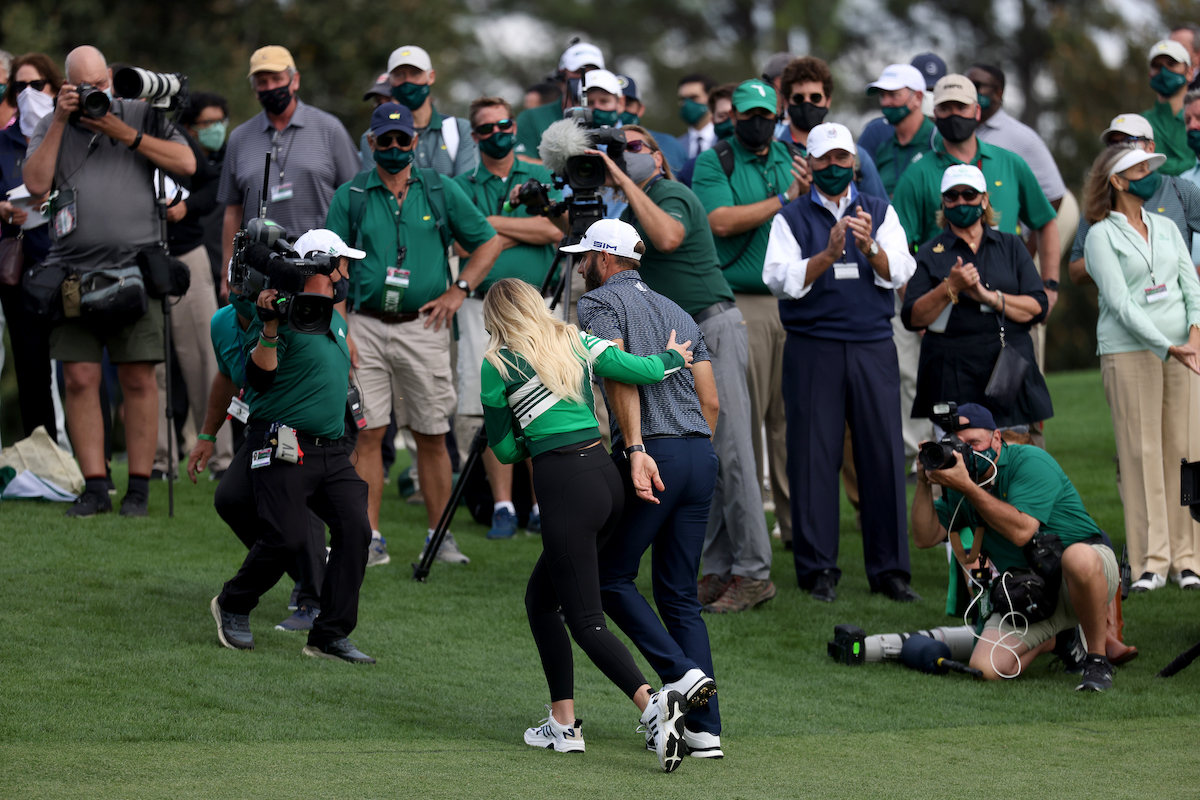 Johnson's Gretzky family ties often come up in interviews and gossip columns. But his life's story is interesting on its own. His PGA Tour success has reached a level at which he is one of the most talked-about golfers of his generation. Johnson may not have an objective claim to being the best living competitor in his sport like his future father-in-law, but he's doing just fine on his own.
After growing up as a teenager who was in and out of trouble, including jail time, Johnson started to take golf more seriously as a young adult. However, he had several relapses into old patterns of behavior that led to high-profile examples of self-destruction during his 2008 and 2010 PGA Tour runs.
The now-36-year-old had the potential to be better. His relationship with Paulina Gretzky, despite some bumps in the road, has proved the secret ingredient required to finally put him over the top.
Johnson's whirlwind romance with Paulina Gretzky
The U.S. Sun reported that Johnson and Paulina Gretzky met in 2009 and started dating in 2013. They quickly became engaged but haven't found the right time to get married. They have two children together.
Johnson has slumped into his issues with alcohol several times since they've been together, leading to a short-term separation. They decided to work things out, and scheduling commitments that have made it difficult to pin down a date are all that have prevented their wedding.
After an on-again, off-again period with Paulina Gretzky, Johnson repaired both his golf career and his relationship. He got there, in part with help from The Great One. With the Gretzky family supporting his focus on work and family, he reduced his inner circle to close friends and family. Since then, Johnson has become the 2020 Masters champion, and he did so with his fiancée at his side.
Why Gretzky 'feels like a zoo animal' when she watches Johnson compete
Johnson's Gretzky family connection adds some pressure to his career. If he's going to marry into sports royalty, then fans expect great things from him. After all, while Wayne Gretzky is long retired and has a background in a totally different sport, he's called The Great One for a reason. The former NHL top dog is good enough at his future son-in-law's sport that he recently sunk a 140-yard hole-in-one.
For Johnson's fiancée, this rise has put her in a familiar but awkward position. After growing up in the spotlight, she brings a certain star power when she arrives at Johnson's PGA Tour events. Now, she's not just the celebrity daughter dating a noted golfer; she's also sports royalty supporting the 2020 Masters champion.
She told Golf Digest this dichotomy makes her feel "like a zoo animal" when she watches Johnson play. Even compared to partners of other golfers, she notices people are more standoffish with her. But the golf community hasn't overwhelmed her the way hockey fans often have in the past. "Sometimes I just want to watch Dustin play golf, and I hope people respect that," she said. "And you know what? They always do."