Pelé Was So Poor Growing Up That He Played Soccer With a Rolled-Up Sock
Pelé is one of the most well-known soccer players around the world. With a slew of awards and accolades ranging from World Cup wins to Brazilian national teams leading goal scorer, Pelé is an icon of his sport. But his beginnings were humble, and his family struggled financially. It's hard to believe that the man who would one day win over the world with his play didn't even practice with a soccer ball in his youth. 
Pelé's early life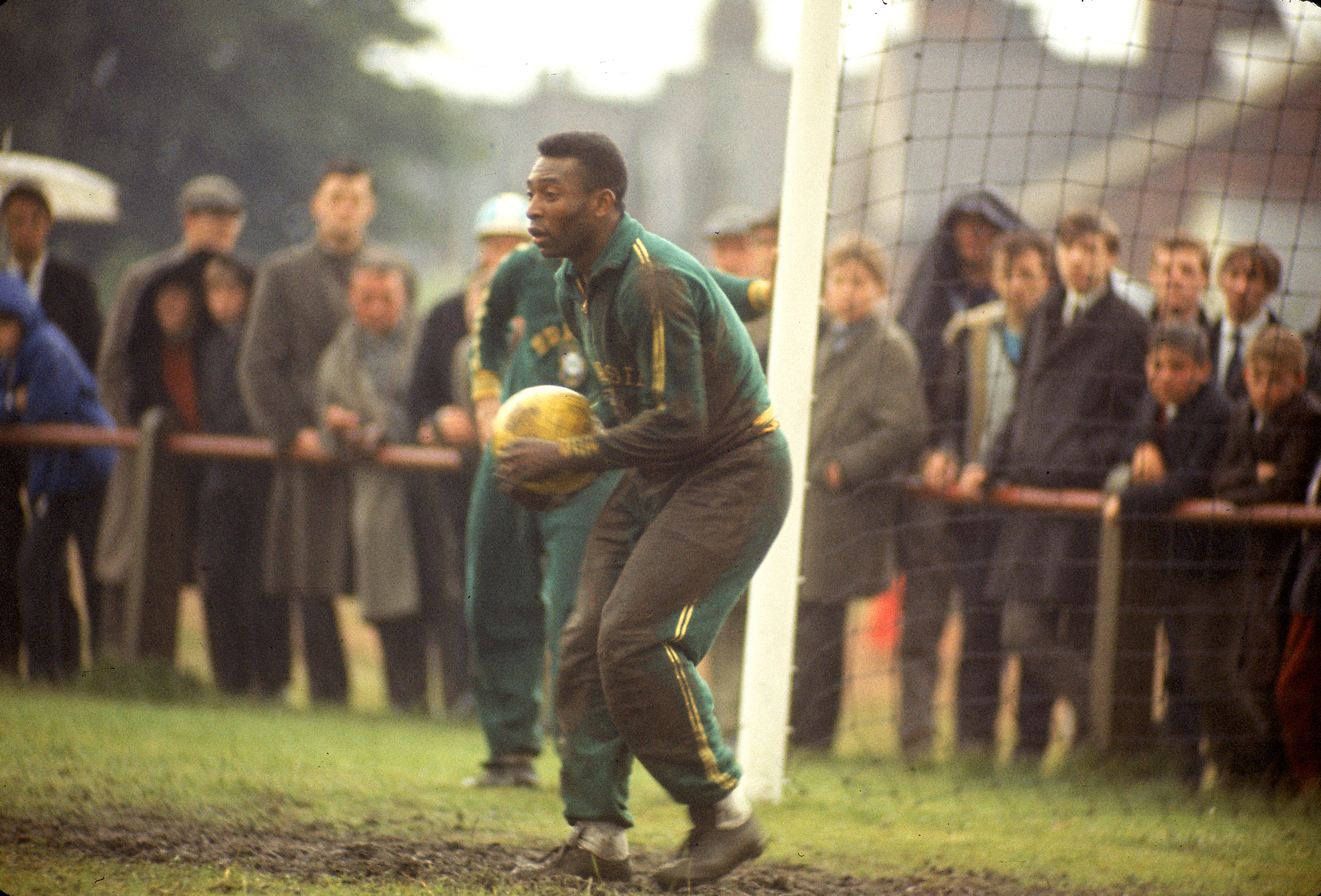 Pelé, born Edson Arantes de Nascimento, was named after Thomas Edison but didn't pick up his world-famous nickname until he was school-aged. His father, Dondinho, was a soccer player as well but struggled to earn a solid living playing the game. His family was poor, and Pelé worked in a local tea shop to earn extra money.
To play soccer, Pelé had to get creative. Since his family couldn't afford a soccer ball, he would either use a grapefruit or roll up socks stuffed with newspapers to get in some practice. His father was his first coach, teaching him about the game and mentoring him during play sessions. According to Goal, he started a team within his neighborhood, made up of local kids that they dubbed "the shoeless ones."
Making it big
RELATED: Before the 'Hand of God' Incident, Diego Maradona Made Headlines for Starting a Riot
In his younger days, Pelé played for various amateur teams, one coached by former national team member Waldemar de Brito. De Brito saw Pelé's potential and immediately wanted him to try out with the professional club, Santos FC. Biography notes that de Brito told Santos directors that Pelé was poised to be "the greatest footballer in the world."
Pelé signed with the club and made his professional debut at only 15 years old. The following year he was the top goal scorer in the league and the Brazilian national team called him up. At the time, Brazil was preparing for the 1958 World Cup in Sweden.
Pelé was the youngest player to compete in a World Cup. When his team made the finals, he became the youngest player to ever compete in a World Cup final. Brazil beat Sweden in the final, with Pelé scoring two of their five goals. After his World Cup performance, he solidified his status as a world soccer star, a designation that has never stopped.
Pelé's soccer career and legacy
RELATED: Alex Morgan's Competitive Drive Earned Her a $30,000 Car in High School
After the 1958 World Cup victory, Pelé had a successful career with Santos FC and won the World Cup two more times with Brazil. He's well known for rejuvenating the difficult bicycle kick move, a mid-air acrobatic strike at the goal. Ending his career with 1,281 goals, a few of those were from the awe-inspiring bicycle kick. 
After he retired from Santos, the North American Soccer League (NASL) snatched him up to garner more interest in soccer in America. His play brought in a record number of attendees. Fans hoped to get a glimpse of the star, and Pelé always delivered. In 1977, Pelé played his final game — an exhibition between the NASL's New York Cosmos, Pelé's team, and his former team, Santos FC. He played with the Cosmos during the first half and then switched over to Santos for the second half. It was a fitting ending to a glorious career.
Since his retirement, his legacy has grown. There is no conversation about the greatest players of all time without Pelé being in it. Considering his humble beginnings and where he ended up, it's a testament that hard work and perseverance pay off.