The Pelicans' Reported Interest in a Ben Simmons Trade Indicates They Made a Foolish Mistake in Letting Lonzo Ball Walk
The New Orleans Pelicans find themselves near the bottom of the Western Conference. Still, a poor start is not precluding them from exploring a trade for Ben Simmons.
Although contenders such as the Los Angeles Lakers seem more likely to make a run at Simmons, the Pels could throw their lot in with the rest. On its face, this seems like the kind of aggressive move New Orleans might need to make to shake things up and become more competitive.
Then again, the Pels' reported interest in Simmons also begs the question: Why didn't they simply try to re-sign Lonzo Ball?
The Pelicans reportedly want to trade for Ben Simmons in an effort to fix their ailing backcourt
Not all is doom and gloom for the Pelicans. Brandon Ingram is quietly playing at a high level, especially over the course of the past week. Center Jonas Valanciunas keeps showing why he's perhaps the most underrated player in the entire league.
But New Orleans simply cannot get in a rhythm without Zion Williamson, who recently suffered a setback to the foot injury that has sidelined him since the start of the season. The backcourt deserves most of the blame for the team's struggles.
Third-year guard Nickeil Alexander-Walker has taken a step back after a promising sophomore campaign. Devonte' Graham is shooting just 36.6% from the field while averaging just 13.3 points and 4.5 assists. Garrett Temple and Tomas Satoransky — acquired in the Ball sign-and-trade — have disappointed off the bench, and the Pels lost Kira Lewis Jr. to a knee injury.
New Orleans desperately needs a difference-maker in the backcourt, which has led it to engage in trade talks for Ben Simmons.
According to Michael Scotto of HoopsHype, the Pelicans discussed the framework of a deal sending numerous first-round picks and swaps to the Philadelphia 76ers as part of a package for Ben Simmons. Per Scotto, that framework did not include Ingram going to Philly.
Simmons could give the Pelicans a guard capable of impacting the game in multiple areas and playing elite defense. But, wait, that sounds eerily like a guard they had on their roster just last year.
Why did New Orleans let Lonzo Ball walk?
The Pelicans could not extend Lonzo Ball before the 2020-21 season. They no longer expressed interest in matching offer sheets for the restricted free agent when the campaign ended.
New Orleans' rumored pursuit of Simmons highlights the foolishness of its non-committal attitude toward Ball.
To say Ball and Simmons are on the same tier simply isn't accurate. Simmons is an All-NBA talent and perennial Defensive Player of the Year candidate, while Ball has yet to make his first All-Star team. Still, it's worth assessing their similarities.
Though neither player is the most prolific scorer, both Simmons and Ball impact the game in a variety of ways. They crash the glass and make plays on the run in transition. The two point guards have some of the best court vision in basketball. Ball might not yet be on Simmons' level defensively, but he has active hands and poses a challenge to ball-handlers while causing havoc in the passing lanes.
Then there are the differences. Ball has improved his 3-point shooting every year, which depicts his tremendous growth and true worth. He's up to 42.1% from deep this season. As has been harped on countless times, Simmons rarely even attempts triples.
One might suggest Simmons is better attacking the basket, given Ball isn't the best finisher at the rim. But his late-season struggles at the free-throw line made him more hesitant to go to the tin, so that point might be null and void.
If nothing else, Ball offers similar value. Why, then, didn't the Pelicans simply try to re-sign him for the $20 million average annual value he received in a sign-and-trade with the Chicago Bulls? It's a heck of a lot cheaper than the trade and financial cost of acquiring Ben Simmons.
One way or another, the Pelicans pay the price for their lack of vision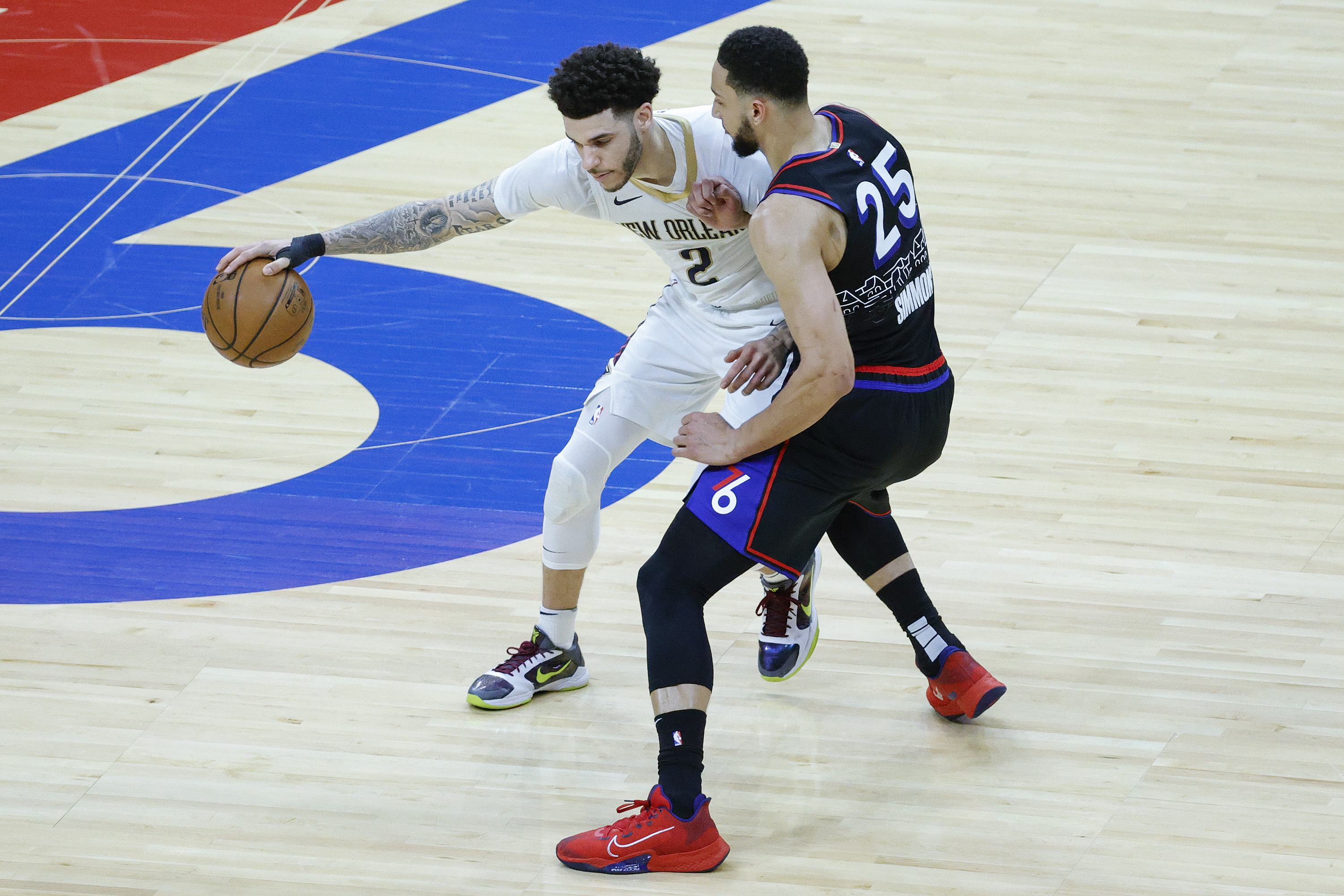 The Pelicans might have chosen to offer Ball in a sign-and-trade because they hoped to sign Kyle Lowry. But those efforts proved totally fruitless. Lowry almost immediately indicated his desire to sign with the Miami Heat.
New Orleans pivoted to signing Graham, which has worked out miserably thus far. Now, the Pels are back at square one in trying to trade for Ben Simmons. Only this time, they'll pay a much higher cost.
The Sixers will likely demand sizable draft capital plus at least one young talent for Simmons. Moreover, if New Orleans somehow gets a deal done, it will then pay Simmons well over $146 million for the next four seasons. That's quite a bit more than the $80 million they might have doled out to Ball.
Team president David Griffin is likely doing what he feels is best for the franchise. However, the rumored Simmons pursuit serves as yet another reminder of past missteps.
Stats courtesy of Basketball Reference. Contract information courtesy of Spotrac.