The Pelicans are Pulling a Page out of the Cleveland Cavaliers' Playbook and Driving Zion Williamson out of New Orleans
Zion Williamson has become one of the NBA's most exciting players over the course of his first two seasons with the New Orleans Pelicans. Williamson provided highlights on a nightly basis, showing the bright future ahead of him.
But with the way player empowerment continues to affect the league, one can wonder if Williamson will eventually leave a small-market team like New Orleans. His situation is often compared to LeBron James' first run with the Cleveland Cavaliers.
Based on the moves the Pelicans are making around Williamson, that comparison seems to have some merit.
In LeBron James' opinion, Cleveland had not done enough to build him a championship roster, so he left
The Cavaliers made several short-sighted, desperate moves during James' first run in Cleveland.
According to Cleveland.com, Zydrunas Ilgauskas leads the way in games played with James. He also leads in seasons, minutes, and points while playing with the four-time MVP. Big Z was a solid center who made two all-star teams, but not a franchise running mate by any means.
Digging further, the most high-profile names the Cavaliers acquired during James' first go-round with the franchise were Drew Gooden (2004), Larry Hughes (2005), Wally Sczerbiak (2007), Mo Williams (2008), and Danny Green (2009), according to Spotrac.
So LeBron took his talents to South Beach and joined the Miami Heat after the 2009-10 season. He joined up with BFF Dwayne Wade and Chris Bosh. Together, the three went on to win two championships.
Zion Williamson is New Orleans' franchise player, like James was in Cleveland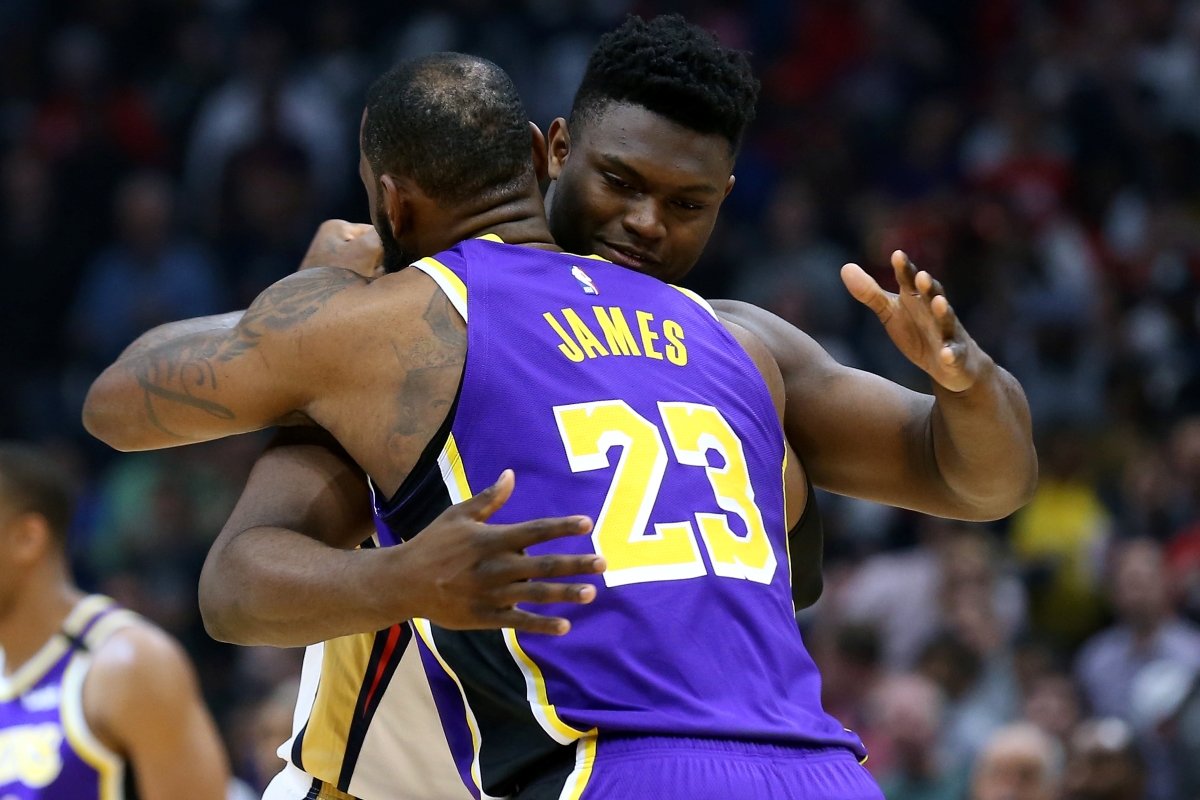 The moves the Pelicans have made so far during Williamson's tenure with the team are not promising.
According to Spotrac, New Orleans' biggest deals have been trading for Steven Adams and Eric Bledsoe and signing Nico Melli. The Pelicans also changed head coaches, bringing in Stan Van Gundy, only to fire him after one season. New Orleans has already lost starting point guard Lonzo Ball this offseason and traded away Adams and Bledsoe.
Brandon Ingram is a good player alongside Williamson, but the fit is questionable as neither player is a great floor spacer. New Orleans' draft selections the last two seasons after picking Williamson No. 1 overall haven't been encouraging to this point, either. The Pelicans drafted Nickeil Alexander-Walker and Jaxson Hayes the same year as Williamson, and Kira Lewis last offseason. They've combined to average 17.3 points per game during their careers so far, according to Basketball-Reference.
The Pelicans added former Charlotte point guard Devonte Graham in free agency, but he's not an answer to the team's problems.
The Pelicans are heading toward Cleveland territory and are in danger of eventually losing Williamson
It's only been two years, but New Orleans is clearly struggling to put together a good roster around Williamson. He's now on his third head coach in three years as well. Eventually, the former Duke Blue Devil will want a championship-level roster around him, just as James once did.
The Pelicans' last two franchise players, Anthony Davis and Chris Paul, were eventually traded to big market teams in Los Angeles. Davis went to the Lakers to play with James and Paul went to the Clippers. Williamson may be the next one out the door if New Orleans keeps heading down this path.