Percy Harvin's Net Worth Is Still Huge Despite Not Playing Since 2016
Percy Harvin's speed stood out on the football field. From his time in college at Florida to his time with the Minnesota Vikings in the NFL, Harvin was always fun to watch when he had the football in his hands. He has, however, not played in the NFL since the 2016 season but he now hopes to come back and play. Despite not playing the last three seasons, though, Harvin still has a pretty large net worth.
Percy Harvin was electric for the Flordia Gators
From the 2006 season through the 2008 season, Percy Harvin was a part of two national championship-winning teams with the Florida Gators.
After racking up 855 yards from scrimmage for the 2006 championship team, Harvin was a main piece on the Gators' offense the next two seasons. In 2007, Harvin had 1,622 yards from scrimmage and 10 rushing/receiving touchdowns. Then in 2008, Harvin had 1,304 yards from scrimmage and 17 rushing/receiving touchdowns. He had a big game in the national championship win over Oklahoma during the 2008 season too. Harvin had nine rushes for 122 yards and a touchdown in the national championship in addition to catching five passes for 49 yards.
Harvin's play was eye-popping and it certainly stood out to NFL scouts.
Becoming a star on the Vikings
Because of his play on the field, the Minnesota Vikings selected Harvin with the 22nd overall pick in the 2009 NFL draft.
He immediately had success in the NFL too. Harvin earned a Pro Bowl selection during his rookie season and was the 2009 AP Offensive Rookie of the Year. He ultimately had 925 yards from scrimmage and six rushing/receiving touchdowns. That is in addition to having 42 kickoff returns for 1,156 yards and two touchdowns.
Harvin then continued to play well for the Vikings through the 2012 season. Each season with the Vikings, Harvin had 700 yards from scrimmage or more. His best season statistically came in 2011 when he had 1,312 yards from scrimmage and eight rushing/receiving touchdowns.
The Minnesota Vikings then traded Harvin to the Seattle Seahawks in 2013, according to ESPN. He helped the Seahawks win the Super Bowl over the Denver Broncos that season too with a kickoff return touchdown. However, he never had 700 yards from scrimmage or more again after leaving the Vikings as he battled several injuries throughout his career. Harvin has not played in the NFL since the 2016 season when he played sparingly for the Buffalo Bills.
Looking to make a comeback
ESPN's Josina Anderson reported on Wednesday that Percy Harvin wants to make a return to the NFL. "I thought I was done, but that itch came back," Harvin told Anderson, according to ESPN.
Harvin retired in April 2016, according to ESPN, but still played for the Bills during the 2016 season. He then retired for a second time in March 2017. He has not played since then but Harvin, however, said that he never officially filed for retirement, according to ESPN. Harvin said that he has been training with a former Olympian and is ready to join "any offense that'll just let me go," according to ESPN.
"My body is feeling good," Harvin said, according to ESPN. "Mentally I'm better. My family is good. The timing is right."

Percy Harvin
It is unclear if any teams are interested but only being in his early 30s, Harvin could still have something left in the tank that could help an NFL team.
Harvin still has a large net worth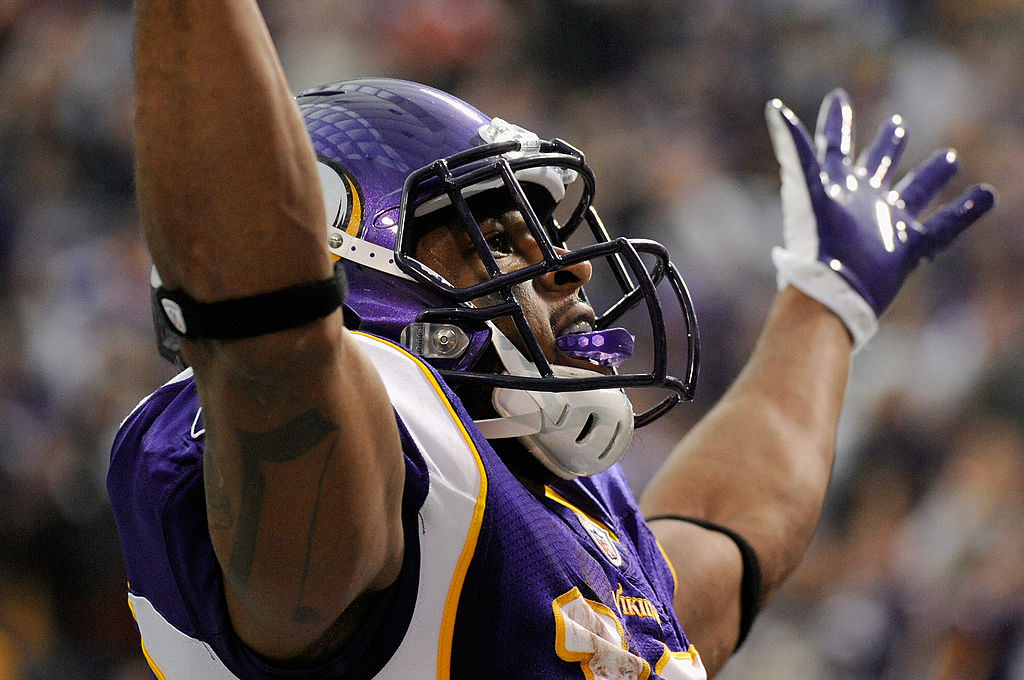 Throughout his career, Percy Harvin has earned a lot of money. Harvin has earned over $42.2 million in the NFL, according to Spotrac.
Even though he has not played since the 2016 season, Harvin's career earnings have helped him rack up a pretty large net worth. Harvin's net worth is $18 million, according to Celebrity Net Worth.
Percy Harvin's speed has helped him earn a lot of money in his NFL career. If he still has something left in the tank, he can earn even more money and grow that net worth even more. Hopefully, there is a team out there willing to give him a chance so we can see what he can do.