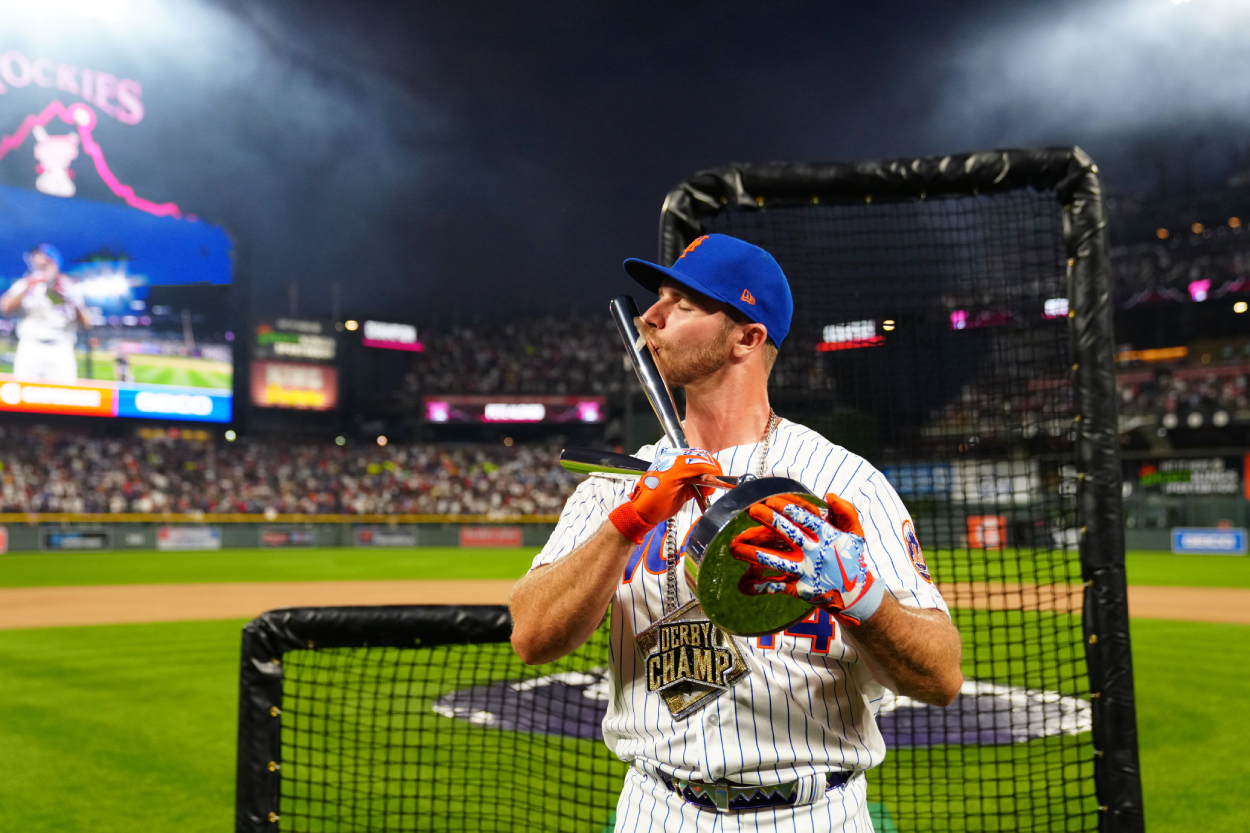 Pete Alonso Made More Money in 1 Night at the Home Run Derby Than He Will All Year for the Mets
Pete Alonso put on a show at the 2021 MLB Home Run Derby, winning his second consecutive Derby title. Alonso's power-hitting ways ultimately made him some significant cash at the Derby, and he actually made more money in one night than he will all year for the New York Mets.
Death, taxes, and Pete Alonso hitting dingers; that's been three guaranteed things in life over the past few years, and Alonso continued those stellar home-run hitting ways on July 12 by winning his second consecutive MLB Home Run Derby.
So, how much money did Alonso make for destroying all those balls? He actually brought in more money during one night at the Home Run Derby than he will this entire year for the New York Mets.
Pete Alonso won his second consecutive Home Run Derby
After seeing the COVID-19 pandemic cancel the 2020 event, Alonso got the opportunity to defend his 2019 Home Run Derby crown in which he won as a rookie.
That's exactly what he did, too.
Alonso made his presence known in the first round at Coors Field by smacking out 35 home runs. Those 35 bombs were enough to beat his first-round opponent, Salvador Perez, who hit 28.
In the second round, Alonso defeated Juan Soto by just one long ball, hitting 16 compared to Soto's 15. The Mets slugger then faced Baltimore Orioles star Trey Mancini in the final round and ultimately outlasted him 23-22 to win his second consecutive Home Run Derby title. He became the third player to win back-to-back Derby crowns, joining Ken Griffey Jr. and Yoenis Cespedes.
"I'm a power hitter, and I think I'm the best power hitter on the planet," Alonso said, per The New York Times. "Being able to showcase that and really put on a fun display for fans, it's truly a dream come true for me, because when I was younger my parents let me stay up past my bedtime to watch this."
Pete Alonso made more money at the Home Run Derby than he will for the Mets in 2021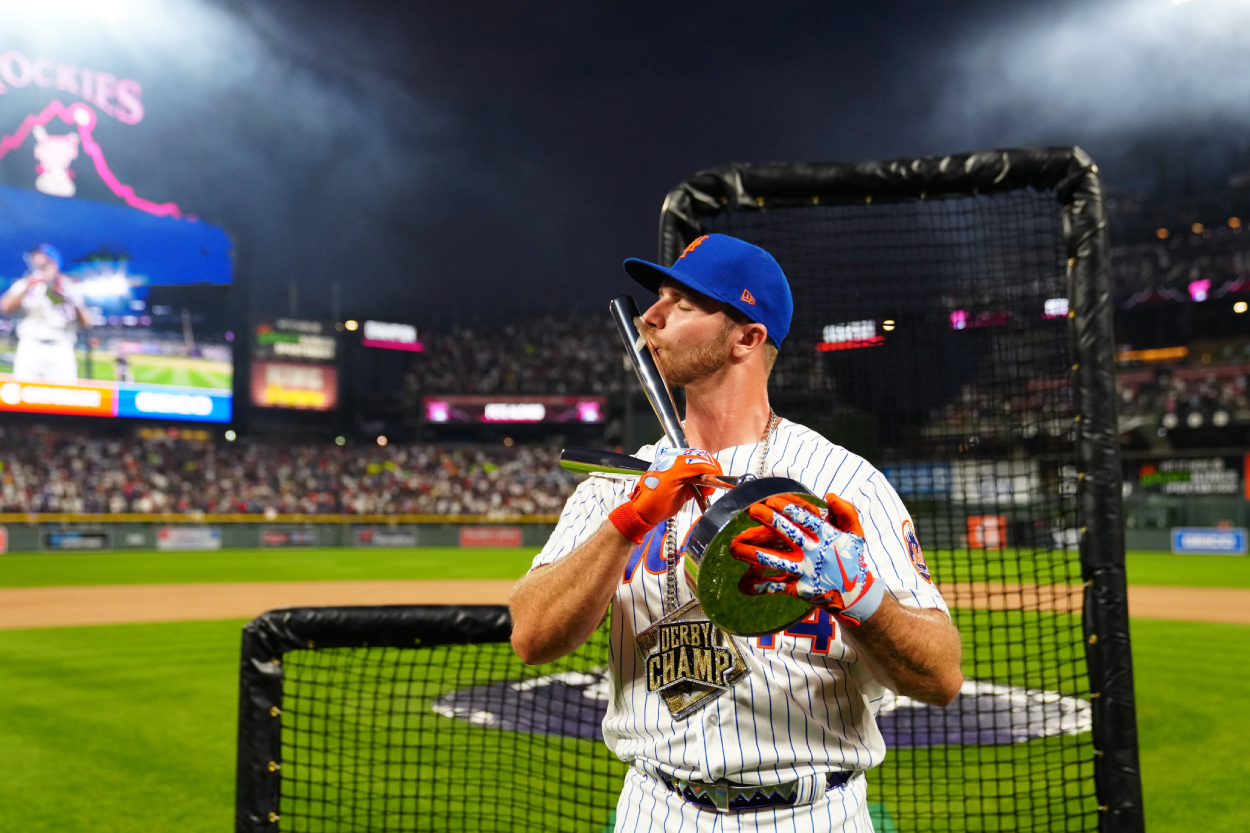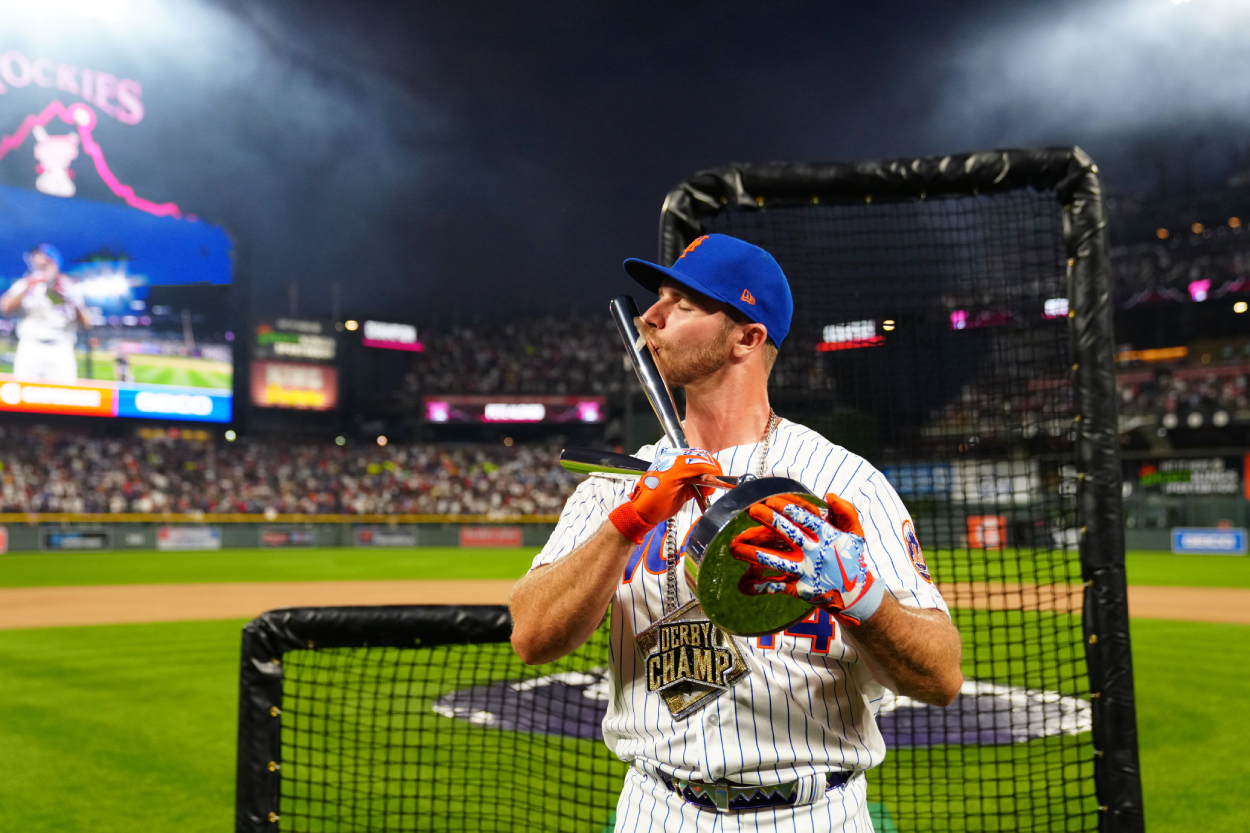 According to The New York Times, the MLB started giving the winner of the Home Run Derby a $1 million cash prize back in 2019, so Alonso made a quick and easy mill on July 12 with his show-stopping performance.
Given that he is just in his third MLB season and the Mets only drafted him out of the University of Florida in 2016, Alonso is only making $676,775 this year. So, he made more money in one night at the Derby than he will make all year for New York.
In his rookie season in 2019, Alonso made the $1 million at the Derby while only making $555,000 with the Mets. Overall, he has brought in $2.38 million in New York through his career so far — including his $909,200 signing bonus from 2016 — compared to the $2 million he has made winning the consecutive Home Run Derby titles.
He will make bank in future seasons with the New York Mets
With Alonso just being in his third season, he is eligible for arbitration the next three years with the Mets. He could make bank, too, since the salary numbers are often based on what players with similar production make.
Alonso earned All-Star honors in 2019 and ultimately won the Rookie of the Year award that season. He hit .260 to go with an NL-leading 53 home runs. He also brought in 120 RBIs and scored 103 runs.
In the COVID-19 shortened 2020 season, Alonso hit .231 and 16 home runs in 57 games before hitting .250, and 17 home runs so far through 77 games this season. He has also brought in 49 RBIs and has scored 38 runs this year.
Spotrac estimates that Alonso's market value is worth a six-year, $100.17 million deal, which averages out to $16.6 million per year. That's much more than the $676,775 he is making in 2021 and the $2 million he has made by winning two Home Run Derby titles.
Alonso isn't one of the most wealthy players in the MLB just yet, but he will soon make money by the boatloads thanks to his home-run hitting prowess for the Mets. That Home Run Derby money will soon look like pocket change to him.
Stats courtesy of Baseball Reference; Contract numbers courtesy of Spotrac