Pete Alonso's Comments About Carlos Beltran Prove He's the Mets' Next Leader
Mets first baseman Pete Alonso made a great first impression last year. And recently, he made comments that might position him as the perfect leader for the next generation of players in Queens.
A chaotic off-season set off by the Astros sign-stealing controversy has thrown baseball in disarray. It affected the Mets directly, with new manager Carlos Beltran resigning over his involvement. With the Mets left rudderless, Alonso took the risk of stepping up and making a crucial statement in public.
What Pete Alonso's take on Carlos Beltran implies about his character
Beltran was beloved in baseball. After the controversy is over, he will be again. But right now, MLB players, in particular, are enraged with everyone involved. Even guys who typically avoid commenting on anything, like Mike Trout, are up in arms.
Alonso went a different way. Despite being in the game for such a short time, he had poise beyond his years. He read the room and said exactly the right thing. Focus on the game. Focus on winning. Stick together as a team.
The Mets' official statement set a particular tone, one different from similar responses. It included the line, "we are confident that this will not be the final chapter in [Beltran's] baseball career."
It's telling that Alonso took note of that tone, and followed through on it further. He's standing with the organization. And he's setting an example for his teammates, one that few MLB players are willing to hold themselves to at the moment.
That's a good take for a player with the potential to be the next face of the franchise.
Pete Alonso's breakout 2019
After years of bad luck, Alonso could be the light at the end of the tunnel for Mets fans. His rookie performance immediately put him in the franchise's record books.
It was far from an average year. It was one of the all-time great rookie performances in baseball, on par with Mark McGuire's breakout year.
The 2019 Home Run Derby winner brought that same energy to real games, with 53 home runs. That was the most of any MLB player in 2019, and a Mets franchise record for a single season.
He batted in 120 runs, with a .260 batting average. There wasn't much question that Alonso deserved the NL Rookie of the Year nod.
He did this during a tumultuous season for the Mets. Injuries and uncharacteristic under-performance from great players put manager Mickey Callaway in the hot seat for much of the year.
Now, last-minute pick Luis Rojas is in charge with little time to prepare. The Mets organization will be behind the curve, strategically. Their clubhouse will likely lack cohesion. Alonso seems to be ready for the challenge.
Realistic expectations for Alonso's sophomore season
"Baseball's a crazy game, and a ball can bounce one way or the other, and a call could go one way or the other," Alonso recently told NYC sports radio station WFAN NYC sports radio station WFAN.
"The results can fluctuate a little bit. But for me, I want to be the same guy, have the same process, have the same attitude."

Pete Alonso
That's an incredibly mature take on a game known to frustrate even the best players in the midst of their breakout seasons.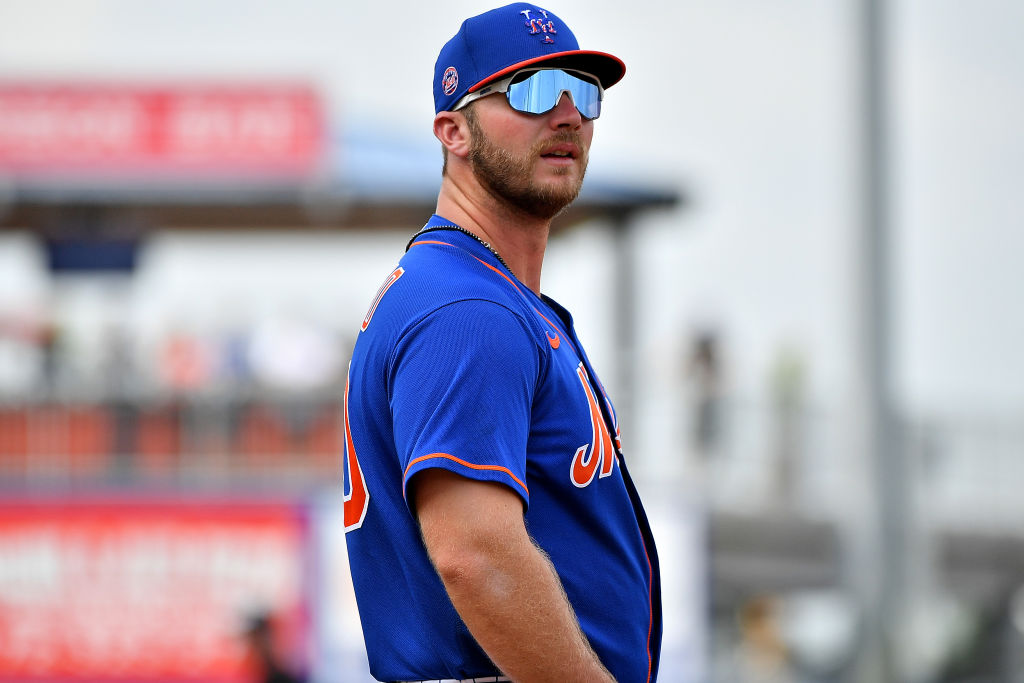 All these leadership indicators don't mean Alonso's wresting control of the ship from his elders, either. He wisely leans on veterans like Robinson Cano for advice. Even though Cano had a tough go of things in 2019, Alonso knows his full career and the nature of the game. The admiration runs deep.
The most notable difference will be how often Alonso sends the ball into the stands. His plan for 2020 involves slowing things down at the plate.
Alonso revealed his new mentality at this year's Mets Fan Fest: "Obviously, I had a good offensive year, but who knows? If I can have more plate discipline, who knows how that will translate?"
We're about to find out in a few short weeks.