Pete Carroll Doesn't Want to 'Restart' the Seattle Seahawks, but Russell Wilson May Force His Hand
Quarterback Russell Wilson, head coach Pete Carroll and the Seattle Seahawks are destined to finish in last place of the NFC West this season. That much is certain. The Seahawks are 5-10 and coming off two straight losses. They're also losers of five of their last seven games.
This is not normal for Seattle in the Carroll era. Where the Seahawks go from here is anybody's guess, but the head coach is not yet ready to send the ship down to the bottom of the ocean and start over.
The Seattle Seahawks are playing terrible football this season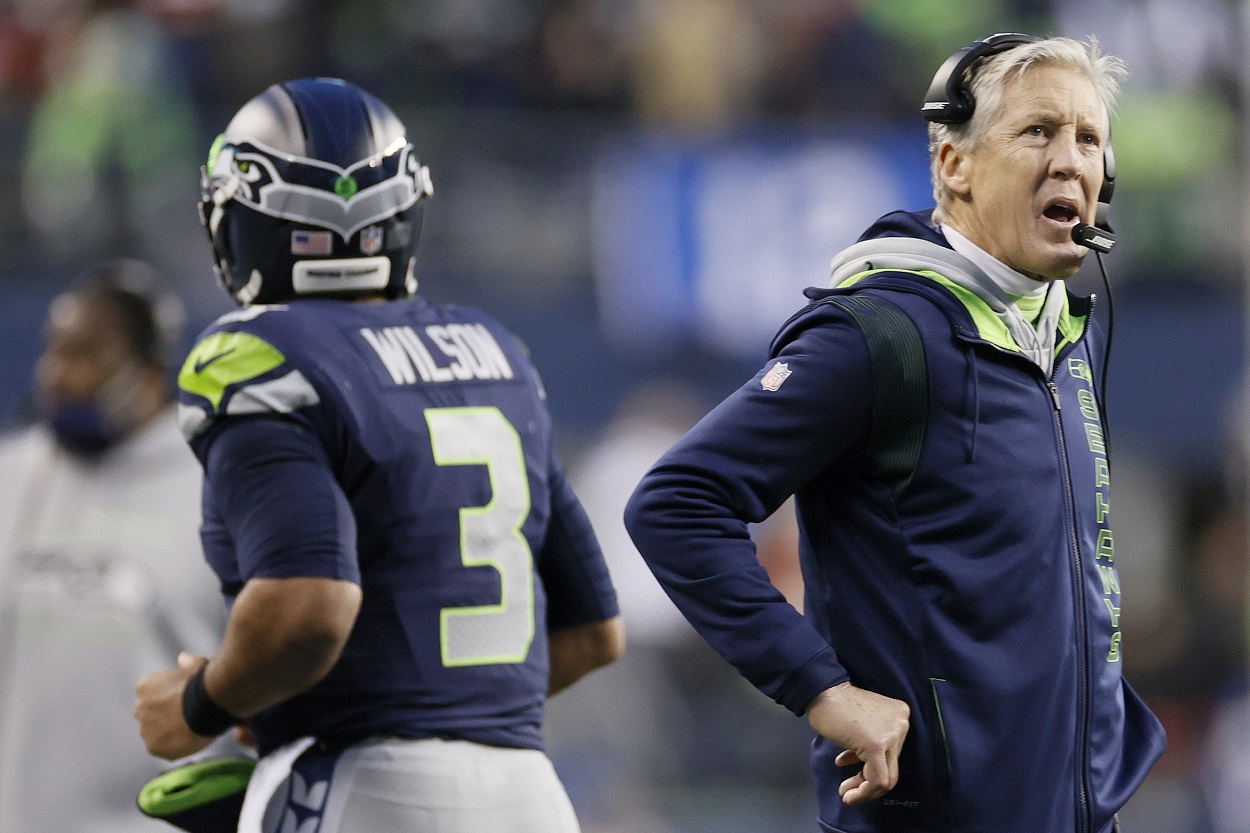 With two games left, there's a real possibility the Seahawks finish with the worst regular-season record since Carroll took over the team in 2010.
Even if the Seahawks pull out of this slide and finish the season with two more wins (it's possible against the Lions and an Arizona team that is also slumping), the best win total Seattle can finish with is seven. Carroll has gone 7-9 twice before, but those were his first two seasons as head coach. He hasn't had a record worse than 9-7 since, and the Seahawks have, of course, won a Super Bowl with Carroll at head coach and have been to another.
With just one more loss this season, we will have officially reached rock bottom for Carroll and the Seahawks. With the way they've been playing, they're a hard team to bet on to get both wins right now.
Sure, Wilson has missed time this year, but he still has played in 12 of Seattle's 15 games. Even so, the Seahawks have the third-worst offense in the league in terms of yards per game (305.2), the fifth-worst in passing yards (198.1), and they're in the bottom half of the league in points per game with 20.4.
The Seahawks have been known for playing great defense in the Carroll era, but they have the second-worst defense this season in yards given up per game with 385.5. Only the Jets give up more yards per game on defense (391.3).
Pete Carroll isn't ready to hit the restart button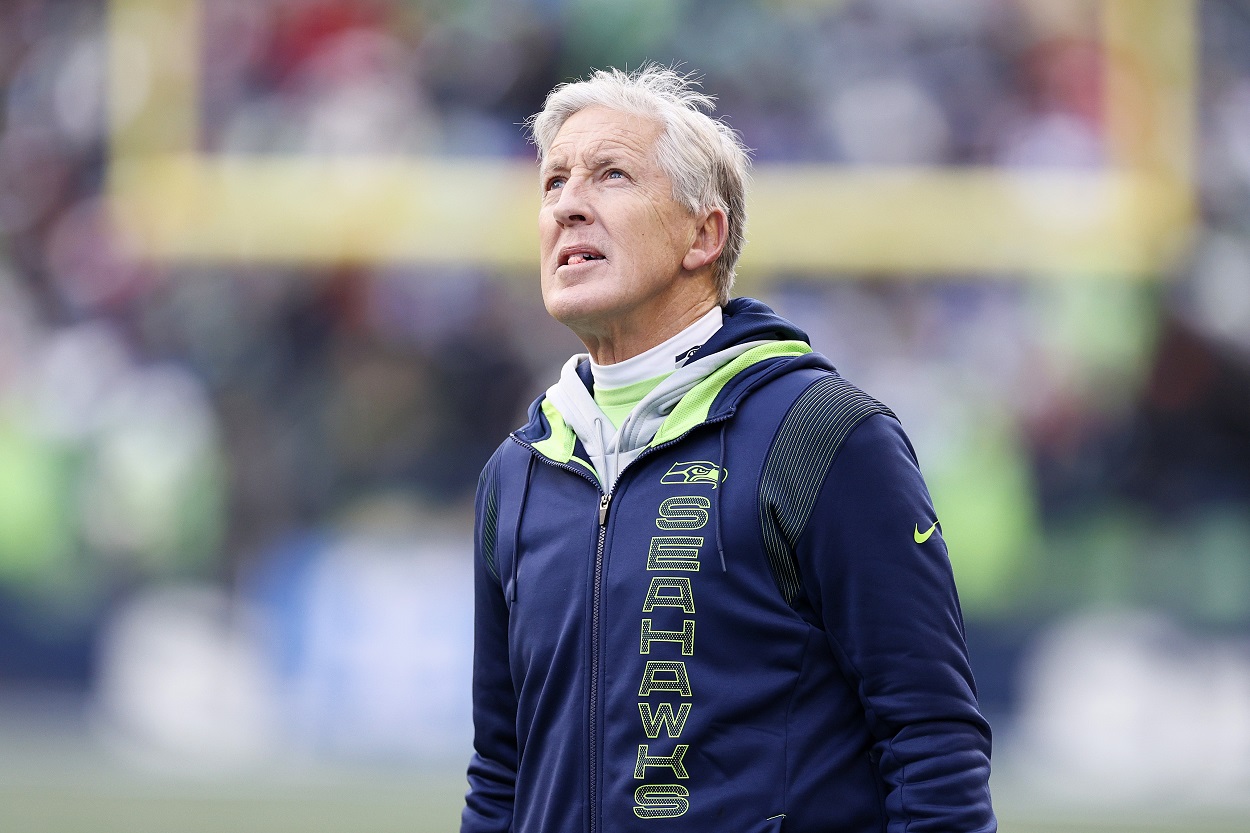 Usually, hitting rock bottom is followed by some sort of reset. At the very least, that is how things should work, and that is the best path forward for the Seahawks if they want to restore their former glory.
Here's the thing, though: Both Carroll and General Manager John Schneider have been in place since 2010. They had built the Seahawks back up after the Super Bowl loss under Mike Holmgren in 2005, and they were at the top of the mountain when Wilson, Marshawn Lynch, Richard Sherman, and Earl Thomas captured glory in Super Bowl 48.
Not only that but both Caroll and Schneider recently signed contract extensions. Carroll is signed through the 2025 season and Schneider through the 2027 draft.
Something needs to change in order for Seattle to avoid a similar fate next season, but is it really going to be either Carroll or Schneider? At least regarding the head coach, it sounds like he's pretty well set in his ways.
"Not for one reason at all am I thinking that we have to restart this whole thing and create a new philosophy and a new approach and all that," he told 710 ESPN Seattle a day after the Seahawks' loss to the Bears. "I don't think that. I think we've got the essence of the things that we need. We've got to build on them, we've got to support it better and we've got to continue to grow and progress. There ain't no standing still, but there's the foundation for doing things."
Russell Wilson may force the Seahawks' hand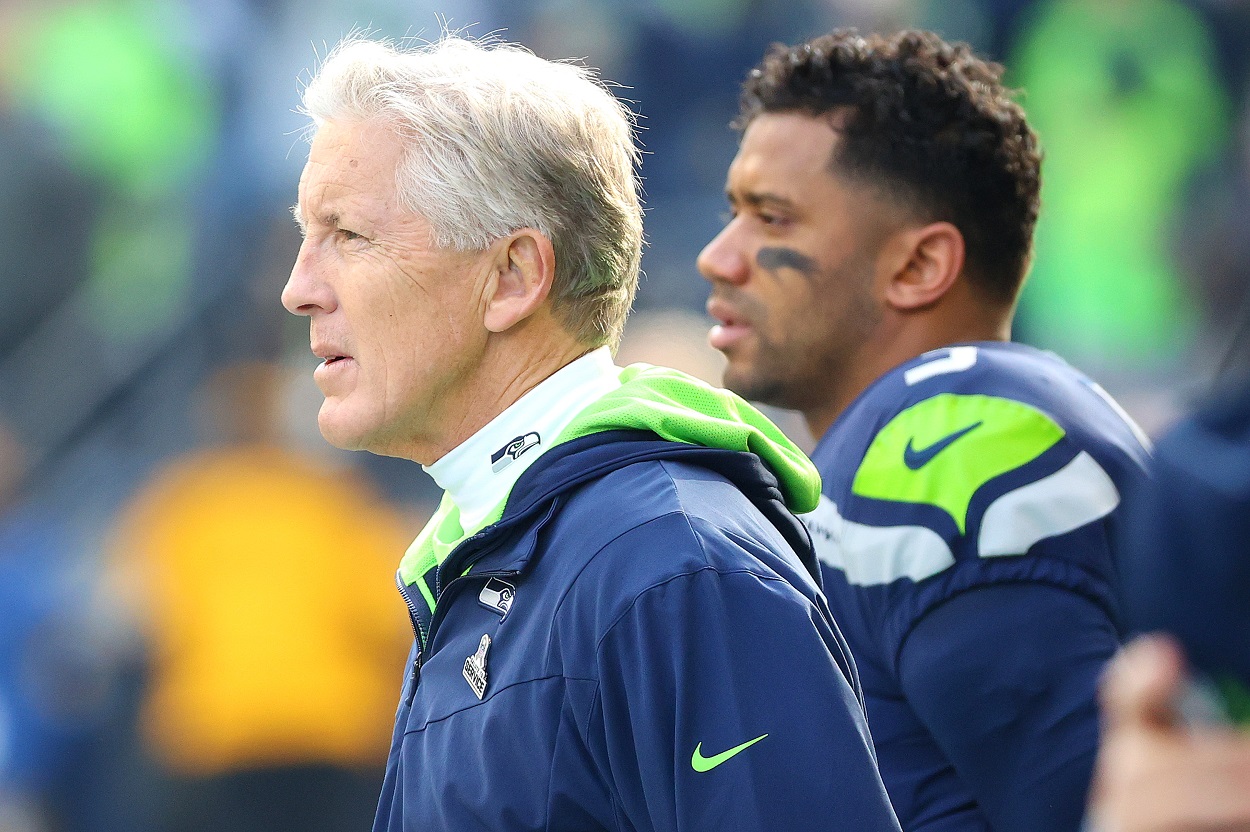 Carroll may want to keep the band together, but there's always a chance Wilson forces his hand. A few seasons ago, the Seahawks without Wilson sounded foreign and wrong. This past offseason changed much of that sentiment, though.
Early on in the offseason, Wilson publically admitted to being frustrated with the Seahawks, specifically as it related to the lack of protection the front office has afforded him on the offensive line. Then came the reports of management not being happy with Wilson airing his issues publically. One of the best in the business, Dan Patrick, reported that a source was telling him that "the current situation" between Wilson and the Seahawks was "not sustainable."
The two sides clearly figured out their business heading into the 2021 season, but that wasn't for lack of trying on the part of other organizations trying to get the star quarterback. The Bears reportedly offered Seattle three first-round picks, a third, plus players in order to try to lure the Seahawks into a trade. Among the players offered up by Chicago were Khalil Mack and Akiem Hicks.
Wilson will end this disastrous season as Seattle's quarterback, but one has to wonder if the terrible season, plus the fact that the seven-time Pro Bowler is looking to win more championships, could be enough for him to ask for a trade. Earlier in the season, it was reported that Wilson would waive his no-trade clause for three teams (Giants, Broncos, Saints), so if that report is true, Wilson could be thinking about getting out of Seattle sooner rather than later.
Caroll doesn't want change, but it does make sense to.
Trading Wilson for a treasure chest of picks and players makes a lot more sense than a potential holdout. Aaron Rodgers tested those waters in Green Bay this past offseason, and had he stayed away from the team, things would have gotten ugly for the Packers. The Seahawks don't want to go down that road if Wilson plays the "unhappy card" again this offseason.
The Seahawks could trade Wilson and get the picks and players they need to earnestly build back to greatness. It would probably feel like a restart to Carroll, but if he believes he has the infrastructure and system in place to build another champion, a hard reset could be the best thing for Seattle.
Stats courtesy of ESPN and Pro Football Reference. Contract information via Spotrac.
RELATED: Russell Wilson Takes Another Glaringly Obvious Step Toward His Imminent Seahawks Departure
Related post url: