Pete Carroll Is Turning to Excuse-Making as a Way to Justify the Seahawks' Sluggish Start to the Season: 'It Hasn't Been Easy'
Entering the 2021 NFL season, Pete Carroll and the Seattle Seahawks were expected to be a top team in the NFC. They were essentially running things back with the same roster that won them 12 games in 2020, and Seattle haven't had a losing season since 2011. Carroll, Russell Wilson, and the Seahawks have been the definition of consistency over the past decade.
However, such a reality has yet to come to fruition. The Seahawks are 3-6 after ten weeks of football and in last place in the NFC West. Granted, their starting QB (Wilson) missed several games with an injured finger. However, his return in Week 10 didn't change much. The Green Bay Packers shut out Seattle 17-0, the first time Wilson's been shut out in his NFL career.
Pete Carroll is making excuses for the Seahawks' poor start
At the crux of Seattle's slow start is veteran head coach Pete Carroll. A once untouchable figure in the Seahawks' organization, more and more people are starting to point the finger at him for the team's struggles. While they've had no issue stacking up winning seasons under Carroll, their playoff record is a different story. The Seahawks haven't reached the Super Bowl since 2014 despite rostering a certified franchise QB in Wilson.
When questioned about the Seahawks' rough start to the season, Carroll was full of excuses from top to bottom.
"Let's just look at what happened," Carroll said. "We had Russ playing, then he left in the Rams game. Then we had to bounce back with Geno [Smith], which he did a nice job, but we altered what we were doing to make sure that we gave ourselves a win. Then we come back at the Packers, and it was Russell's first game back. I think we needed to settle everything down and get back to the ball that we liked earlier in the year. We thought that we started to get things rolling, but it's been tumultuous in that regard. I think not having Chris [Carson] where we were really leaning on Chris has made a difference to us, too. Those are just the situations that he has had to deal with, and it hasn't been easy. I'm looking forward, we have eight weeks to do something, so we will see where we wind up after that. We need to make progress."

Pete Carroll via Pro Football Talk
Pete Carroll's comments are concerning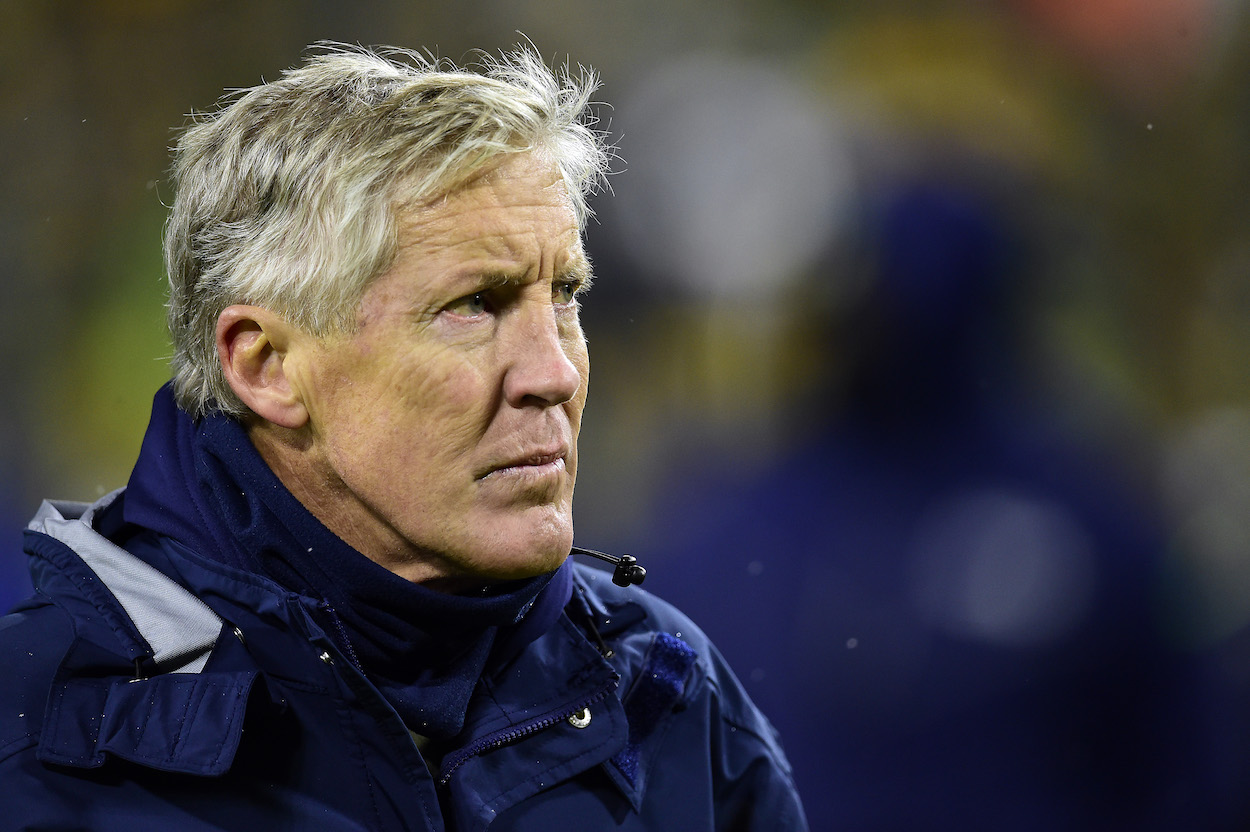 Carroll is correct to an extent, for what it's worth. Losing your starting quarterback (Wilson) and starting running back (Carson) is challenging for any head coach to navigate through. However, that doesn't mean Carroll is justified in blaming all of his team's struggles on a few injuries.
Teams all around the NFL deal with injuries every week. The good teams are the ones who find ways to replace lost production consistently.
One area the Seahawks have stayed essentially healthy at is the defense. Yet, their defense currently ranks sixth-worst in yards allowed and twelfth-worst in expected points contributed by the defense. Considering Carroll's background as a defensive-minded HC, this is a concerning development.
Russell Wilson's Seahawks future looms overhead
Russell Wilson continues being connected to other teams in trade rumors, to make matters worse for Carroll and the rest of the Seahawks organization. Wilson has considered forcing his way out of Seattle in the past — a below-.500 finish in 2021 could be the straw that breaks the camel's back.
Wilson has yet to comment on the trade rumors formally. However, he presumably is frustrated at the state of the Seahawks right now. He'll be 33 years old by year's end and certainly wants to play in another Super Bowl or two before retiring.
The pressure is very much on Carroll to fix things in Seattle (not make excuses) to keep his superstar quarterback in the building.
All stats courtesy of Pro Football Reference.