Pete Carroll Sounds Like a Man Who Knows His Days With Russell Wilson Are Nearing an End
Article Highlights:
Seattle Seahawks head coach Pete Carroll sounds like a man who knows his time with Russell Wilson is nearing an end
Wilson, arguably the greatest player in Seahawks history, is the subject of trade rumors amid the Seahawks' 3-7 start
The Pro Bowl quarterback needs to spend the season's final weeks improving his trade stock
Times are changing for the Seattle Seahawks, and head coach Pete Carroll knows it. He might not want to accept the reality of what could come for him and quarterback Russell Wilson, but deep down, he must see an era is about to end.
At 3-7, the Seahawks are staring down the barrel of missing the postseason for only the second time since Wilson arrived in 2012. With his quarterback the subject of trade rumors, Carroll recently made it clear how much he values his longtime partner — and, in the process, seemingly admitted the end might be near.
Pete Carroll recently expressed how thankful he is for Russell Wilson
Carroll and Wilson are among the last men standing from the Seahawks team that won Super Bowl 48. In fact, All-Pro linebacker Bobby Wagner is the only other active Seahawks player who can claim he won a ring in Seattle.
Depending on how things go in the spring of 2022, Wagner may be the only player left come September 2022. Wilson, who is under contract through the end of the 2023 season, has been linked to possible trades for months. Earlier this year, he reportedly listed four teams — the Chicago Bears, Dallas Cowboys, Las Vegas Raiders, and New Orleans Saints — that he'd be willing to join via trade.
If the Seahawks were 7-3 and chasing a second straight NFC West title crown, we might not be discussing Wilson's future. However, his team is among the NFL's worst, so here we are. Carroll, who likely doesn't want to envision a world without Wilson at quarterbacks, knows that fact.
According to Outkick, Carroll said he feels his relationship with Wilson is "the best it's ever been by far." even amid Seattle's struggles. 
"We've been closer because of all that happened in the offseason we went through and the time we spent together. It's as connected as it's ever been. It's a natural thing when you spend that much time, and you're working [through] stuff together that you grow together. I'm grateful for that. I'm grateful for the relationship and helping him."

Pete Carroll
Carroll also praised Wilson for how he's handled adversity, especially after a finger injury kept the veteran quarterback out for a month. Before this season, Wilson had never missed a game because of an injury.
"He just went through one of the most difficult things he's ever faced in his career," Carroll said. "To make it through that one step at a time every day and stay in touch. To see him handle it and all that, and now he's ready to go."
Carroll sounds like a man who knows his days with Wilson are nearing an end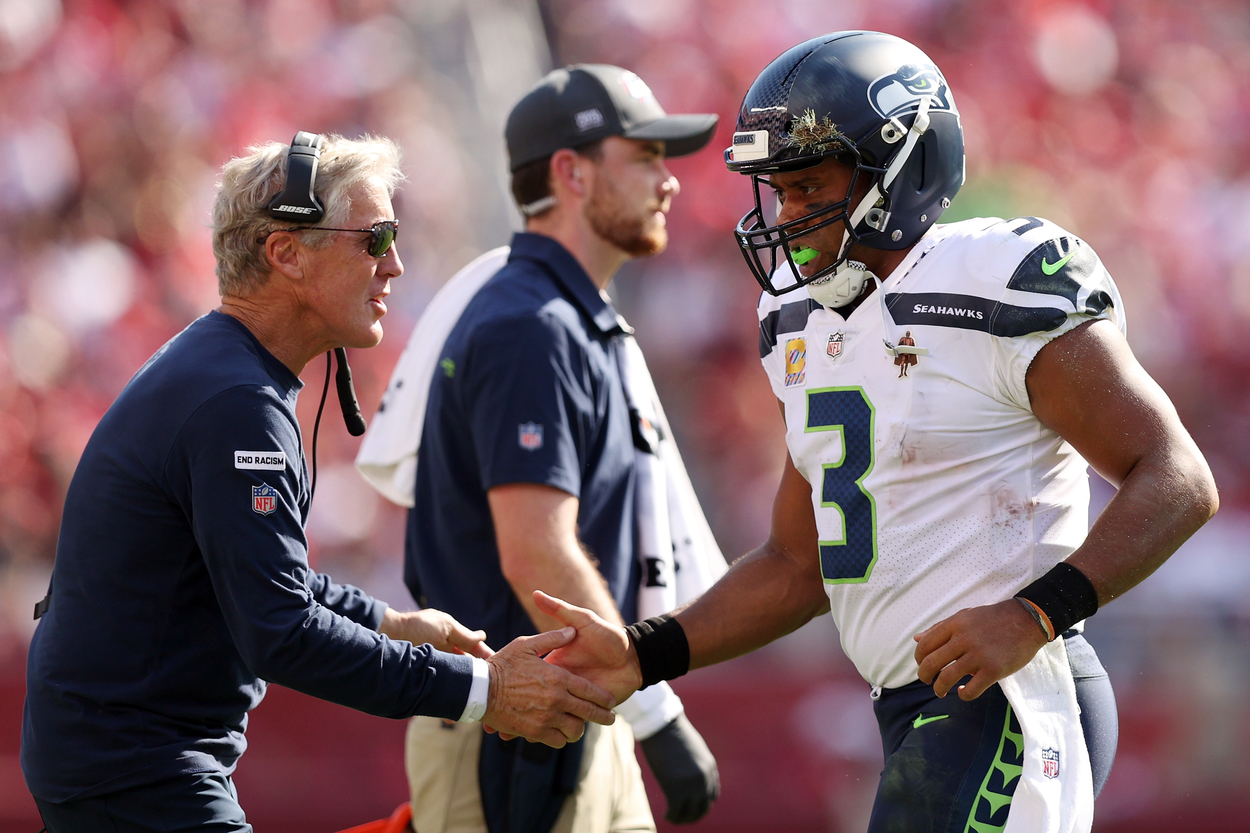 At 3-7, the Seahawks likely need to win six of their final seven games even to have an outside chance at reaching the postseason. As any head coach should do, Carroll only wants to focus on what he and his team can do now to get back in the race, even if it means finding an improbable way to go 7-0.
However, Carroll must know the odds are stacked against him and the Seahawks. At this point, we're much closer to the Wilson era's ending than he and the organization may have hoped when they took the field in Week 1.
By sharing how thankful he is for Wilson and their bond, Carroll all but confirmed, even if unintentionally, that part of him knows they won't be together much longer. He turned 70 in September and is already among the oldest head coaches in NFL history. Then, of course, there are the trade rumors which, if they actually happen, would have Wilson starting elsewhere in 2022.
Unfortunately for the Seahawks, they're almost certainly not going to win the Super Bowl this year. The idea of sending Wilson — and possibly Carroll, given his age — out with a second title is in legitimate doubt. 
Wilson needs to spend the season's final weeks improving his trade stock
Wilson, understandably, is going to try doing everything he can to reach the postseason yet again. But, fairly or unfairly, he must also start thinking about his trade stock.
Wilson entered Week 12 having completed 64.9% of his passes for 1,564 yards, 10 touchdowns, and three interceptions. He is on track to finish this season with his lowest completion percentage since hitting a career-worst 61.3% of his passes in 2017. Similarly, his 223.4 passing yards per game would be his worst since averaging 215.5 yards in 2018.
If Wilson can avoid any finger-related setbacks and continue avoiding turning the ball over, he'll have teams swooning and ready to put together a significant trade package next spring. How does the idea of Wilson in a New York Giants uniform sound?
As for what the Seahawks will do at quarterback, how does a room featuring Andy Dalton and Geno Smith sound? That sound you hear is Carroll closing his door and dialing the University of Southern California.
Like Sportscasting on Facebook. Follow us on Twitter @sportscasting19.