Pete Carroll's Clueless Approach to Russell Wilson Is Doing the Seahawks More Harm Than Good
Despite their impressive Week 18 blowout win over the Detroit Lions (51-29), the Seattle Seahawks are entering the upcoming offseason in rough shape. They're going to finish the year with seven wins or less — last place in the NFC West.
At the root of Seattle's problems is quarterback Russell Wilson. It was a down year for the future Hall of Famer. However, everyone has down years once in a while; that's not the big issue. The big problem is that Wilson's Seattle clock appears to be expiring. Several analysts and insiders around the NFL believe he will demand a trade this offseason.
Russell Wilson's time with the Seahawks may be coming to an end
Wilson has flirted with the idea of departing Seattle for over two years now. He nearly green-lit a trade to the New York Giants in 2019 and had his agent release a list of approved landing spots in 2020. Wilson's frustrations have seemingly stemmed from two separate sources. First, the Seahawks haven't appeared in a Super Bowl since 2014. Second, Wilson and head coach Pete Carroll seem to have different opinions on how the Seahawks' offense should be run.
Carroll has repeatedly stated his desire to run the ball at a high rate, whereas Wilson is understandably more inclined to pass. The Seahawks tend to have more success when Wilson can air it out, for what it's worth.
In the past, Carroll and Wilson were always able to make up due to one significant common interest. They both wanted to win, and their past results spoke for themselves. They're one of the winningest duos in the NFL.
However, this past year was a far different tune. Seattle struggled to replicate their past successes, casting doubt on Wilson's desire to remain in town.
Pete Carroll appears oblivious to the whole situation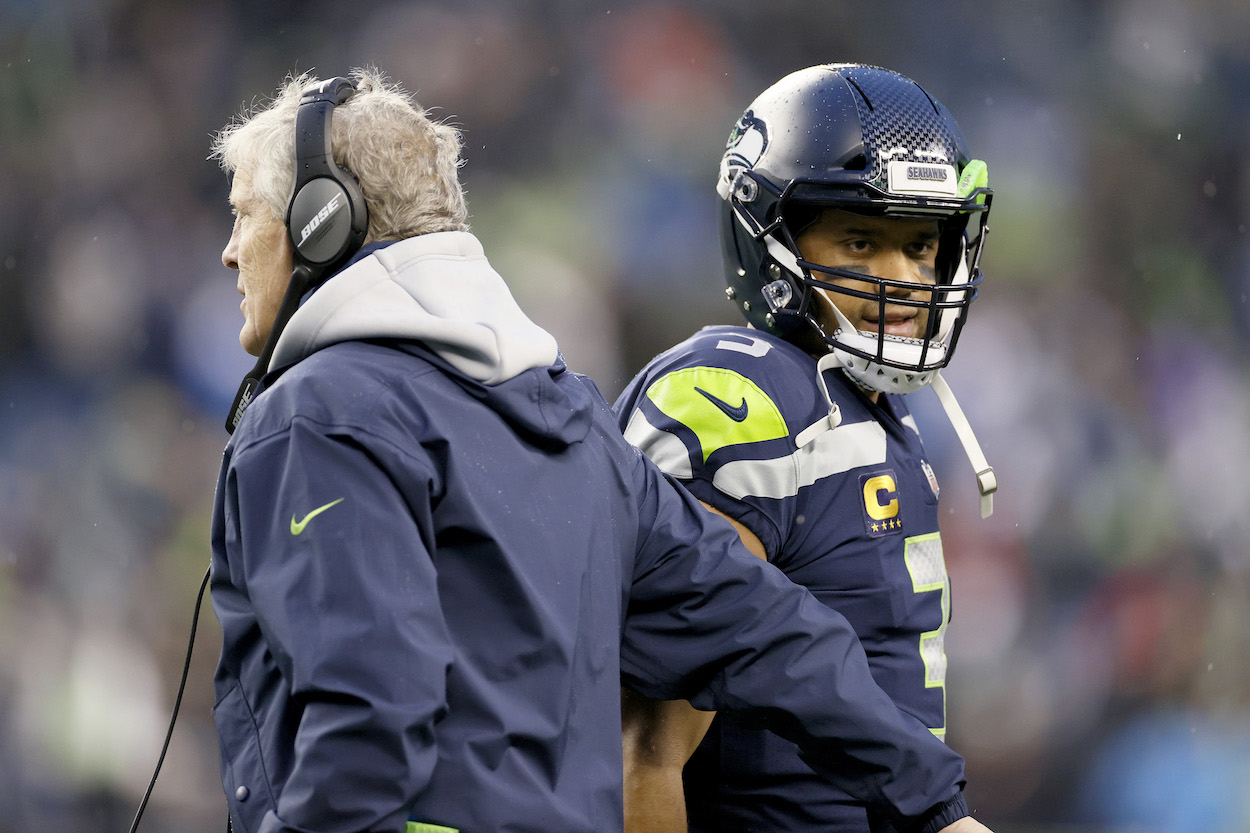 Wilson may want a fresh start for the sake of a fresh start, and that nothing the Seahawks do can convince him to return in 2022. However, it'd be incredibly foolish to look at this situation and not highlight the blame that Carroll carries. His stubbornness on offense is playing a role in Wilson's ongoing frustration.
When asked about the Wilson situation, Carroll's response was not exactly one of self-accountability.
"The kind of conversations that we have behind the scenes are not in line with the rumors," Carroll said. "OK? There you go, they are not at all. We have been talking. We have been together and connected throughout this whole season. That's why it's easy to dismiss those at this time."
Either Carroll is downplaying Wilson's frustrations for the sake of the Seahawks, or he is oblivious to the chatter going on behind the scenes.
How can the Seahawks keep Russell Wilson in town?
Coming off a losing season for the first time in a decade, the Seahawks could very well be open to the idea of blowing things up and entering a rebuild. However, common sense suggests they should do whatever it takes to keep their star quarterback in the building for another few seasons.
Franchise quarterbacks don't exactly grow on trees.
The Seahawks presumably don't want to fire Carroll to retain Wilson, but a conversation needs to be had regarding the team's offensive scheme moving forward. If Russ wants to cook, Carroll needs to let him cook.
Like Sportscasting on Facebook. Follow us on Twitter @sportscasting19.