Pete Carroll's Desperate Admission That Seahawks Have Reached Out to Cam Newton Shows Just How Much They Miss Russell Wilson
Article Highlights:
The Seattle Seahawks (2-4) just suffered a devastating loss to the Steelers (3-3) in overtime, led by Geno Smith
Pete Carroll admitted that the Seahawks have reached out to Cam Newton
Russell Wilson is on the injured reserve, but Newton doesn't seem like the best option for Seattle
Happy days are not here again for head coach Pete Carroll and his Seattle Seahawks. The Hawks are fresh off a Sunday Night Football loss to the Pittsburgh Steelers, a game they may have won had quarterback Russell Wilson been healthy. Wilson is currently on the injured reserve with a finger injury, causing him to miss a regular-season game for the first time in his career.
Instead, the Seahawks went into action with Geno Smith at quarterback, who was starting his first NFL game in nearly four years. Seattle valiantly took the Steelers to overtime, but ultimately Pittsburgh's defense was too much for Smith and Seattle's offense to overcome.
The Seahawks lost 23-20, and Carroll is left looking for answers.
Geno Smith was good but not good enough for the Seattle Seahawks
The irony of Smith's night was that he actually looked rather competent.
Heading into halftime, the Seahawks were down 14-0, but Smith conducted three scoring drives to start the half, including two straight touchdown drives, to ultimately tie the game at 17. He also facilitated the field-goal drive that tied the game up at 20 and allowed the Seahawks to send the game into overtime.
Getting the football back with 1:30 to go in the fourth after the Steelers took the lead with a field goal of their own, Smith led Seattle down the field on a nine-play, 50-yard drive that ended in a game-tying field goal. Smith went 6-of-6 on the drive and looked poised and in control of the offense.
The issue for Seattle was that for all the good Smith did to give the Seahawks a chance, the reasons he has been a career backup were glaring in some of the game's biggest moments.
Though he did complete 23 of 32 passes for 209 yards and a touchdown, he was sacked five times and often showed a complete lack of pocket presence.
Smith also fumbled the ball when he was strip-sacked by T.J. Watt with 4:16 to go in overtime. Pittsburgh linebacker Devin Bush recovered the fumble, and the Steelers went on to win the game thanks to a 36-yard field goal from kicker Chris Boswell.
Head coach Pete Carroll is apparently looking for other options at quarterback, including Cam Newton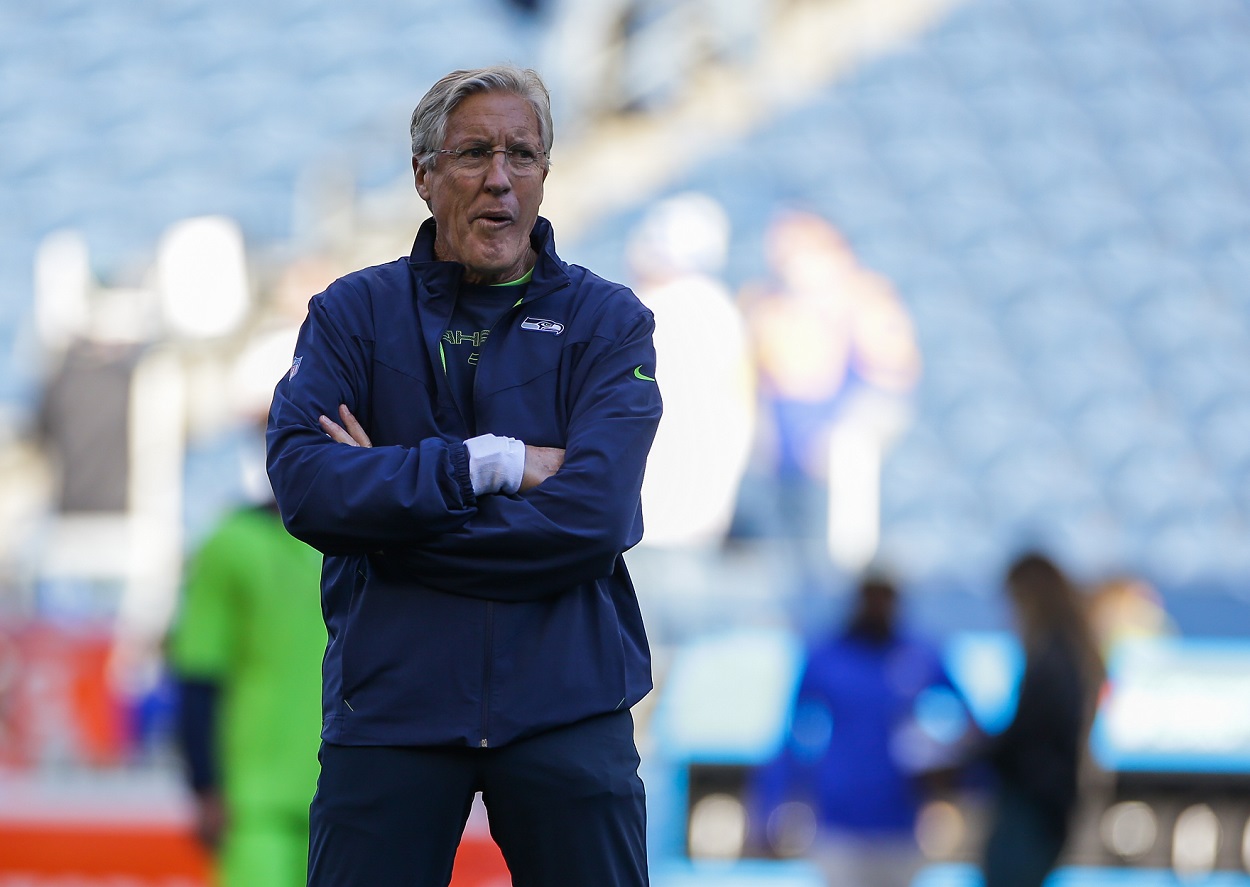 Ultimately, the difference between Wilson and Smith was felt for Seattle.
Especially in a close game like what took place on Sunday Night Football, the disparity between a future Hall of Famer and a backup quarterback can make all the difference. Ultimately, Smith's lack of pocket awareness likely cost the Seahawks the game.
So it makes sense that Carroll is looking for answers after the loss. The playoffs are always an expectation for Seattle, but the Hawks are at the bottom of the NFC West right now, and Wilson may not end up coming back for a few more weeks.
With that context in mind, Carroll admitted on Monday that the Seahawks have reached out to Cam Newton, the 2015 NFL MVP.
"Just so you know, we have talked to him," Carroll said on 710 ESPN Seattle (h/t Yahoo Sports' Jason Owens). "We're talking to everybody that could help us."
Carroll didn't go into any details of the conversation with Newton or any other quarterbacks, but it's worth noting that Newton would be eligible to play immediately.
The Seahawks must be pretty desperate to reach out to Newton, but they shouldn't be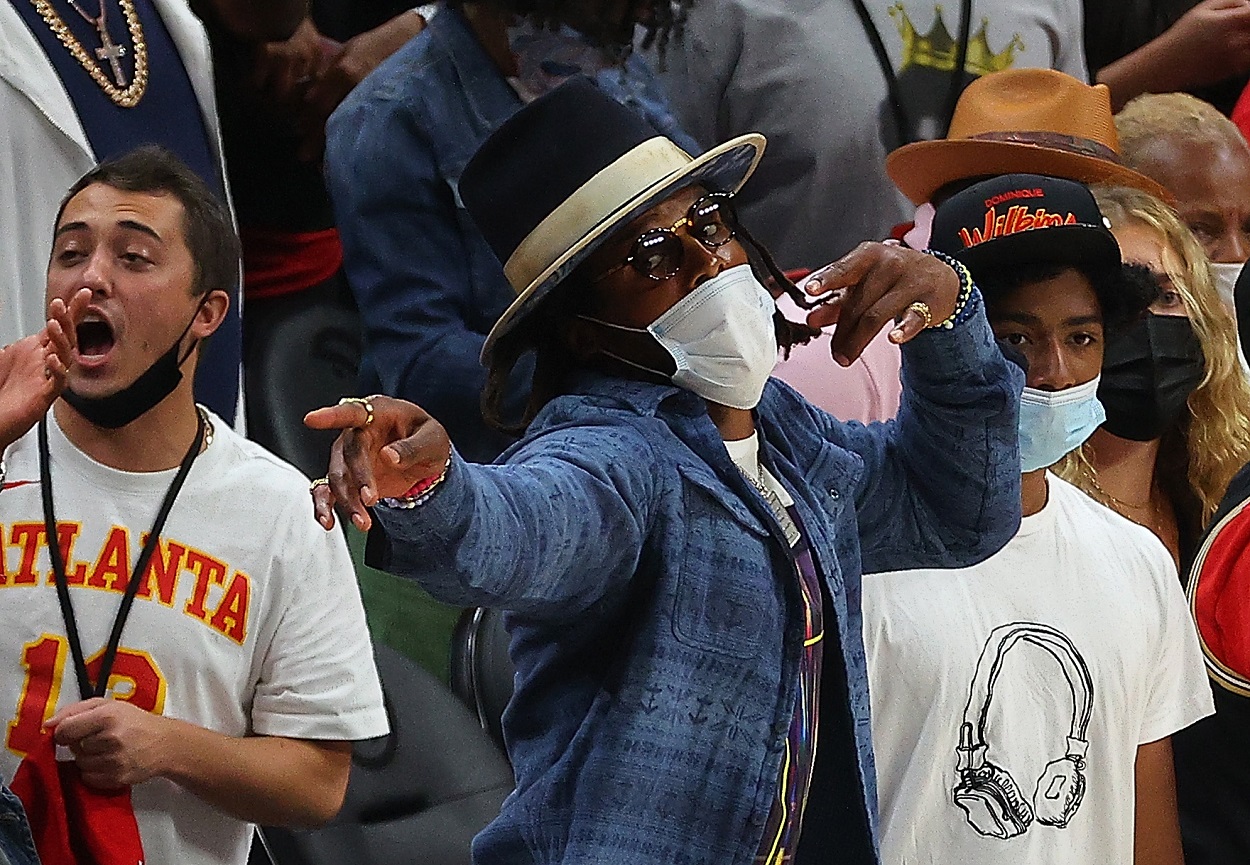 Remember, the last time we saw Newton, he was being released by the New England Patriots (2-4) during the preseason in favor of rookie quarterback Mac Jones.
Newton was the starting quarterback for Bill Belichick in 2020, but he led the Patriots to a disappointing 7-9 record in Tom Brady's first season not with the team. Newton started 15 games for the Patriots and managed to throw for only eight touchdowns compared to 10 interceptions.
The Patriots proceeded to select Jones in the first round of the 2021 NFL Draft and ultimately cut ties with Newton after he missed time during training camp for COVID-19-related reasons. He missed five days of practice, and at the time, he wasn't vaccinated.
Newton claimed that the Patriots released him because of his "aura" and that he would be a distraction as a backup. The fact that nobody picked him up once the Patriots released him suggested that Newton's MVP days are long behind him, though. Even as a backup, his free-agency status seems to suggest that his "aura" would be too much of a hassle.
Frankly, that would likely be the case for Seattle, so even in the desperation of a few more weeks without Wilson, this move just doesn't make sense.
Newton is now vaccinated and says he's ready to play, but consider the following facts.
First of all, Newton would need time to learn the Seahawks' offense. That's a logistical problem all on its own, especially when Smith has shown he can competently manage the offense if he can control the football and the pocket.
Newton is also at his most effective when he can dominate the ball as a power-running quarterback who sometimes throws on play-action passes. That's not Seattle's offense, and especially without Wilson, the Hawks looked most effective handing off to the trio of Alex Collins, Travis Homer, and DeeJay Dallas.
Lastly, Newton's "aura" is a real thing. You don't just bring in a larger-than-life quarterback like him for a few weeks without shifting the vibe of a locker room. This is Wilson's team and locker room. It doesn't make sense to alter that feng shui, especially if the Hawks can gut out the next two games.
It won't be easy, but it's possible for Seattle to tread water and stay alive until Wilson can come back.
The Seahawks have a game against the New Orleans Saints (3-2) on Monday Night Football coming up. A scrappy and now one-win Jacksonville Jaguars (1-5) team is on deck, and then the Hawks have to travel to Green Bay to play Aaron Rodgers and the Packers (5-1).
The earliest Wilson can return off the injured reserve is in Week 10 against the Packers, meaning the Seahawks have to make it work with Smith for two more games before Wilson is potentially back in the lineup.
Frankly, that makes much more sense than bringing in Newton.
Stats courtesy of ESPN and Pro Football Reference.
RELATED: Mike Tomlin Rips Officials After Bonkers DK Metcalf Debacle in Steelers Win Over Seahawks: 'It Was an Embarrassment.'