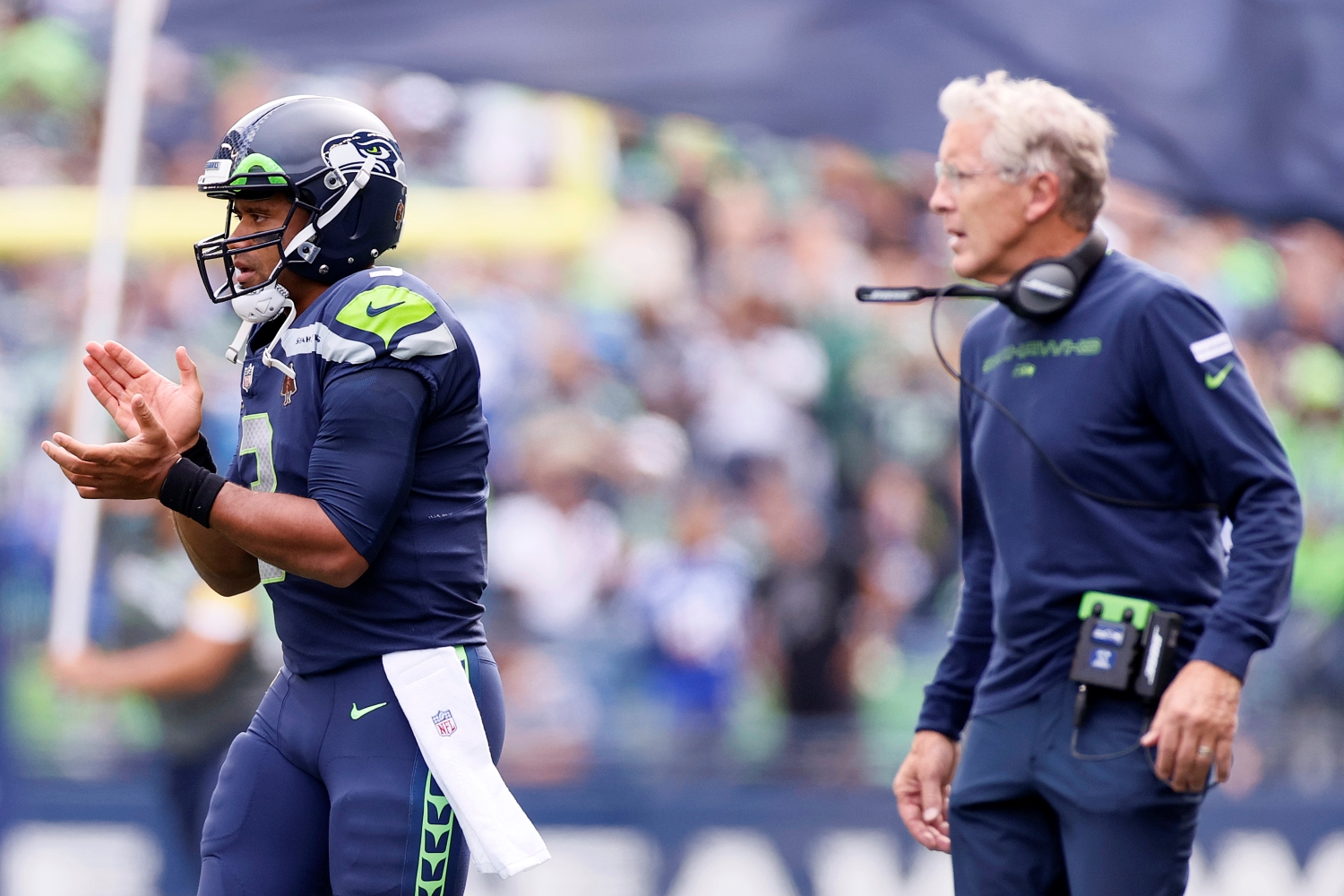 Pete Carroll's Powerful Statement About Russell Wilson Shows Why the Star Quarterback Needs to Orchestrate His Exit From Seattle
Pete Carroll's powerful statement about his star quarterback shouldn't be viewed so positively. How much longer can Russell Wilson afford to keep putting his body on the line for a coach who's trending in the wrong direction?
Russell Wilson put the entire Seattle Seahawks organization on alert this spring by having his agent release a list of acceptable trade destinations. Then again, nobody should have been shocked since the superstar quarterback has seen his team go from contending for championships and dominating on defense to suffering early postseason exits and struggling to slow down opposing offenses.
While Wilson remains under contract through the 2023 season, it's safe to say he faces an uncertain future with the franchise he's carried for a decade. And after hearing the words Pete Carroll uttered at his latest press conference, the on-the-mend signal-caller should ask his agent to start searching for real estate outside of Seattle.
Pete Carroll delivers powerful statement about his injured star quarterback
With his star quarterback recovering from a broken finger, Pete Carroll unsurprisingly added another loss to his record on the most recent edition of Monday Night Football. Geno Smith didn't come close to getting the job done against a dominant New Orleans Saints defense that held Seattle to a mere 10 points on 219 total yards.
Needless to say, the Seahawks' longtime head coach doesn't look bound for success based on the way his team performed against Sean Payton's squad.
Following the loss, Carroll showed Wilson some serious love with an eyebrow-raising statement that speaks volumes about the reality of the situation in Seattle.
"Let's say it this way: I've been here a long time. And if we didn't have Russell, I probably wouldn't have been here a long time," the 70-year-old told reporters. "Because think of all the magic that he's created in the years. He's got numbers and stats, and fourth quarters, this's and that's, and all of that stuff. One of the winningest quarterbacks in the history of the NFL. And it will be really fun when he comes back and plays football again for us this year. And we owe a tremendous amount."
Carroll clearly understands the value Wilson brings to the table. Yet even though he provided some powerful praise for his most important player, that shouldn't make Ciara's husband happy.
In fact, Carroll's comments should convince Wilson to finally do what's best for his future: find a new employer.
Carroll's comments prove exactly why Russell Wilson needs to escape from Seattle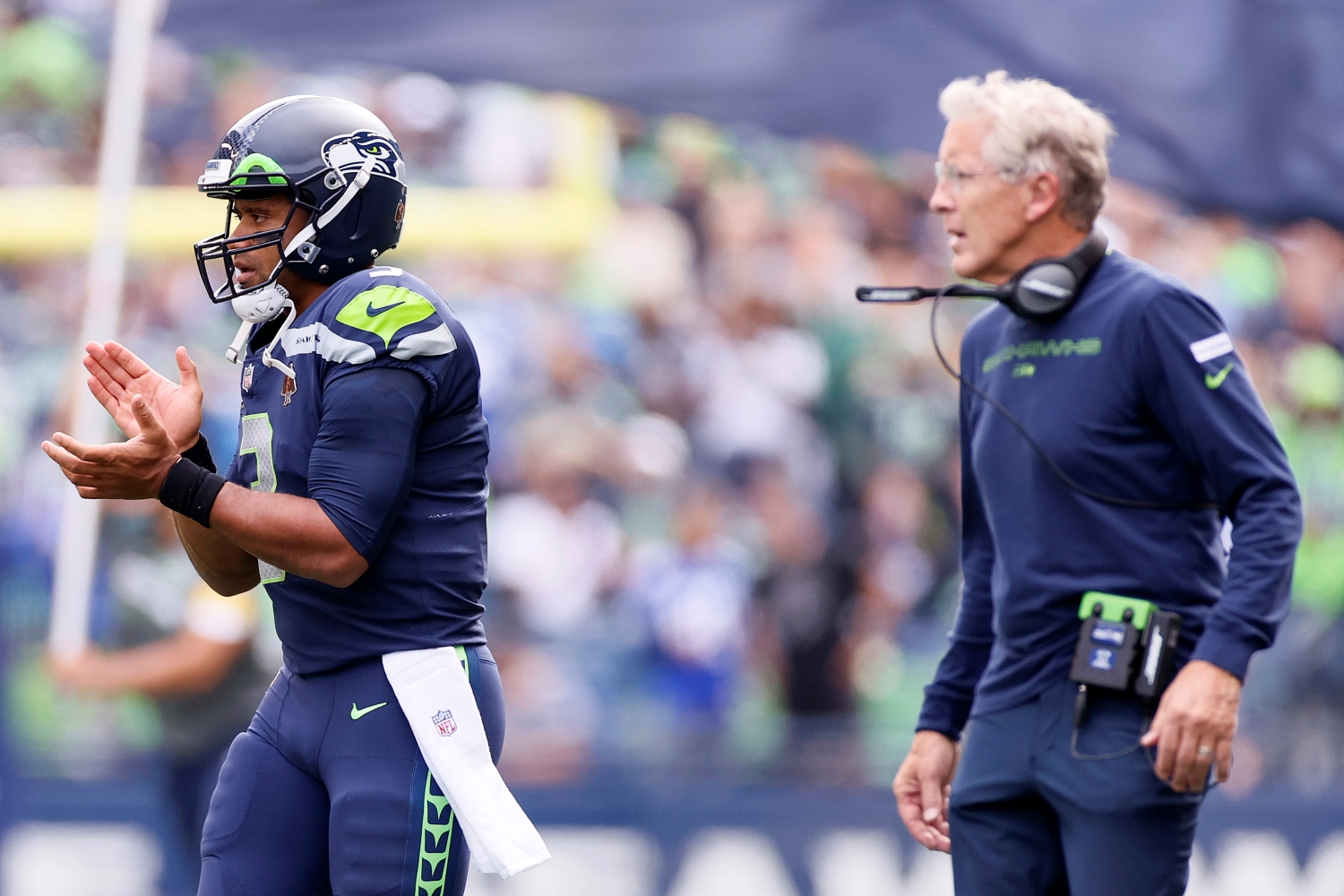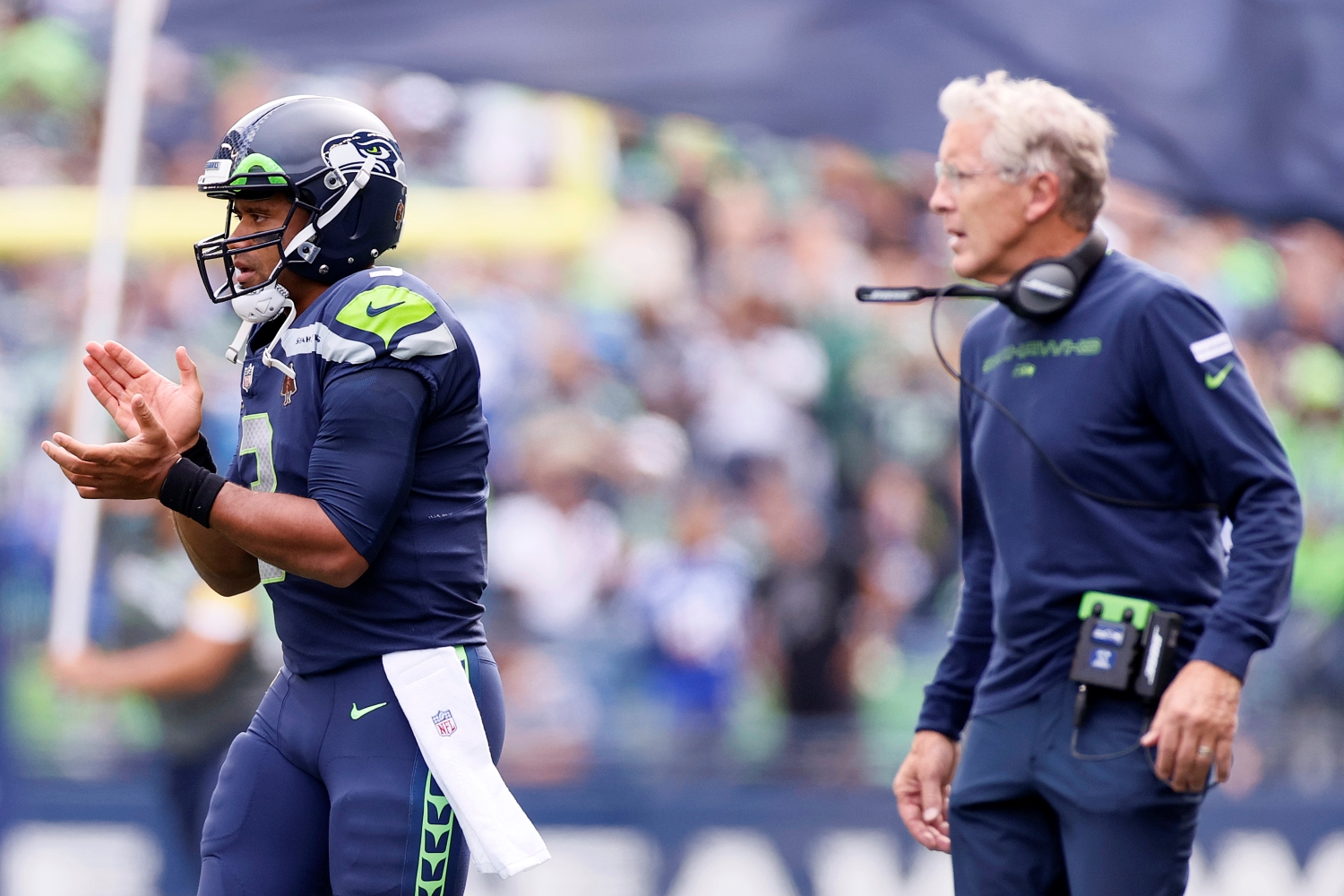 The Seahawks undoubtedly deserve credit for posting a winning record for nine straight years. And by making the playoffs on a near-annual basis (they went 9-7 and missed the postseason in 2017), they obviously have experienced incredible success, especially compared to a majority of NFL franchises.
But the fact Carroll openly admitted he would not have a job if not for Wilson should raise major red flags. Sure, it's undeniable that the superstar quarterback has provided tremendous value both on and off the field. However, should anyone in Seattle feel confident about having a head coach who essentially said he would have been fired if not for the heroics of a future Pro Football Hall of Famer?
Wilson has questioned the front office and coaching staff in the past, and it's easy to see why. The Seahawks simply haven't done an adequate job setting him up for success. Instead, he's masked many of the team's deficiencies, which only works to a certain point.
After all, the team hasn't advanced past the Divisional Round since the 2014 season. Of course, that year ended with Wilson getting picked off by Malcolm Butler on the goal line to give Tom Brady and Bill Belichick their fourth Super Bowl victory together.
Why should one of the most talented quarterbacks in the league want to stick around any longer? Why should he subject himself to playing for a coach who clearly doesn't deserve the title of defensive mastermind or anything close to the sort? Why should he put his body on the line for an organization that's often asked him to play behind a below-average offensive line?
Wilson turns 33 on Nov. 29, so he needs to consider his NFL longevity. Wouldn't he rather spend the remaining years of his prime leading a well-designed and properly stocked offense? And wouldn't he rather place his faith in a head coach who's trending in the right direction?
The future looks bleak for a Seahawks franchise that's made too many costly coaching and personnel mistakes
Wilson might still call Seattle home for a few more months, but he should embrace the idea of moving to another part of the country. He has more than enough talent to win multiple titles. And he has the leadership qualities and mental toughness to withstand the pressure of playing the most important position in sports.
However, he won't add a second ring anytime soon in a Seahawks uniform.
General manager John Schneider and Carroll have made a number of critical personnel misfires that have left the roster in a state of flux. Sure, they found DK Metcalf and Tyler Lockett via the draft. But did spending a first-round pick on Rashaad Penny in 2018 help Wilson at all?
After establishing a reputation as one of the league's top personnel executives, Schneider has gone from assembling the Legion of Boom to mismanaging assets to a stunningly bad degree.
Trading multiple first-round picks for Jamal Adams? That hasn't worked out well for the Seahawks, who pay a "star safety" almost $18 million a year to produce zero interceptions.
Taking L.J. Collier 29th overall in 2019 hasn't panned out, either. A team desperate for pass-rush help spent a Day 1 selection on a player who's produced only three sacks and nine quarterback hits in his first 29 games as a pro. Meanwhile, safety Marquise Blair has made just 22 appearances for the Seahawks since arriving as the 47th overall pick.
With a historically bad defense, an offense that's too top-heavy, and a glaring lack of young players worth getting excited about, Seattle doesn't seem like the best fit for Russell Wilson. If he wants to actually compete for the Lombardi Trophy, he must find a new franchise to lead — one that employs a confident, capable head coach and a GM who doesn't squander picks and assemble poor rosters.
All statistics courtesy of Pro Football Reference.