Peyton Manning Made $248.73 Million in the NFL and Is Now on a Team With Bill Gates That Could Help Change Sporting Events as We Know Them
Peyton Manning had a Hall of Fame NFL career with the Indianapolis Colts and Denver Broncos, but his success didn't just help him win Super Bowls and receive numerous awards, it also made him a wealthy man. Manning's skills earned him millions on the field, while his larger-than-life personality helped — and still helps — bring in a ton of cash off it. It's safe to assume that he has money by the boat loads.
In fact, the former QB's large net worth has him on the same team as one of the richest humans on Earth, Bill Gates, as they are both partnering with a company that can change sporting events as we know them.
Peyton Manning made millions with the Colts and Broncos
Manning was one of the NFL's greatest quarterbacks throughout his entire career, which made him a hot commodity and extremely wealthy.
According to Spotrac, Manning earned an estimated. $248.73 million in the NFL, making $171.7 million with the Colts and $77 million with the Broncos.
However, he was also one of the sport's biggest personalities, which helped him make a ton of cash off the field as well.
Forbes estimated that Manning retired from the NFL with another $151 million in endorsement earnings, which is certainly easy to believe. The former superstar quarterback has been a commercial king over the years and has had partnerships with DirecTV, Gatorade, Nationwide, Papa John's, and various other companies, also noted by Forbes.
The cash Manning has earned in his lifetime has ultimately helped him rack up an estimated $250 million net worth.
The NFL legend is on a team with Bill Gates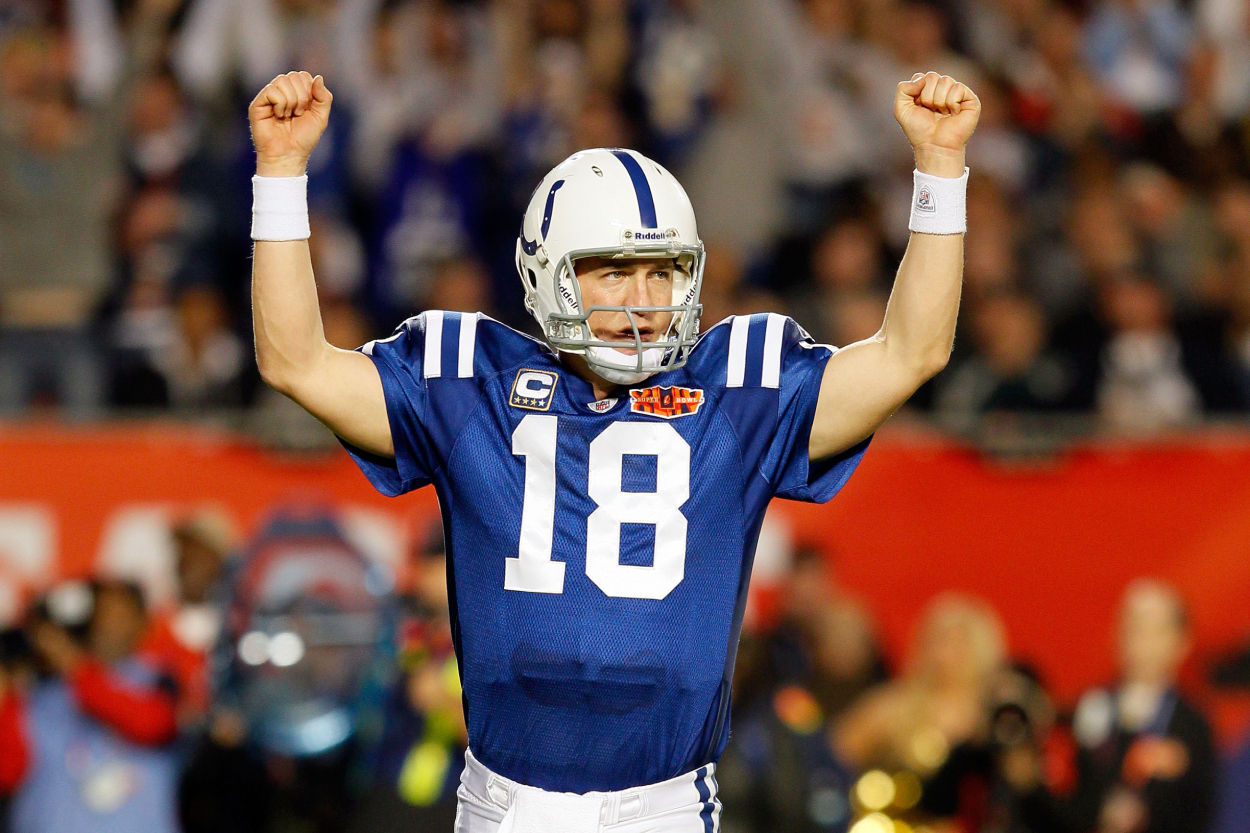 According to CNN, Manning has become an investor in a major security company called Evolv Technology. Bill Gates has also invested in the company, as well as some of Manning's fellow sports stars, including former tennis pros Andre Agassi and Steffi Graf, former baseball manager Joe Torre, and MLB executive Theo Epstein.
Evolv — which went public in July — has a chance to completely change how sporting events are run, as the company sells software that can detect whether someone has a gun, knife, or another type of weapon, CNN reported. Its technology uses artificial intelligence and sensors to scan spectators entering large venues. So, fans and guests just have to walk through scanners instead of emptying their bags or pockets to go through metal detectors.
It's essentially supposed to cut down on lines and may actually be safer than the metal detectors.
Additionally, there's also a new feature that can scan body temperature, which may potentially help the spread of COVID-19 at events.
Evolv's product — which is already used at various venues, including Six Flags and Chicago Cubs game — may not be replacing all metal detectors just yet. But with backers like Manning and Gates, it's safe to assume that it will just become more and more popular. 
And a rise in popularity will, in turn, make Manning more wealthy, which isn't surprising at all. If he continues having the same amount of success in the business world as he did on the football field, he will be as prosperous as they come.
Peyton Manning's Hall of Fame career made him the wealthy man he is today
Peyton Manning has made all the money he has because of his significant success with the Colts and Broncos throughout his Hall of Fame career.
Manning won a record five MVP awards and earned 14 Pro Bowl selections in Indy and Denver. He also played in four Super Bowls and won two. The 1998 No. 1 overall NFL Draft pick eventually finished his career with 71,940 passing yards, which is third in NFL history, and 539 passing touchdowns, also third. Manning's incredible career helped him easily become a class of 2021 Pro Football Hall of Fame inductee and one of the greatest quarterbacks of all time.
Manning was a game-changer in the NFL and now appears to be one in retirement as well. It seems that everything he touches turns to gold.
Stats courtesy of Pro Football Reference; Net worth number courtesy of Celebrity Net Worth
RELATED: Peyton Manning's Hall of Fame Party Could Have a Sky-High Budget: 'No One Has Asked Me to Have The Rolling Stones or U2 Play … but That Could Be a Negotiation'