Peyton Manning Once Used 3 Words to Humiliate a Trash-Talking Opponent in a Big Blow-Out Colts Win
Throughout his career with the Indianapolis Colts and Denver Broncos, Peyton Manning was not known for being much of a trash-talker. He typically let his play do the talking and he played at a very high level. That doesn't mean he never talked smack, though. In fact, during Manning's Colts tenure, he once used three words to humiliate an opponent that Indy had already been blowing out.
Peyton Manning's Colts tenure was legendary
RELATED: Peyton Manning Had Many Star Teammates but Once Played on the Same Team as Donald Trump: 'I Had a Lot of People Tell Me Not to Do It'
Prior to drafting Manning, the Colts had not had too much success in Indianapolis. They only reached the playoffs three times from 1984 through 1997.
However, the future Hall of Famer went to Indy with the No. 1 overall pick in the 1998 NFL draft and turned the franchise around. The Colts made the playoffs with Manning in every season but one from 1999 through 2010. They also won their division in all but four seasons during that stretch.
During the 2006 season, Manning then finally led the Colts to the mountaintop, as Indianapolis won the Super Bowl over the Chicago Bears. He also led them back to the big game during the 2009 season, but they lost to the New Orleans Saints.
Overall in his 13 seasons with the Colts — not counting the season he missed due to injury in 2011 — Manning went 141-67 as the team's starting quarterback and threw for 54,828 yards, 399 touchdowns, and 198 interceptions.
The Colts had become the class of the league with Manning, dominating year in and year out, and he had become one of the best quarterbacks in NFL history.
During one of their many blowout wins, though, Manning used a few simple words to humiliate one of the opposing players.
He used three words to humiliate an opposing player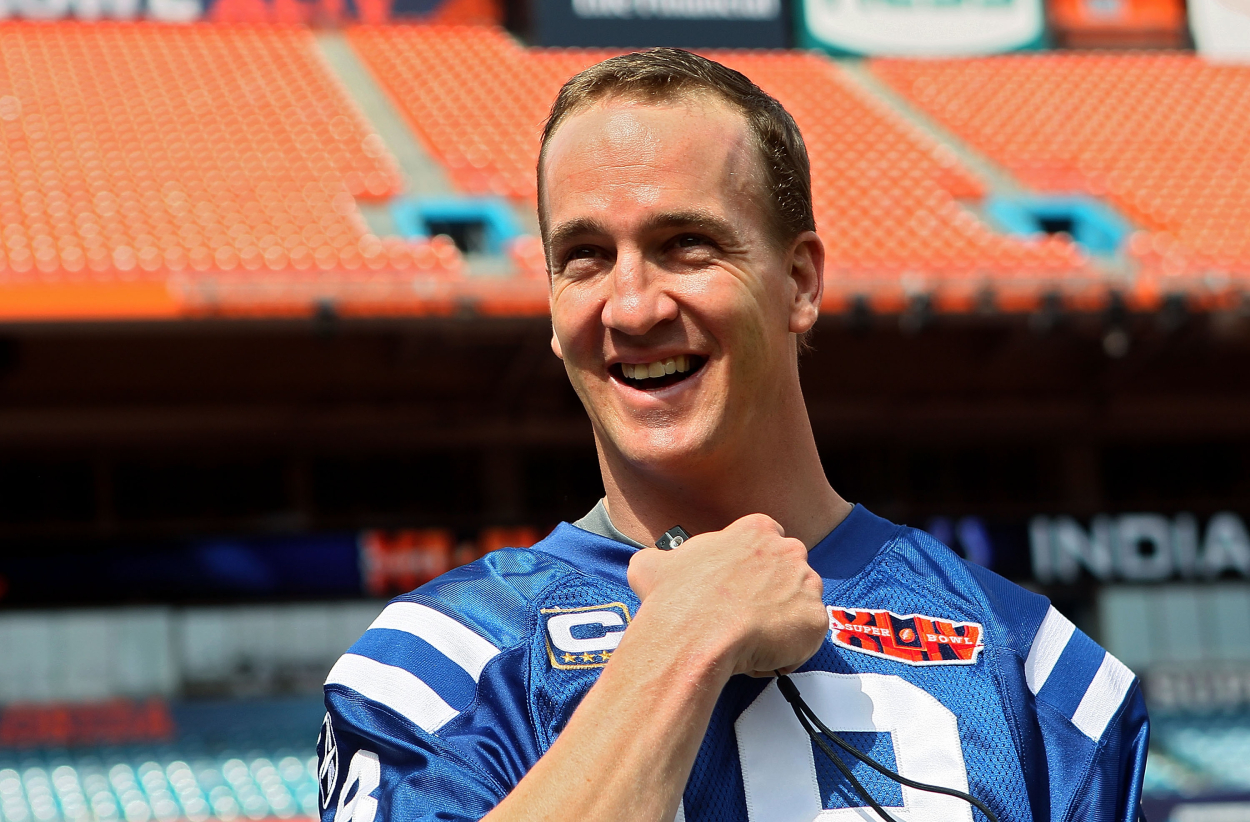 RELATED: Peyton Manning Just Sent a Strong Message About Colts Owner Jim Irsay Dumping Him for Andrew Luck
Earlier in 2021, Manning learned he had received enough votes to enter the Pro Football Hall of Fame. To celebrate the accomplishment, Colts reporter Phillip B. Wilson shared some of his favorite Manning stories in Sports Illustrated.
Wilson noted that Manning didn't do a lot of trash-talking, and former Colts offensive lineman Adam Meadows even "laughed about the idea of Manning saying anything to opponents." However, he did recall one game where Manning actually said something to an opposing player.
In a game where the Colts blew out one of their NFL foes, a defensive end told Manning early on in the contest that he would be in the quarterback's face all day. Since that didn't end up being the case, Manning had three words for the defender toward the end of the game.
"You're not good," Meadows recalled Manning saying, per Wilson.
It's not much, but Manning had already let his play do the talking, so to kick the guy while he was down was certainly savage.
The defender, though, should have known Manning was not a player to be messed with.
Peyton Manning had a Hall of Fame career with the Colts and Broncos
RELATED: Peyton Manning's Favorite NFL Moment Involved a Massive Celebration After Seeing Tom Brady Epically Fail
After his career with the Colts, Manning joined the Broncos in 2012 and continued to play at an elite level. He led them to two more Super Bowls and even won the title in his final season in 2015.
Here's a look at Manning's total career accomplishments, which all helped him make the Hall of Fame:
14-time Pro Bowl selection
Two-time Super Bowl champion
Five-time NFL MVP
71,940 passing yards (third all-time)
539 passing touchdowns (third all-time)
Manning may not be considered the GOAT, thanks to Tom Brady's remarkable career, but he's certainly near the top of the list for greatest quarterbacks to ever play. Hopefully, that defensive end learned his lesson.
Stats courtesy of Pro Football Reference