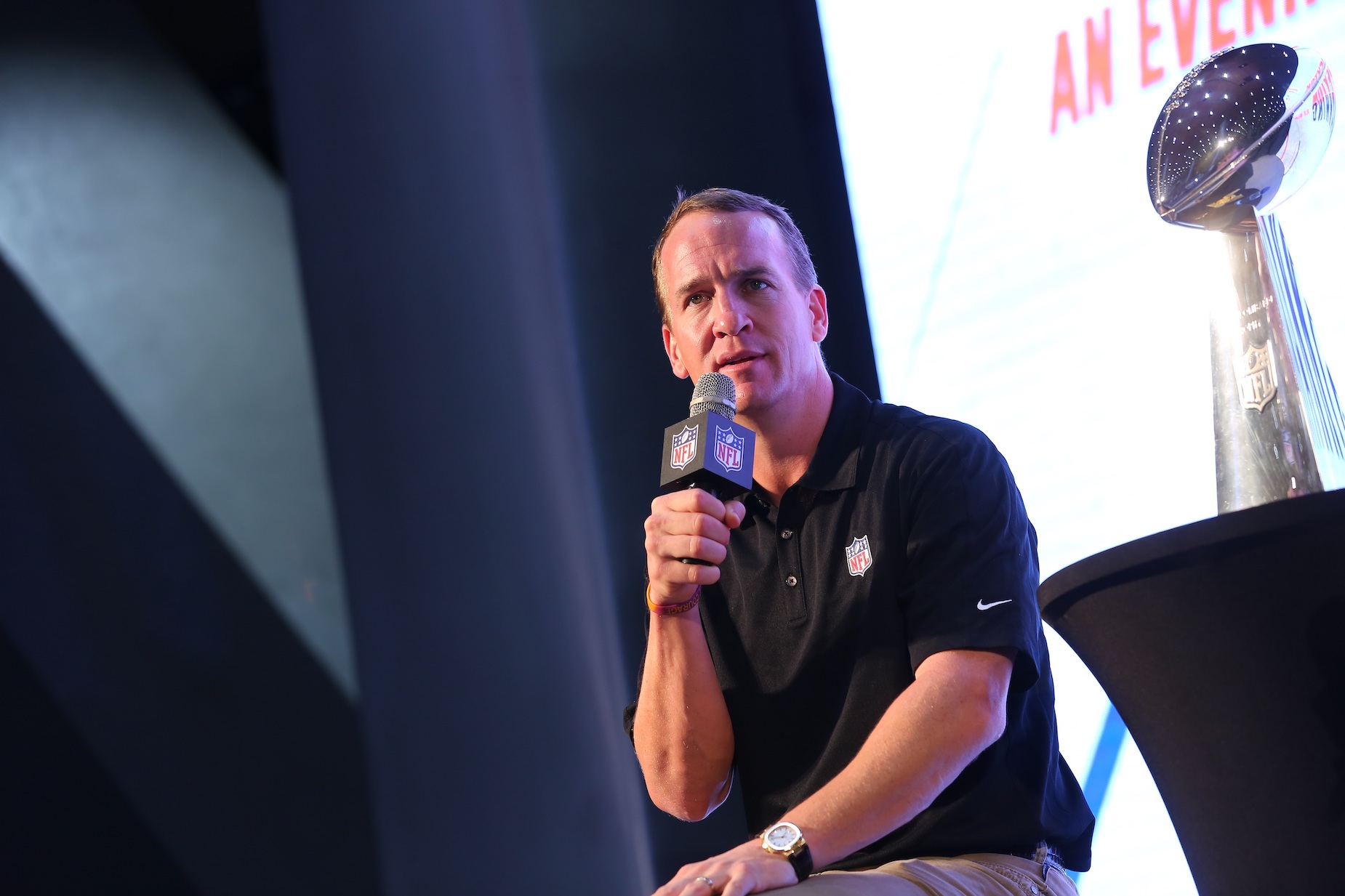 Peyton Manning Absolutely Destroyed a Tampa Bay Buccaneers Player for a Simple, Super Bowl 55 Mistake
While the Tampa Bay Buccaneers won the Super Bowl, that didn't stop Peyton Manning from destroying one of their players during his analysis.
Ever since Peyton Manning retired, network executives have been trying to get him into the broadcast booth. Although the former quarterback still hasn't stepped behind the microphone to call a game, he certainly isn't afraid of putting NFL players on blast when they make mistakes.
After Super Bowl 55, Peyton Manning took a look at the big game on ESPN+'s Detail. Even though the Tampa Bay Buccaneers came out on top, he still took two minutes to absolutely destroy one of their players for a simple mistake.
Peyton Manning certainly knows a thing or two about NFL success
If you've watched any NFL over the years, you'll be familiar with all the cliches about quarterbacks being field generals and acting like coaches on the field. Peyton Manning, however, actually played that role perfectly.
Manning burst onto the scene a the University of Tennessee before joining the Indianapolis Colts as the first overall pick of the 1998 NFL draft. While there were some growing pains as he adjusted to life in the pros, the quarterback eventually grew into one of pro football's biggest stars.
Although Manning had a strong arm, his mind was arguably his greatest on-field asset. The quarterback could read defenses like no other; he'd simply bring his team to the line of scrimmage, look across the field, and audible into the perfect play. Whether he was throwing to an elite talent like Marvin Harrison or an unheralded receiver like Austin Collie, Peyton always knew exactly where to put the ball.
Over the years, that offensive mind paid dividends. During his time in the pros, Manning threw for almost 72,000 passing yards and completed 539 touchdown passes. He also won two Super Bowls, five NFL MVP titles, and countess individual offensive honors.
Joe Haeg has a different sort of offensive skill set
When you think of talented offensive players, your mind probably jumps to running backs and wide receivers. Joe Haeg and his fellow offensive lineman, however, have to master their own unique skill set.
Haeg played his college football at North Dakota State, then joined the Indianapolis Colts in the fifth round of the 2016 NFL draft. He promptly became a starter and spent four seasons with the franchise; then, ahead of the 2020 campaign, he signed a one-year deal with the Tampa Bay Buccaneers.
In addition to protecting Tom Brady and winning the Super Bowl, Haeg also had an extra shot at immortality during the big game. Early in the second quarter, the big lineman reported as an eligible receiver and almost caught a touchdown pass; he couldn't secure the ball, though, and the Buccaneers ended up failing to score on that series.
On the sidelines, it's safe to assume that Tom Brady wasn't thrilled with Haeg. Peyton Manning, it seems, wasn't too pleased, either.
Peyton Manning destroyed Joe Haeg for dropping a touchdown in Super Bowl 55
While Peyton Manning hasn't made it to the broadcast booth, he has found a home with ESPN. Joe Haeg, however, might wish that the quarterback never found his way behind a microphone.
During a recent episode of Detail, Manning took a look at the game tape from Super Bowl 55. When the quarterback reached Joe Haeg's drop, he didn't hold back.
"Haeg, I gotta say, I'm sure you grew up saying, like a lot of kids, 'I would love to catch a touchdown in the Super Bowl," Manning began in a clip that Warren Sharp shared on Twitter. "How cool would that be? Right, Joe? Then, all of a sudden, you get in seventh and eighth grade, you're gaining a lot of weight, you realize that you're probably going to be an offensive lineman. And that dream of catching a touchdown in the Super Bowl is just not going to happen. … No 4.4 speed, no great hands, you don't get to catch a touchdown in the Super Bowl."
Manning wasn't done there, though. Once he reached Haeg's actual drop, the quarterback continued to unload.
"Not going to say that's an easy catch," Manning continued. "Does Gronk catch that? Yes, he does. Does Brate catch that? Yes, he does. Does Haeg catch it? No, he doesn't. Why? Cause he's an offensive lineman and that's just the way it is. That will be the last pass attempt ever to you in your career, Haeg. And you had a chance. It was in the Super Bowl."
In fairness to Peyton Manning, he ended up saying that he was "just kidding" and acknowledged that the Chiefs defense made a great play to save a touchdown.
If that was Peyton Manning's version of friendly teasing, though, you probably don't want to get on his bad side.
Stats courtesy of Pro-Football-Reference