Peyton Manning Breaks NFL Career Touchdown Pass Record; What's Next?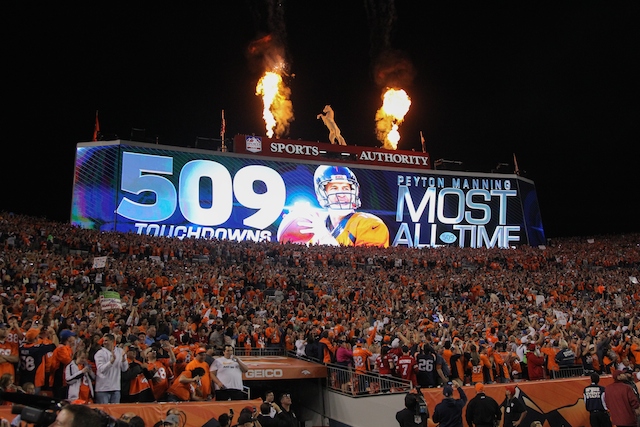 At 38 years old, Peyton Manning is playing the best football of his Hall of Fame career. On Sunday night, against the San Francisco 49ers, Manning broke the all-time NFL record for career passing touchdowns. His eight-yard scoring strike to wide receiver Demaryius Thomas in the second quarter gave him 509 career touchdown passes, putting him ahead of NFL legend Brett Favre. He later added No. 510, connecting again with Thomas in the third quarter. Manning's performance Sunday night — 22-26, 318 yards, four touchdown passes, 157.2 quarterback rating — ranks among the best single-game performances of his legendary career.
Lost in the hoopla of Manning's record-breaking touchdown pass is the impressive fashion in which the Broncos handled the 49ers on Sunday night. The offense played a near-flawless game, racking up 419 yards of total offense, despite Manning and the majority of the Broncos' starters resting for the entire fourth quarter.
The defense was just as dominant, holding the 49ers to 310 yards of total offense while sacking quarterback Colin Kaepernick six times and intercepting him once. San Francisco is among the premier teams in the NFL and Denver made the squad look more like the other team from the Bay Area, the 0-6 Oakland Raiders. If the Broncos continue to perform like they did on Sunday night, they will likely be celebrating the third Super Bowl title in franchise history in February.
So what's next for Manning and the Broncos, and will anyone ever challenge the record Manning set on Sunday night?
All statistics are courtesy of Pro Football Reference.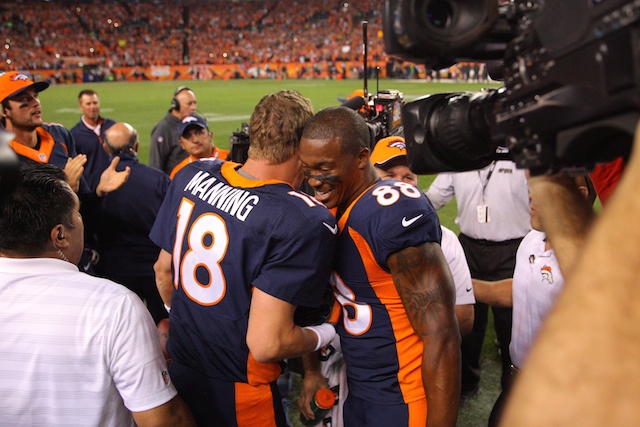 Manning has made his intentions to play beyond 2014 very clear. His current contract runs through the 2016 season, and the 10-time All Pro hasn't ruled out playing beyond that, as well. While there are numerous records that Manning could very easily break in 2014, the next major passing record in his sight is the all-time career passing yardage record.
He is currently 5,026 yards behind Favre for the all-time lead, making this record almost surely unattainable for Manning in 2014. Manning is averaging 308 passing yards per game in 2014, putting him on pace to end the season with 70,508 career passing yards, 1,330 yards behind Favre. Manning will easily surpass 1,330 yards before mid-season in 2015.
Manning's 3.2 touchdown passes per game average in 2014 has him on pace to total 50 touchdown passes this season, which would bring his career total to 542, making 600 career touchdown passes a legitimate possibility. It will likely happen sometime during the 2016 season, but the fact that 600 touchdown passes — double John Elway's career total of 300 — is even a possibility is a serious testament to Manning's excellence throughout his career.
The Broncos are two games away from completing a brutally tough first half of their 2014 schedule. A Thursday night divisional matchup against the San Diego Chargers in Week 8 and a Manning versus Brady showdown in Week 9 will cap off Denver's first half of 2014. If the team can come away with wins in both games, it will be able to cruise to the AFC's top playoff seed.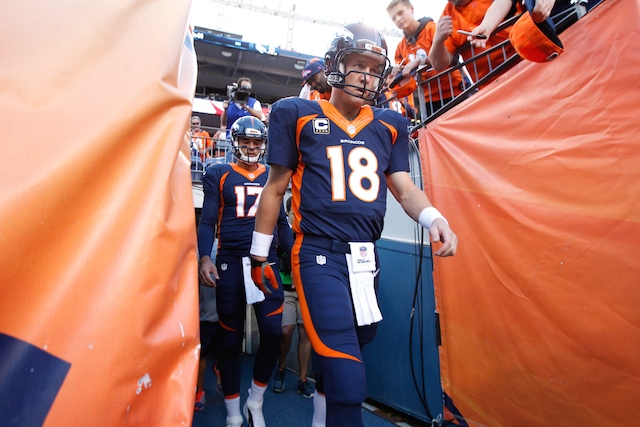 Nothing is impossible in the NFL, but in all reality, Manning's career passing touchdown total is likely unattainable for any other current NFL quarterback. Drew Brees and Tom Brady will both likely eclipse the 400-career touchdown pass mark, but they are both north of 35 years old and trail Manning by more than 120 career touchdowns apiece. Here is a look at the three likeliest contenders, and all three are extreme long shots at best:
Matt Stafford, 26 years old, 118 career touchdown passes (1.74 per game)
Andrew Luck, 25 years old, 65 career touchdown passes (1.67 per game)
Aaron Rodgers, 31 years old, 206 career touchdowns passes (2.19 per game)
As you can see, all three guys have their work cut out for them to reach 300 career touchdown passes, not to mention 500-plus. Records are made to be broken, but this is a record that will not be broken for a long, long time — if ever.