If Not for Peyton Manning, Cooper Kupp Might Not Have Emerged as the Rams' Next Superstar Receiver
Article Highlights:
The Los Angeles Rams may have never discovered superstar receiver Cooper Kupp if not for Peyton Manning
The Pro Football Hall of Fame quarterback worked with the then-Eastern Washington receiver at a 2015 camp
Rams general manager Les Snead might owe Manning a Super Bowl ring if Kupp helps his team win a Lombardi Trophy
Los Angeles Rams general manager Les Snead knew he'd found his next potential superstar receiver when Cooper Kupp, a four-time FCS All-American from Eastern Washington, fell to him in the 2017 NFL Draft.
Nearly five years later, Kupp has a chance to shatter the NFL's single-season records for catches and receiving yards. As the 2021 NFL Playoffs approach, Snead owes Peyton Manning, of all people, for helping him discover a receiver who has become a monumental piece of the Rams' Super Bowl hopes.
Peyton Manning laid eyes on Cooper Kupp during a 2015 workout at the Manning Passing Academy
Although Snead's story begins in 2015, it really needs to open a year earlier. Kupp, then about to enter his sophomore season at Eastern Washington, attended the Manning Passing Academy in Thibodaux, La., and posed for a photo with Peyton, the reigning NFL MVP.
Flash forward to 2015, when Snead attended that year's event. Kupp, an FCS standout, had a connection with the legendary football family because his grandfather, Jake, blocked for academy founder Archie Manning when both played for the New Orleans Saints.
In the Jan. 3 edition of Football Morning in America, Snead told King how he found himself in a meeting with the camp's staffers one night. A simple comment Peyton made during the conference inadvertently changed multiple lives for good.
"Peyton's running this meeting, and he's going over the throws they're gonna make the next day and which receivers are going to be with which passers. He looked at his brother Eli, and he said, 'Hey Eli, Cooper Kupp's with me. You figure out who's with you.'"

Les Snead
Kupp, for his part, recently told King he felt honored by the opportunity to catch passes from the five-time NFL MVP. 
"Peyton Manning wanting to throw to me? Wow. … It was great to work with him. So detailed and precise," Kupp said.
Kupp's stellar performances with Manning put him on the Rams' watchlist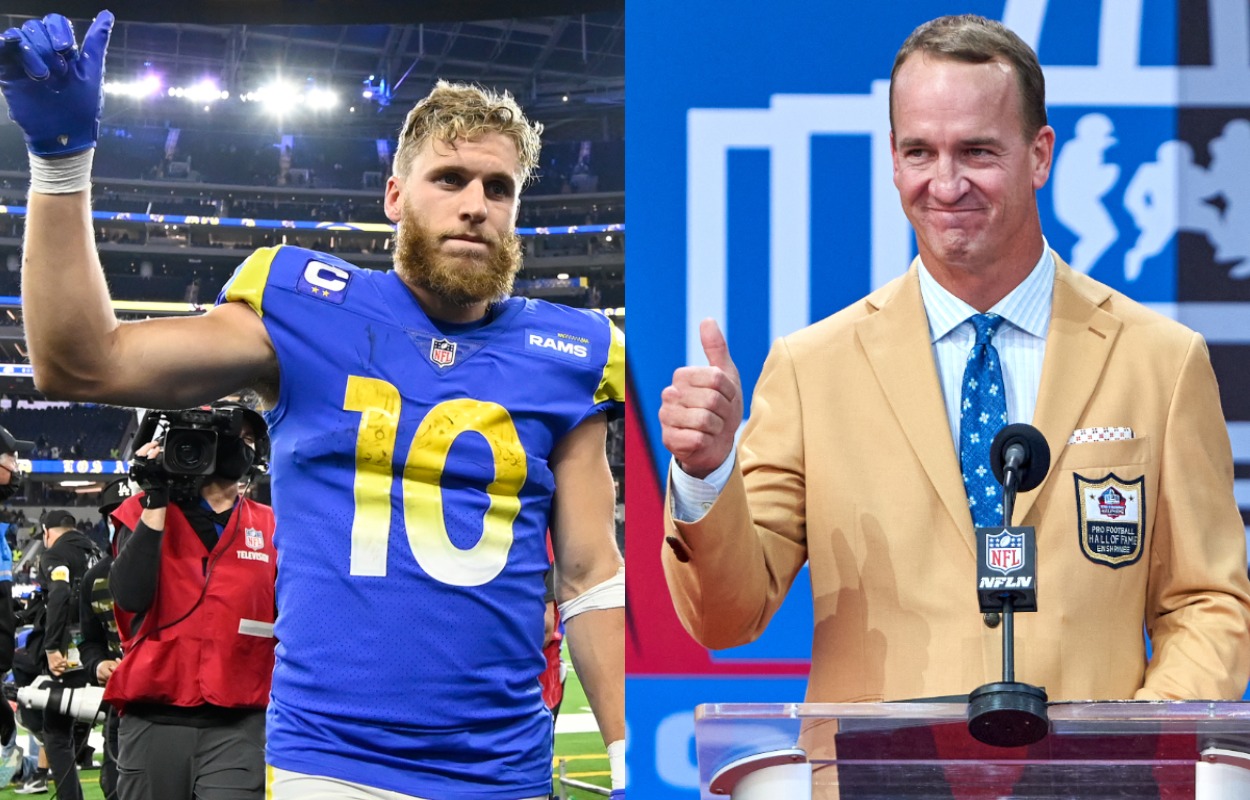 At the time, Snead didn't know who Cooper Kupp was or if he was even a college football player. In fact, the Rams' GM wondered if Kupp was an elite high school prospect attending the camp.
Nonetheless, Snead wrote Kupp's name down and returned the next day. Then, he finally laid eyes on the 6-foot-2, 208-pound receiver.
"Peyton throws to Cooper that night," Snead recalled. "He was really good. Good route-runner. I find out he's from Eastern Washington. [He had] just finished his sophomore year."
Snead continued monitoring Kupp, who hauled in 231 catches for 3,342 yards and 36 touchdowns over the next two seasons. A 4.62 40-yard dash time at his pro day dropped him to the 2017 draft's third round, allowing the Rams to select him 69th overall.
"We have a saying around here," Snead told King. "If you can get open consistently and catch the ball consistently, don't over-analyze it. Just respect it and try to add that player to your team."
The Rams owe Manning for inadvertently putting Kupp on their radar
In his first four seasons, Kupp fit in perfectly in Sean McVay's offense. Despite missing most of the Rams' 2018 Super Bowl run with a knee injury, the sure-handed wideout totaled 288 catches, 3,750 yards, and 24 touchdowns in his first 54 games.
Matthew Stafford's arrival, coupled with Robert Woods' midseason knee injury, have pushed Kupp to new heights. He enters Week 18 with 138 catches, 1,829 yards, and 15 touchdowns; if Kupp totals 13 catches and 136 yards in the regular-season finale against the San Francisco 49ers, he'll own both records.
The fifth-year wideout also has an outside chance at becoming the first player in NFL history with 2,000 receiving yards in one season. He turned 11 receptions into 122 yards in a 31-10 loss to the 49ers on Nov. 15.
The Rams' priority, understandably, is winning the NFC West before trying to win the second Lombardi Trophy in franchise history. If the franchise accomplishes the latter, Snead might want to give Manning an honorary Super Bowl ring.
Like Sportscasting on Facebook. Follow us on Twitter @sportscasting19.