Peyton Manning Once Cussed a Referee out so Hard the NFL Was Nervous to Allow the Legend to Apologize
It's easy to think you're always right when you're one of the greatest quarterbacks ever to play the game. With a resumé filled with a list of accolades as long as a supermarket receipt, it's hard to imagine Peyton Manning ever regretting his on-field behavior. But during one of his recent broadcasts, Manning told viewers his reaction to a referee's call from years ago still weighs heavily on his mind.
Defining moments in Peyton Manning's career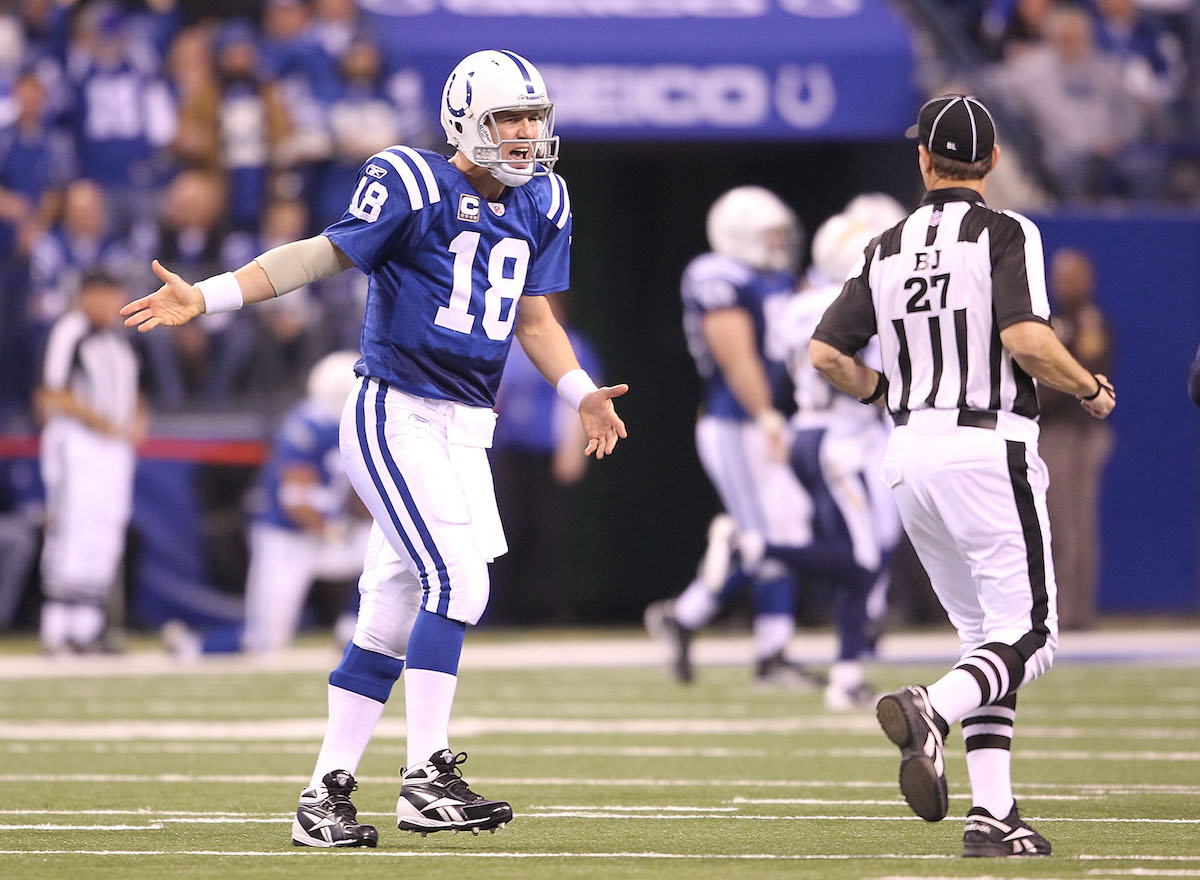 After playing in the NFL for 18 seasons, Manning has plenty of great moments to reflect on. The two-time Super Bowl champ became the first starting quarterback to win the Vince Lombardi trophy with two franchises (Indianapolis and Denver).
Over his career, he had amazing games — like the single-season touchdown record against the Houston Texans in 2013. Manning threw for 400 yards and four touchdowns, the last an NFL record 51st TD of the season. In all, he finished that season with 55 touchdowns — a record that still stands.
It's hard to talk about Manning's career without mentioning the path to his first Super Bowl. The AFC Championship game tapped Manning against rival Tom Brady and the New England Patriots.
The Patriots had a big lead early, 21-3, and looked like they would easily cruise to another Super Bowl appearance.
But after a dismal start, Manning stepped it up and led the Colts to a 38-34 win — securing his team's spot in the big game.
The apology Manning never sent
This past in September, during one of Manning's broadcasts, he went into detail about a time in his career he wasn't exactly proud of. He told viewers that in a game against the Miami Dolphins, a referee made a pretty bad holding call, and it angered him so much he cursed the ref out.
After he finally calmed down, Manning felt bad about the situation and wanted to make it right, he said.
He told Insider he wanted to apologize to the referee, so he contacted the NFL to try to get the guy's address. He intended to send him a letter expressing his regret over his actions, but the NFL refused.
"They wouldn't give me his address, as if I was going to go and, like, egg his house or something. I was like, 'I'm just going to write him an apology letter!' Nobody writes the referees an apology letter."
Even though it's been years since the incident occurred, Manning finally used his on-air presence to deliver the apology. Let's hope the ref was watching the broadcast and heard Manning's words.
Tough times off the field
Though Manning experienced many highs throughout his career, he has faced a few scandals off the field.
In 2015, a news outlet reported that Manning used human growth hormone (HGH) in 2011 to help him recover from an injury. The NFL investigated and cleared Manning, but many observers questioned whether the league conducted the probe properly.
Additionally, a former athletic trainer who treated him when he was an All-American at the University of Tennessee accused him of sexual harassment. The trainer said the incident occurred in 1996, and according to an interview with CBS News, she claimed, "I was repulsed. I was scared. I was intimidated. It was definitely a predator — intimidating, anger, violent eyes that he had."
The University of Tennessee later settled with the athletic trainer. She also filed a defamation lawsuit against Manning and others. That, too, was settled out of court, with the terms not disclosed to the public.
RELATED: Drew Brees, Brett Favre, and Peyton Manning Share a Rare Place in NFL History