Peyton and Eli Manning Now Finally Have an Opportunity to Be Teammates
Football fans never saw Peyton Manning and his younger brother, Eli, team up in the NFL for obvious reasons.
Both brothers nonetheless had extremely productive careers as starting quarterbacks, and Peyton will enter the Pro Football Hall of Fame this summer. Although they never suited up together in the NFL, the Manning brothers finally have an opportunity to be teammates.
Peyton and Eli Manning are working together on 'College Bowl'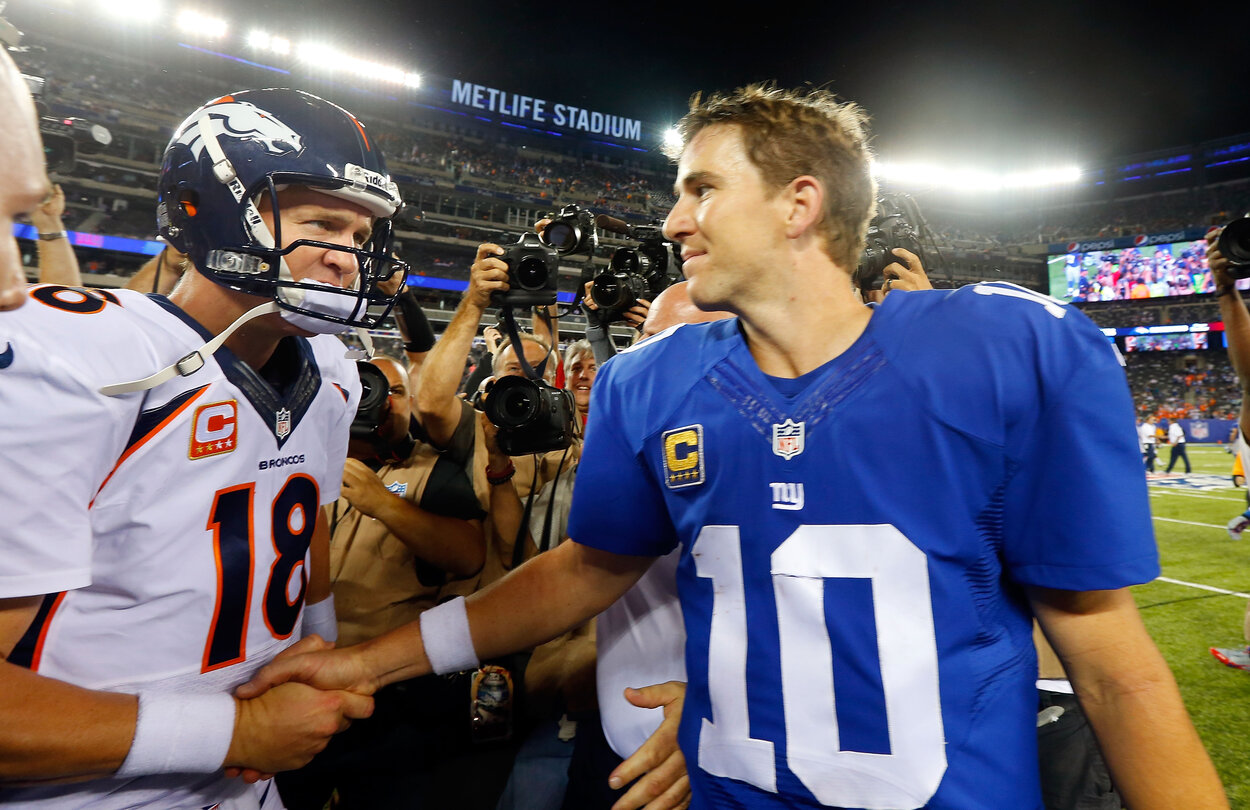 RELATED: Peyton Manning Made $248 Million in the NFL, but He Still Carpooled to Games With 2 of His Broncos Teammates
Peyton Manning has been linked to prominent television jobs, primarily the Monday Night Football booth, since he retired in 2016.
Manning, who already hosts Peyton's Places on ESPN+, has a new job in television. NBC recently confirmed that Manning, the two-time Super Bowl champion, will host the College Bowl revival this summer.
Eli Manning will work behind the scenes on College Bowl. Variety reported that Eli, who retired after the 2019 season, is serving as an executive producer.
This is an interesting next step for the younger Manning brother. ESPN announced earlier this year that Eli would host Eli's Places on ESPN+, which will visit important moments and places in college football's long history.
Eli will have an opportunity to host one show and work behind the scenes on another. Of course, the door should always be considered open for a crossover between the two brothers and their respective ESPN shows.
Cooper Manning is also involved in the show
RELATED: Cooper Manning Wasn't an NFL Star like Peyton and Eli, but He's Still Worth $15 Million
Peyton and Eli Manning will have another familiar face on the College Bowl set.
Cooper Manning, a Fox Sports personality, also signed on to join College Bowl. Peyton will host, and Cooper, the eldest brother, will serve as his assistant.
NBC is breaking out the big guns for one of the most iconic families in sports history. This is also a significant opportunity for Cooper, who never played in the NFL, to continue growing his own brand.
Cooper, who turned 47 earlier this year, currently appears on Fox NFL Kickoff.
Here is everything that you need to know about 'College Bowl'
RELATED: What Is Eli Manning's Net Worth and How Does It Compare To His Brother Peyton's?
If NBC is eager to make a College Bowl revival work, they made the right choice by adding Peyton Manning and his brothers.
Originally a radio program, College Bowl aired on CBS and then NBC between 1959 and 1970. Variety reported that "teams of three representing some of the nation's top schools must work together to answer questions on a wide variety of subjects." The top two schools will compete in the final round for the Capital One College Bowl trophy and a scholarship.
Participating schools include Ole Miss and Tennessee, which make sense given that Cooper and Eli attended the former university. Cooper never played at Ole Miss because of back problems. Peyton starred for the Volunteers in the 1990s. 
Other schools participating include Alabama, Columbia, Michigan, Southern Cal, and UCLA. Variety listed 12 total schools, many of whom are affiliated with the Power 5 conferences, among the participants.
Like Sportscasting on Facebook. Follow us on Twitter @sportscasting19.