Peyton Manning Gave Kenny Pickett Advice That Skyrocketed His NFL Draft Stock
The NFL Scouting Combine is underway, and Kenny Pickett has been one of the most talked-about prospects in Indianapolis. It wasn't until his fifth season at the University of Pittsburgh that he officially broke onto the scene. However, if it weren't for Peyton Manning, the special season might not have happened.
Pickett vividly recalls a conversation with the Hall of Fame quarterback about potentially declaring for the NFL draft after the 2020 season. The contents of their talks led to the Oakhurst, New Jersey native becoming one of the best quarterbacks in college football.
Kenny Pickett consulted with Peyton Manning before returning to Pitt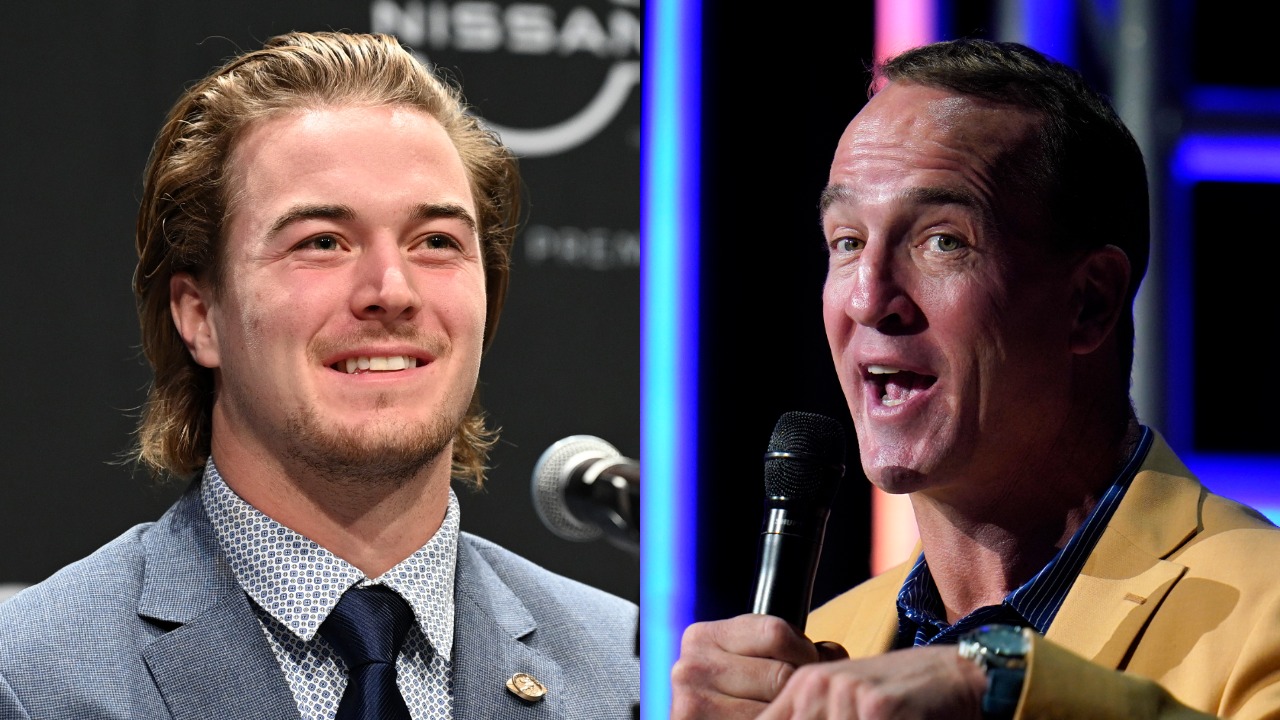 Kenny Pickett spent his entire college football career at Pitt. He played in just four games as a freshman but took over the starting job in 2018. He put together three solid seasons under head coach Pat Narduzzi.
During the 2020 season, Pickett threw for 2,408 yards, 13 touchdowns, and nine interceptions while completing 61.1% of his passes.
The Panthers signal-caller thought long and hard about declaring for the 2021 NFL Draft. The class was deep, though, featuring Trevor Lawrence, Justin Fields, Zach Wilson, Mac Jones, and Trey Lance.
Pickett consulted with legendary quarterback Peyton Manning as he was mulling his options. The Indianapolis Colts and Denver Broncos great faced a similar situation during his junior season at Tennessee. The conversation ultimately helped the NFL draft hopeful make a decision.
"The decision to come back to Pitt after that 2020 year, Peyton gave me a lot of insight that helped me make that decision," Pickett told The Athletic's Nick Cosmider. "The best decision for me was to come back to school. Obviously, I'm in a better situation this year than I was last year if I had decided to come out. I'm really grateful for all of the advice he gave me."
The Heisman Trophy finalist's draft stock skyrocketed
Peyton Manning's advice more than paid off for Kenny Pickett as a fifth-year senior. He took the college football world by storm and never looked back.
The Pitt standout enjoyed easily the most productive season of his college career. He threw for 4,319 yards, 42 touchdowns, and seven interceptions while completing 67.2% of his passes in 2021. Pickett finished fourth in passing touchdowns, fifth in completions, and fourth in yards. He added 233 yards and five scores on the ground.
The 23-year-old quarterback led Pitt to an ACC championship en route to earning All-American honors. Pickett was also the ACC Offensive Player of the Year and a finalist for the Heisman Trophy.
Returning to Pittsburgh for his fifth year of eligibility turned out to be the best decision the young signal-caller could've ever made. Given how stacked the 2021 class was a quarterback, he wouldn't have fared well in the draft. Now, he has big-time numbers and several highlight moments to add to his resume.
It's unclear exactly where Kenny Pickett will land in the draft, but Peyton Manning's valuable piece of advice helped him get there.
Where will Pickett land in the 2022 NFL Draft?
It's officially mock draft season. The 2022 NFL Draft will take place from Apr. 28-30, and rumors are swirling about where some of the top prospects will land.
Several teams need quarterback help and could be in play for Kenny Pickett during the draft. The Denver Broncos, Pittsburgh Steelers, Carolina Panthers, New Orleans Saints, and Washington Commanders are QB-needy.
ESPN draft analysts Mel Kiper Jr. and Todd McShay project Pickett to go No. 11 overall to the Commanders. Meanwhile, NFL Network's Daniel Jeremiah has the Panthers star falling to the New Orleans Saints at No. 18.
Not many people are high on this crop of quarterbacks. Still, several guys have potential, including Pickett, Malik Willis, Desmond Ridder, and Matt Corral. Teams need to address the position, and the players will get an opportunity to prove their worth.
Surely, Peyton Manning has spoken to people in the Broncos organization about Kenny Pickett. General manager George Paton could consider taking the Pitt quarterback if they strike out on a big name in the trade market.
"I would be really excited to play there," Pickett said. Whether it's Denver or somewhere else, the projected first-rounder appears ready for the opportunity.
All stats courtesy of Sports Reference
RELATED: Colin Cowherd Names the 1 QB He Would Take at the Top of the NFL Draft: 'An Absolute Home Run at the Combine'