Peyton Manning Grew Up a Saints Fan but Knew the Night He Needed to Cut His Ties
Article Highlights:
Indianapolis Colts legend Peyton Manning grew up a New Orleans Saints fan but said he no longer roots for the team
Peyton's father, Archie, spent over a decade as the Saints' starting quarterback
The five-time NFL MVP famously clashed with the Saints in Super Bowl 44, and he's still sore about that game
In a different universe, Indianapolis Colts legend Peyton Manning may have spent his post-Thanksgiving dinner cheering on the New Orleans Saints. At least, we don't think we're a part of that universe.
Before he became a five-time NFL MVP and two-time Super Bowl champion, Manning grew up rooting for the Saints. If the choice of team sounds strange, you must remember that his father, Archie, made two Pro Bowls in 11 seasons as the woeful Saints' starting quarterback.
So, what changed and made Manning cut his ties? Well, it all started with one night in Miami…
Peyton Manning knew when he needed to officially put his New Orleans Saints fandom behind him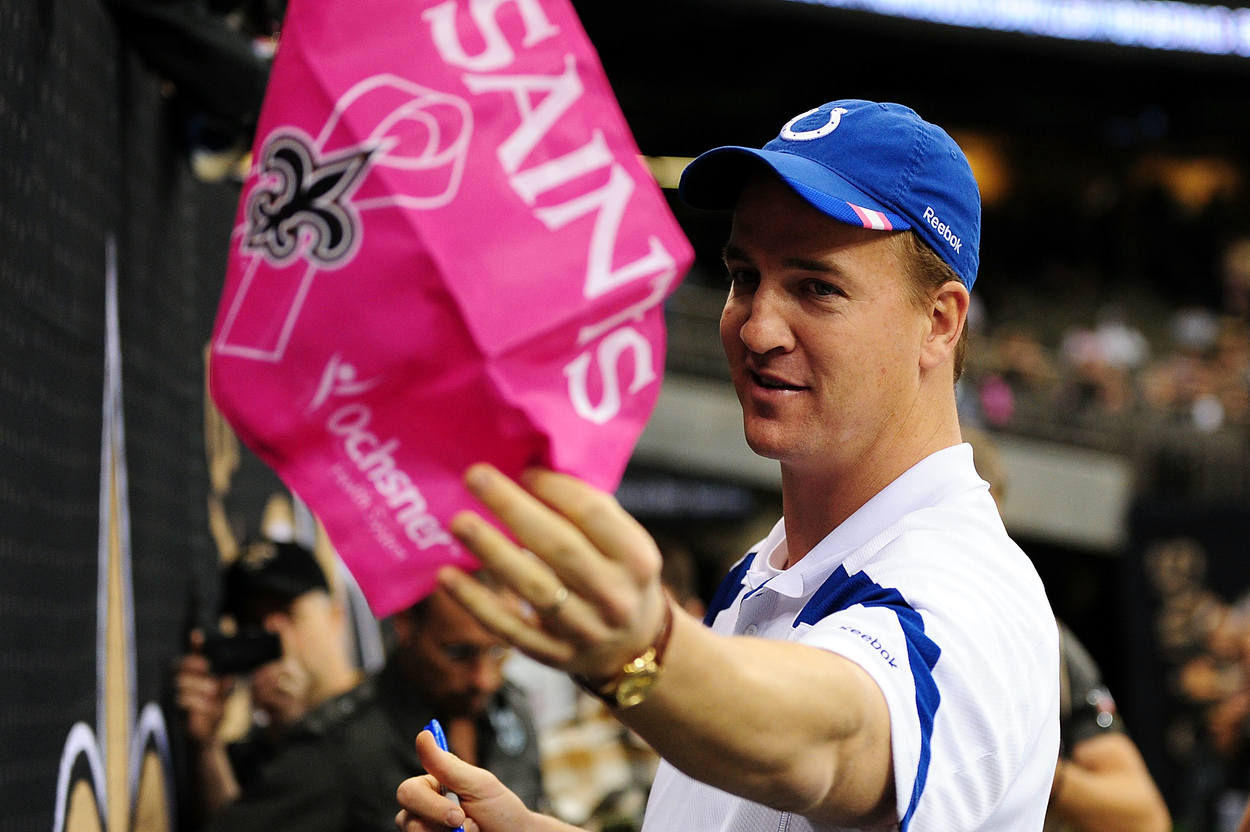 When ESPN announced that Eli and Peyton Manning would team up on the aptly-named Monday Night Football With Peyton and Eli, even the Worldwide Leader wouldn't have guessed it'd become so popular so quickly. The brothers' natural chemistry shines each time they're on, especially when it comes to revealing some interesting personal facts and trading barbs about head size.
On the Nov. 22 broadcast, the topic of Peyton's former Saints fandom came up in conversation. We say "former" because, as Eli told viewers, his older brother no longer roots for the 2009 NFC champions.
"You grew up a Saints fan, and you abandoned them," Eli said.
Peyton, who went 3-2 and threw 14 touchdowns against four interceptions in five career regular-season games against the Saints, didn't deny the claim.
"When you lose to them in the Super Bowl, you tend to abandon them."

Peyton Manning
Considering we haven't played in the Super Bowl and never will, we feel comfortable saying the elder Manning's decision is justified.
We can't exactly blame Manning for being sore following Super Bowl 44
Officially, Manning ended his career 3-3 against the Saints. That extra loss, as you've likely figured by now, came on Feb. 7, 2010, in Super Bowl 44. Manning completed 68.8% of his passes for 333 yards, a touchdown, and an interception in the Colts' 31-17 loss. 
Trailing by seven with 3:24 left and set up at the Saints' 31-yard line, the legendary gunslinger intended to hit Pro Bowl receiver Reggie Wayne for a first down. Saints cornerback Tracy Porter snagged the ball, returned it 74 yards for a touchdown, and ensured the Lombardi Trophy would not return to Indianapolis for the second time in four years.
Again, it's hard to fault Manning if he did officially stop rooting for the Saints after that night. As much as he may have respected star quarterback Drew Brees or head coach Sean Payton, they're the ones who played a significant role in ensuring he didn't win a second title in a Colts uniform.
Don't forget that it took nearly a decade for Manning, the No. 1 overall pick in 1998, to lead the Colts to a Super Bowl. Although he defeated the Chicago Bears in February 2007, it only took one play for him to fall short of holding the Lombardi Trophy again.
Manning, at least, got some degree of revenge less than three years later. Then in his first season with the Denver Broncos, the 14-time Pro Bowler shredded the Saints' defense for 305 yards, three touchdowns, and no interceptions in a 34-14 victory on Oct. 28, 2012. 
Manning and the Saints have, at least, behaved professionally over the last decade-plus
Manning may not love the Saints anymore, and he may not even like them. But he's at least held a courteous relationship with the franchise and their fans.
Although he missed the 2011 season with a neck injury, he traveled with the Colts to a road matchup with the Saints that October. He signed autographs and spoke with the New Orleans faithful before his Colts, en route to a 2-14 finish, were humiliated, 62-7, on Sunday Night Football.
Months after he retired in 2016, Manning spent a day at the Saints' training camp for a guest. In what may have been a wise move, neither he nor the Saints referenced Super Bowl 44 in a statement the team provided.
Earlier this year, the Saints congratulated Manning on his induction into the Hall of Fame. The team referred him to as a "native son" who had a "remarkable career." How heartwarming. Maybe this relationship can be salvaged after all.
There's still plenty of time left in the 2021 season, by the way, for Peyton to wear a Saints jersey on the ManningCast. Actually, maybe that will be what Eli has in mind as an early Christmas gift.
Like Sportscasting on Facebook. Follow us on Twitter @sportscasting19.