Peyton Manning's Hall of Fame Party Could Have a Sky-High Budget: 'No One Has Asked Me to Have The Rolling Stones or U2 Play … but That Could Be a Negotiation'
What do you buy a man who has everything? That's what Indianapolis Colts owner Jim Irsay and his event planners will have to contemplate while planning Peyton Manning's Hall of Fame after-party. Manning, and his former Colts teammate Edgerrin James, will get inducted into the Pro Football Hall of Fame next month, and Irsay has always been known to go big, so that's what it appears he is planning to do for his former stars.
Peyton Manning and Edgerrin James will soon enter the Pro Football Hall of Fame
Edgerrin James, a four-time Pro Bowl running back during his career, learned of his Hall of Fame induction last year, as he is a part of the 2020 class. But due to COVID-19, he is getting inducted on Aug. 7, one day before his former quarterback, Manning, also gets inducted as part of the 2021 class.
"It's so special having two players of the ilk of Edgerrin and Peyton," Irsay recently said, per Colts.com. "…It's so great for the Horseshoe and certainly followed up with Marvin (Harrison) and Bill (Polian) and Tony (Dungy) having gone in. We're hoping for several others going into this decade."
Irsay will, of course, be there to support his former players, but he will also be the one presenting James. Irsay presented Marvin Harrison in 2016 as well.
"It's just an indicator to me that forging that close relationship and really knowing what great friends we are, how we have each other's backs and how close we really, really are," Irsay said, per WISH-TV. "I mean these guys mean a tremendous amount to me. They lay a lot on the field – their preparation. It's a tough game. They are heroic in what they do and I, like all fans, really look up to all the aspects that these great athletes go through."
The Colts legends' after-parties will have 'no limits'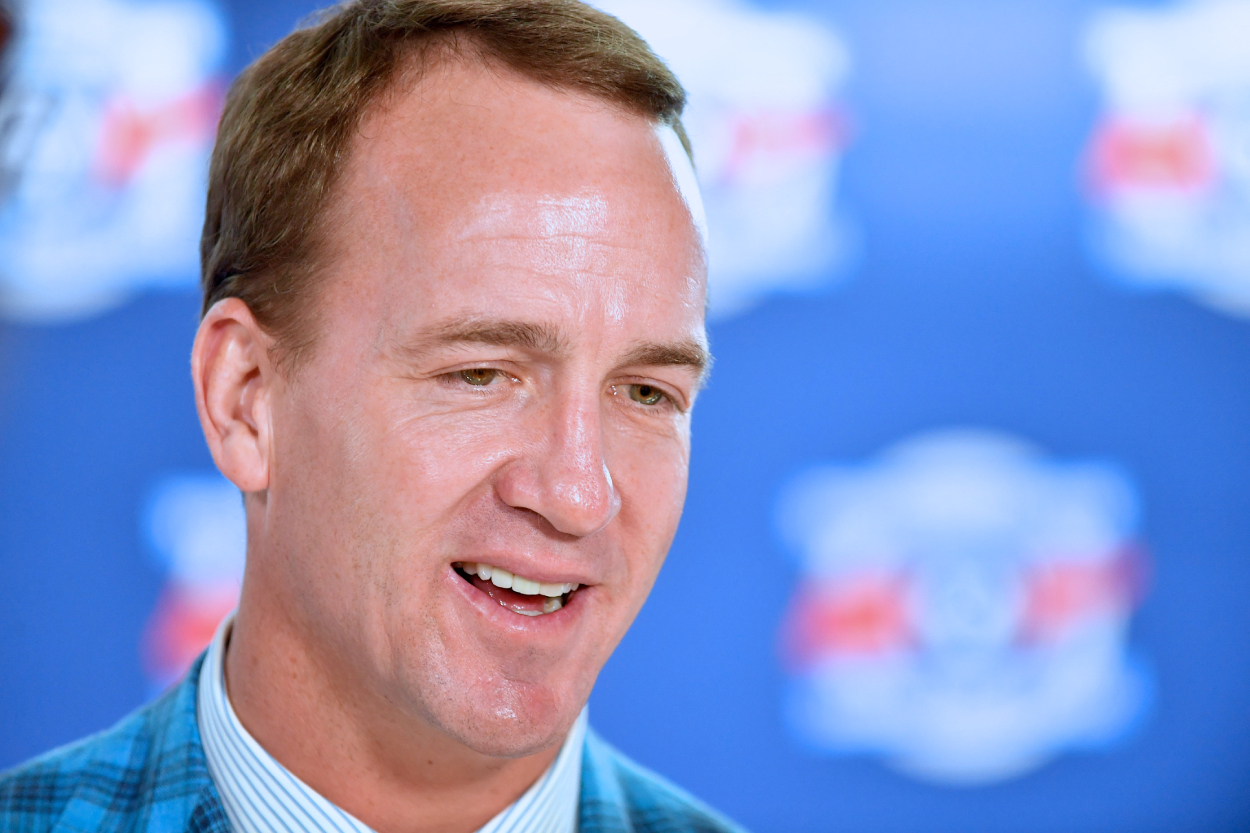 As preparations are made for both Peyton Manning's and Edgerrin James' Hall of Fame after-parties, it appears Jim Irsay plans to have quite the setup.
"There's never really any limitations I don't think, except how many people can physically fit inside the circus tent that the party is in," Irsay said, per WISH-TV. "…It's just a great time and a great party. It's just really special to see the family and extended family and friends of these people we all love as Colts fans. To see them all there and to see this magical night and to see their grandmother or to see their grandfather, their coach from grade school, to meet their best friend that has been there for them since first grade, it's that type of setting. It's really magical."
Given Irsay's $3 billion net worth, the budget for the parties appear to be unlimited.
"There are no limits, they ask me for this DJ or that DJ and I said fine. I just want to see everyone have a great time," he said. "I haven't shut anything down yet." 
Irsay continued while laughing: "No one has asked me to have The Rolling Stones or U2 play at their party yet, but that could be a negotiation."
Peyton Manning and Edgerrin James had a ton of success together on the Colts
Many people know of the great success Peyton Manning had on the Colts. 
He spent 13 seasons there (not including his injured 2011 season) and threw for 54,828 yards, 399 touchdowns, and 198 interceptions. He also earned four of his five MVPs while in Indy. Overall, including his years with the Denver Broncos, Manning threw for 71,940 yards and 539 touchdowns, which are both third all time, and he won two Super Bowls, appearing in two others.
James, on the other hand, also had significant success, especially as Manning's teammate.
The running back recorded 12,246 total rushing yards in his career, which is No. 13 all-time, and 80 rushing touchdowns. While in Indy, though, he gained 9,226 yards on the ground and ran for 64 TDs, which helped him earn four Pro Bowl selections.
The Colts made the playoffs in six of the seven seasons Manning and James played together, reaching the AFC Championship Game once. They also won 12 or more games four times. The skills of the two stars ultimately transformed Indy from a laughingstock to an NFL powerhouse.
Since the late-1990s, the Colts have been one of the model franchises in the NFL. They would have never earned that reputation, though, had it not been for the stellar play of Manning and James, so it appears Irsay plans to back up the brink's truck to celebrate their legendary careers.
Stats courtesy of Pro Football Reference; Net Worth courtesy of Forbes