Peyton Manning Made Fun of his Huge Forehead in the Leadup to His Pro Football Hall of Fame Enshrinement
Since retiring after the 2015 season, Peyton Manning has made a post-career name for himself with his comedic chops. He's done commercials, pranked other athletes, and taken jabs at former players.
Manning is now set to be enshrined in the Pro Football Hall of Fame in Canton, Ohio, as part of the class of 2021. So, naturally, he felt the need to poke fun at his huge forehead.
But it's not the first time the soon-to-be hall of famer has gone after himself for his looks.
Peyton Manning has made fun of his huge forehead before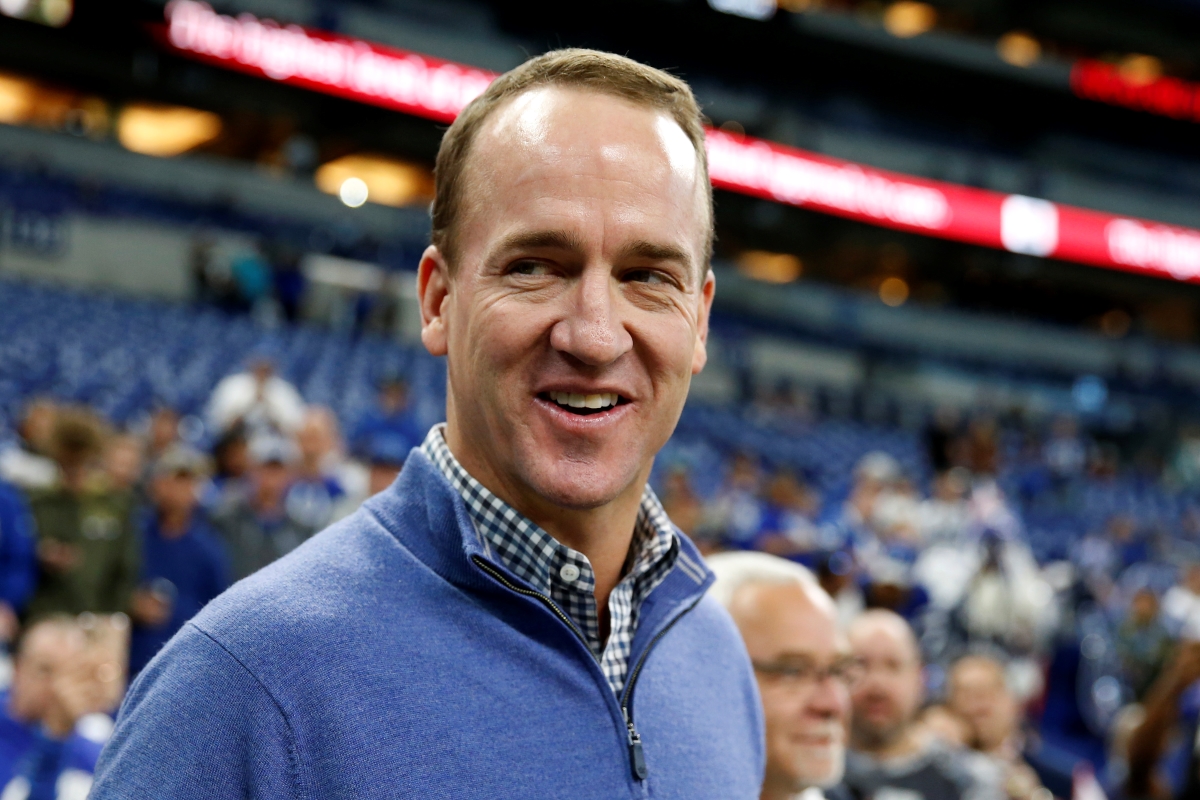 Manning does have an abnormally large forehead. And his neck is super long. But at least he's able to laugh about it. Manning was drafted by the Indianapolis Colts and called the organization home for the first 13 years of his career. In 2017, the Colts honored Manning with a statue.
And, according to Broncos Wire, Manning made it a point to thank the statue's sculptor:
"Let me start by thanking Ryan Feeney for sculpting a lasting reminder of my tenure as a Colt. Luckily for me, and even more so for our children, Ryan promised that my bronze forehead would be a little smaller and my neck a little shorter than they actually are."

Peyton Manning on his statue outside Lucas Oil Stadium in Indianapolis
Now Manning has poked fun at his giant forehead again
Manning is set to be inducted into the Pro Football Hall of Fame's Class of 2021. He's already cracked different jokes about that, too.
And, in typical Manning fashion, the forehead jokes came back as well, according to the Spun. But the amateur comedian didn't stop with one. He doubled down.
First, Manning joked about how much clay was needed for his Hall of Fame bust in Canton. "A lot," he said.
Then, during the Hall of Fame Game between the Dallas Cowboys and the Pittsburgh Steelers, Manning took a shot at himself again, saying he wouldn't be in the booth long because his forehead and neck were too big to fit.
Manning is also returning to the NFL arena, so of course the "I know I look weird" jokes had to kick off again
Manning has always been connected with a career in broadcasting. This season, he's finally decided to hook up with ESPN and his brother Eli to host an alternate Monday Night Football broadcast for the Worldwide Leader. Manning and his unusually huge forehead enter the booth with high expectations.
When he retired after winning a Super Bowl with the Denver Broncos, the second Lombardi Trophy of his career, speculation fired off immediately about Manning's future. It was expected to be in the broadcast booth.
The conjecture never stopped as the former Tennessee star was tabbed to be the "next Tony Romo." Indeed, Manning's knowledge of the game, which is arguably superior to Romo's, would be critical to his success.
But his wit and seemingly natural skills for comedic timing could put him over the top and make him the most entertaining play-by-play analyst around. Even when he's only making fun of himself.