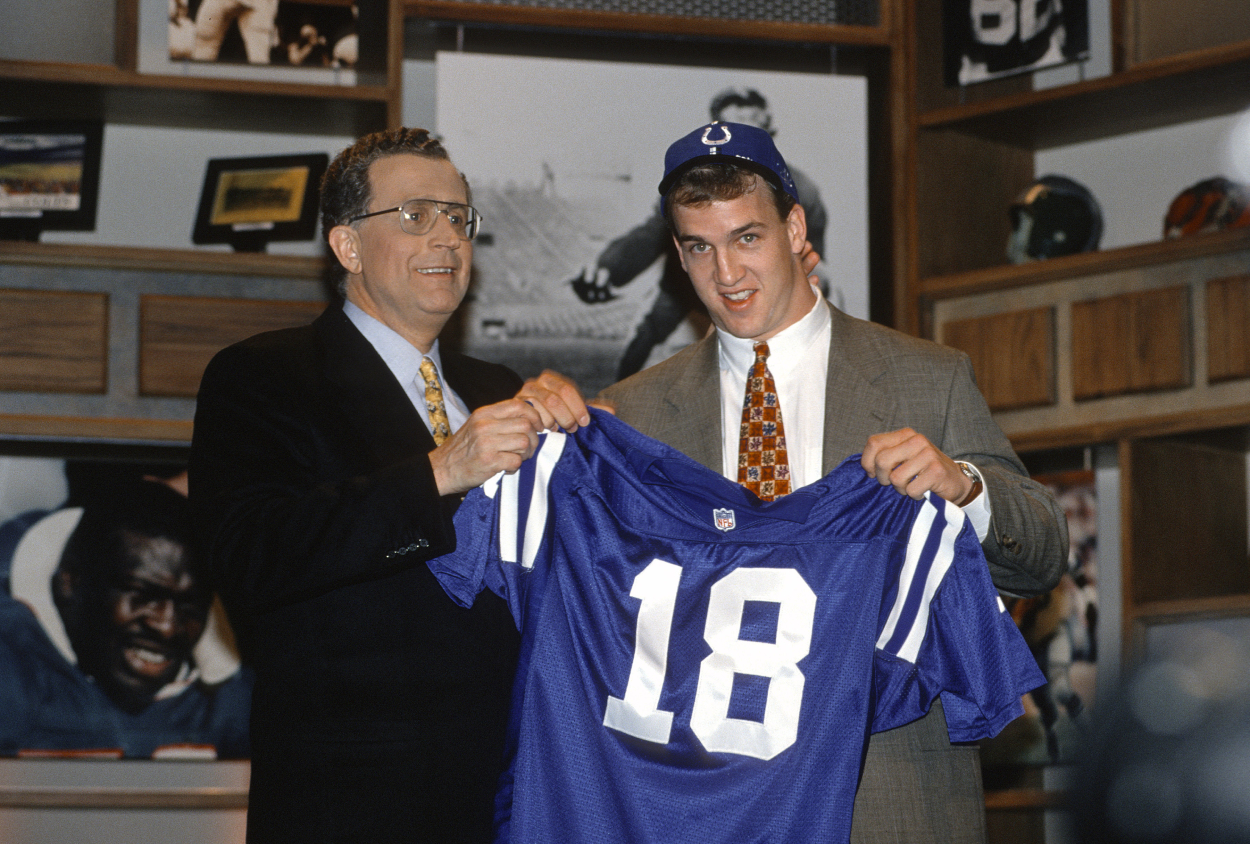 Peyton Manning Was Nearly Late to His Own Draft Thanks to a Teenager's Fake ID
Peyton Manning went to the Colts in the draft after becoming a top prospect at Tennessee. However, he was almost late to his draft. This is a look at the 1998 NFL draft and why Manning was nearly late to it. It also looks at how everything turned out OK for Manning in the NFL.
In 1998, Tennessee quarterback Peyton Manning was one of the top prospects in the NFL draft. As you probably know, he went to the Indianapolis Colts with the No. 1 overall pick and lived up to all the hype, as he later became a Pro Football Hall of Famer. However, Manning was nearly late to his own draft, and it was all because of another prospect's younger brother. That prospect was the one and only Ryan Leaf.
Peyton Manning was a top NFL draft prospect after his Tennessee career
Manning, the son of Archie Manning, went to Tennessee in 1994, and he ultimately became a star. After just throwing 144 passes in his first season, Manning threw for 2,954 yards, 22 touchdowns, and only four interceptions in 1995, which helped the Volunteers go 11-1 and win the Citrus Bowl.
He then continued dominating over the next couple of seasons. In 1996, Manning threw for 3,287 yards, 20 touchdowns, and 12 interceptions before really proving he was ready for the NFL in 1997 by recording 3,819 yards, 36 touchdowns, and 11 interceptions.
This all led to him becoming a top prospect, as the No. 1 overall pick in the 1998 NFL draft ended up coming down to him and the quarterback from Washington State, Ryan Leaf. Manning then went first to the Colts, while Leaf went second to the San Diego Chargers.
Other top prospects in that draft included Andre Wadsworth out of Florida State, future Hall of Famer Charles Woodson out of Michigan, and Curtis Enis out of Penn State. Future Hall of Famers Randy Moss and Alan Faneca were also in that draft, but they didn't go off the board until 21st and 26th, respectively.
Manning was most likely pretty excited to go No. 1 in front of all those guys, but he was nearly late to the draft thanks to Leaf's brother.
He was nearly late to the draft thanks to Ryan Leaf's brother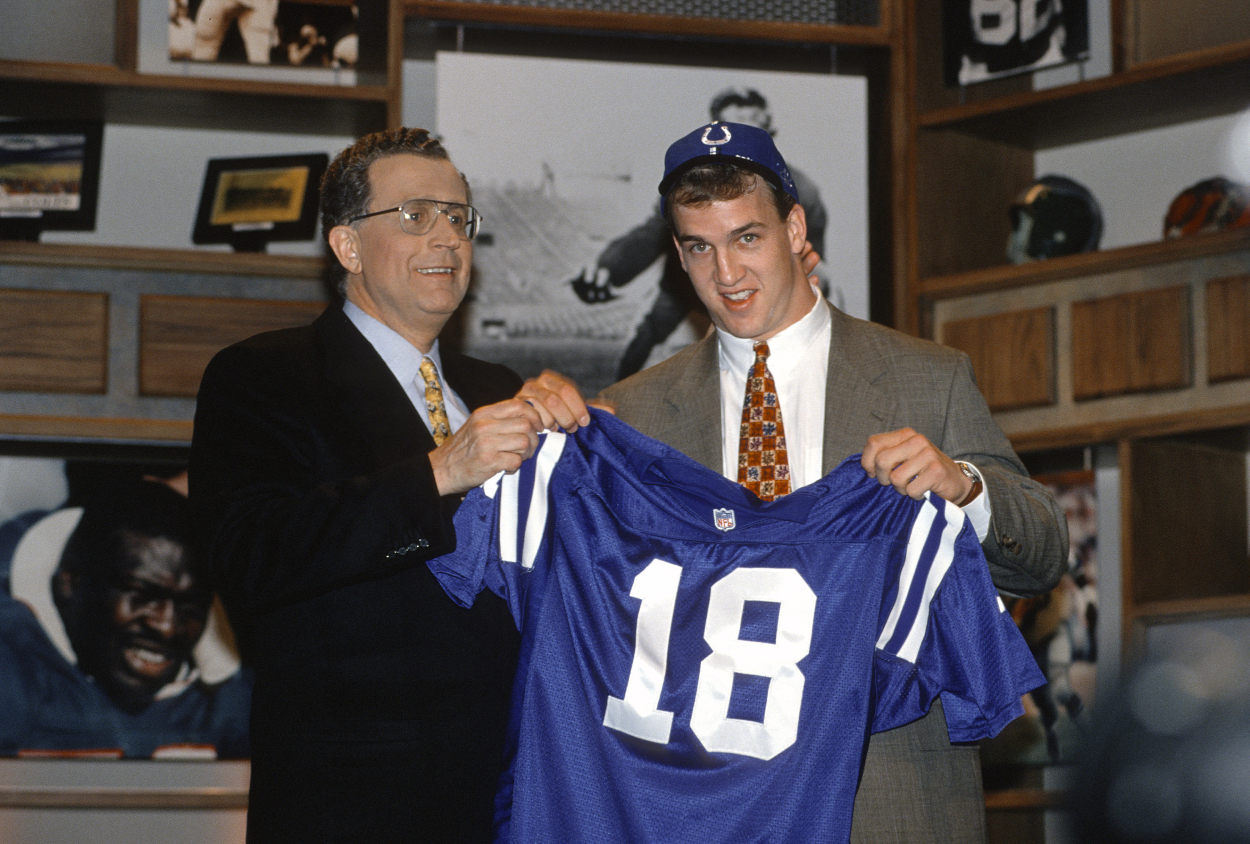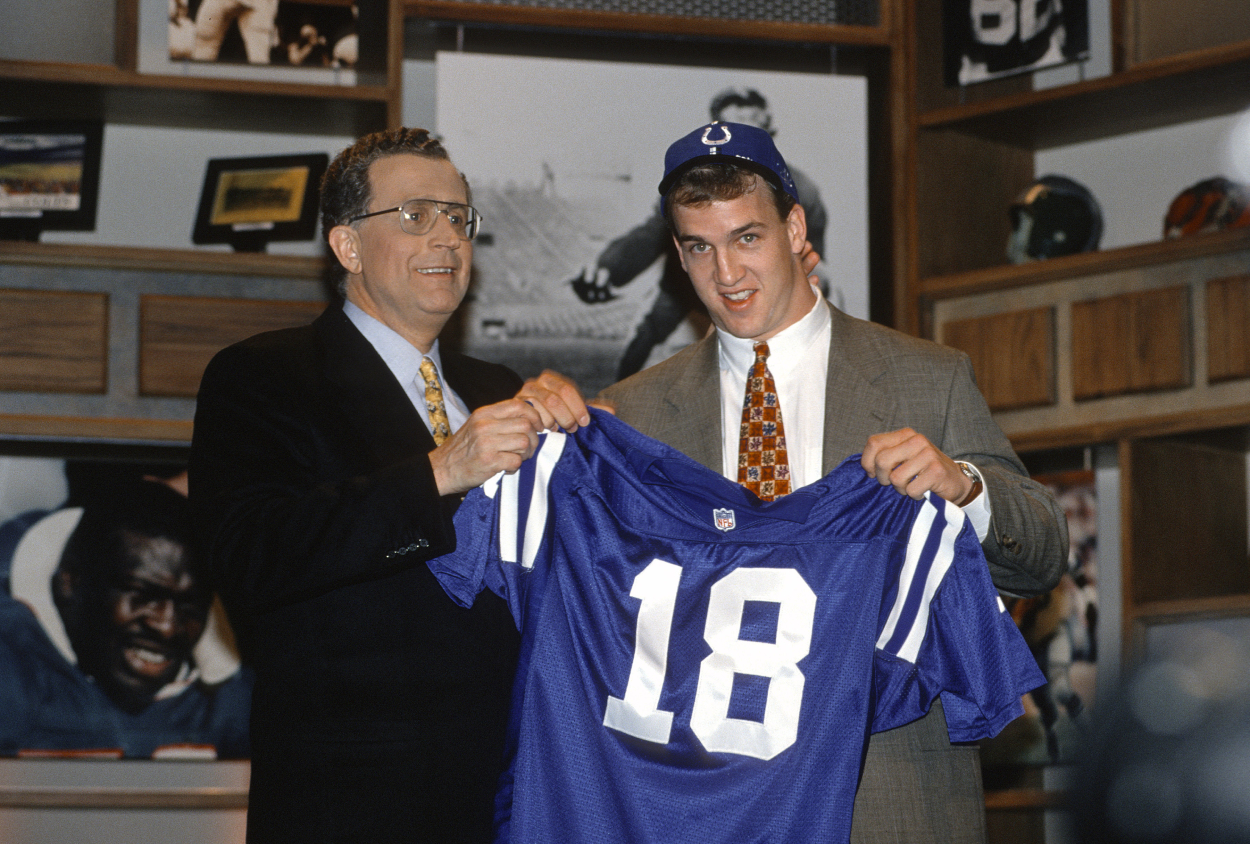 Leaf is known for being one of the biggest busts in NFL history. The Chargers selected him second overall in 1998, and he threw his last pass in 2001.
In his post-football life, though, Leaf has ultimately become a successful media personality, and he recently told a story about how his brother nearly made all the top prospects late to the 1998 draft.
"We all had an itinerary and a schedule of when the busses left to go to (the draft)," Leaf said on the April 29 episode of The Rich Eisen Show. 
He then said the presumed top picks and their families all traveled together on the same bus. 
"My brother and my cousin are nowhere to be found," Leaf said. "… So, we're sitting on this bus as it's just idling, waiting to go get drafted, and I'm just looking at the Manning family, like searing holes through the back of my family's heads."
Leaf said they ultimately waited for about 20 minutes.
"We're like 'why are we waiting for an 18-year-old kid from Montana and a 16-year-old kid from Montana, who seemingly have been lost in New York?'" Leaf said. "… All of sudden, here come these kids that are fractionally dressed up for this draft, stumbling onto the bus. We don't get a straight answer of where they were; they just kept saying they were sorry, they were sorry. So, as we're going, I finally just turn around … and [my brother] kind of picks into his pocket, and he holds this thing up in front of me."
He continued: "What they were doing is they were running around Times Square, getting fake IDs. Mission accomplished by both of them."
Peyton Manning later became a Hall of Famer with the Colts and Broncos
Things didn't work out for Leaf after that, but they certainly worked out for Manning.
He ultimately spent 14 years with the Colts and four with the Denver Broncos. He earned 14 Pro Bowl selections, five NFL MVP awards, and won two Super Bowls.
Manning — who is now a Hall of Famer — also threw for 71,940 yards and 539 touchdowns, which are both third in NFL history.
Whether Manning would have been late to his draft or not, things would have worked out for him, but it certainly would have been a good story if he had been late.
Stats courtesy of Sports Reference and Pro Football Reference