Peyton Manning Was Just Recognized for Something That Has Nothing to Do With Football and Everything to Do With Booze
NFL fans just saw former Indianapolis Colts and Denver Broncos quarterback Peyton Manning receive the highest of honors when he entered the Pro Football Hall of Fame earlier this month.
However, while his time as a player in the NFL might be over, Manning is still winning. In fact, he was just recognized for something that has nothing to do with football, but rather his work in the booze industry.
Colts and Broncos legend Peyton Manning should be used to seeing his work recognized
Throughout his legendary football career, Manning pretty much received every type of award possible.
He was a 14-time Pro Bowl selection, a seven-time first-team All-Pro, a two-time AP Offensive Player of the Year, the 2012 AP Comeback Player of the Year, and he received an NFL record five MVP awards. Manning also won two Super Bowls and a Super Bowl MVP.
The main reason he became such a decorated athlete was his stellar play for the Colts and Broncos. The Tennessee product threw for 71,940 yards and 539 touchdowns during his pro career, which are both third in NFL history. He also holds single-season records for passing yards with 5,477 and passing touchdowns with 55, which both came in 2013.
All of his accomplishments on the field led to Manning becoming a shoo-in for the Hall of Fame. Pro Football Reference's Hall of Fame Monitor, a metric that rates a players' probability of entering the hall, even rated him as the top QB of all time and, yes, higher than Tom Brady.
However, while all these awards made Manning the superstar celebrity he is today, his work off the football field just received some impressive recognition.
Peyton Manning's bourbon is the best celebrity liquor out there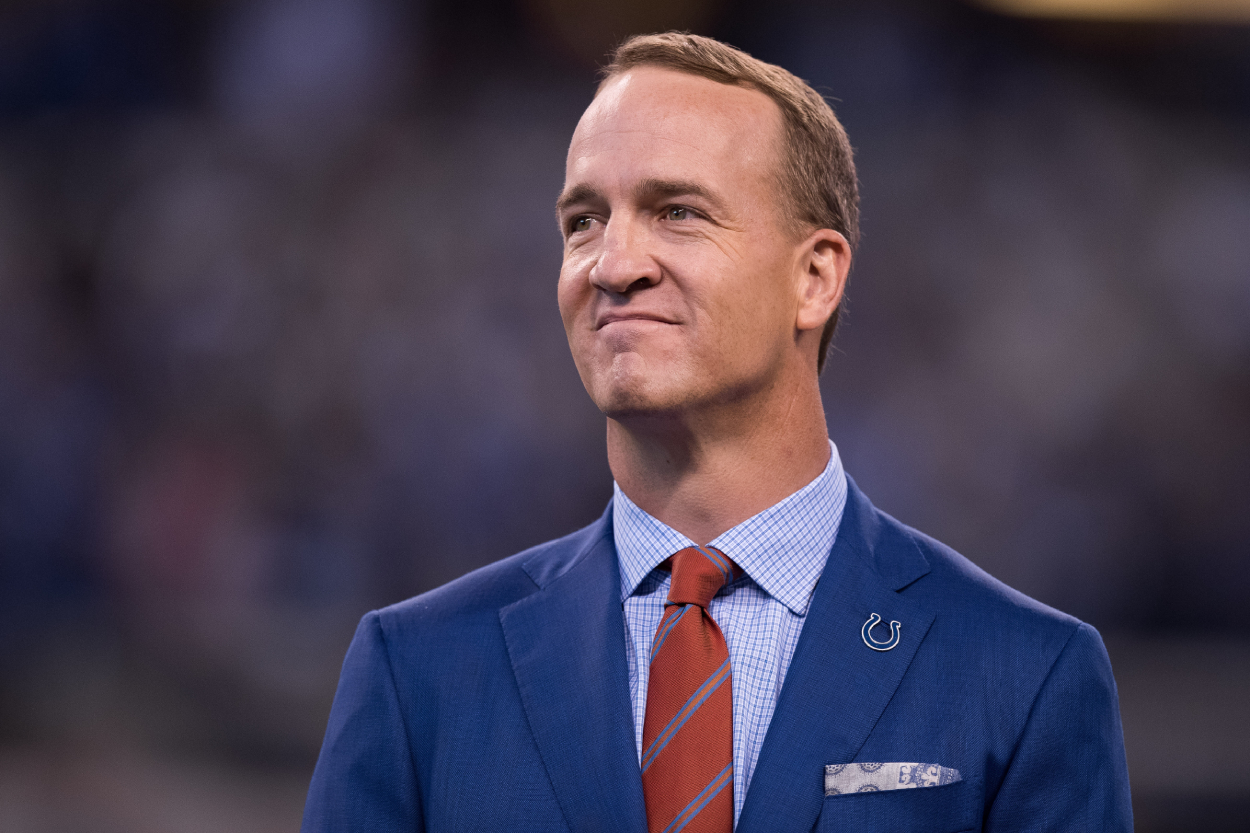 In 2020, a line of bourbon went on sale that's owned by Peyton Manning, his brothers Eli and Cooper, tennis star Andy Roddick, sports broadcaster Jim Nantz, and others. The drink is called Sweetens Cove Tennessee Bourbon and is named after Sweetens Cove Golf Club, which Peyton also owns.
"I'm probably an authentic, social beer drinker, but I've learned a lot about bourbon," he said in May to The Denver Post.
He added: "The two things I learned about bourbon: It better taste good; if it doesn't, people will move on, and all the people I've talked to that like and know bourbon say it tastes great."
Well, apparently, Manning is right; it, indeed, tastes great.
Esquire recently ranked all liquors and spirits owned by celebrities, which actually comes out to 63 in total, and it ranked Manning's as No. 1. It gave Sweetens Cove a nine out of 10 for taste and a nine out of 10 for star power.
"As we go through this onslaught of celebrity spirits, you will see a lot of lowest common denominator offerings," Aaron Goldfarb of Esquire wrote. "Factory-sourced products bottled at meager proofs, often with added sweeteners and flavorings to make the spirits even more palatable to neophytes. Not from Sweetens Cove, whose most recent limited offering includes three cask-strength Tennessee bourbons, carefully blended by Marianne Eaves, a bourbon industry A-lister in her own right."
No, it's not an MVP, but the recognition has to feel good for Manning. It's safe to say that he wins in whatever he does.
Other athletes like Michael Jordan and LeBron James ranked high on the list
Manning wasn't the only athlete to rank high in Esquire's piece.
Michael Jordan's Cincoro Tequila ranked seventh and received a seven out of 10 in taste; LeBron James' Lobos Tequila came in at 12th with a six out of 10, and Scottie Pippen's Digits Bourbon ranked 18th with a six out of 10.
So, what athletes' liquors should you not try? Former NHL players Ryan Whitney and Paul Bissonnette teamed up with Barstool Sports to come out with New Amsterdam Pink Whitney Vodka; it ranks 59th out of 63 on the list, receiving a one out of 10 in the taste rating. Chipper Jones' Sugarlands Shine Sweet Tea Moonshine apparently isn't the greatest either, as it's 52nd and received a three out of 10 in taste.
If you plan to (responsibly) try some new liquors soon, going with GOATs like Manning, Jordan, and James might be your best bet.
Stats courtesy of Pro Football Reference