Peyton Manning Once Savagely Kicked His Fellow Colts Teammate out of a Film Room Despite Not Even Playing That Entire Year Due to Injury
Peyton Manning became one of the greatest quarterbacks in NFL history for many reasons, but one thing that put the Indianapolis Colts legend over the top was his cerebral approach to the game. Manning would watch extensive hours of film, which eventually paid off as he knew almost exactly how opposing defenses planned to stop him. 
Spoiler alert: They rarely succeeded.
However, Manning was serious about his studies — maybe even too serious. In fact, during the 2011 season, the Hall of Fame QB kicked former teammate Dan Orlovsky out of a film room despite not even being able to play for the Colts that year due to injury.
Peyton Manning did not play for the Colts in 2011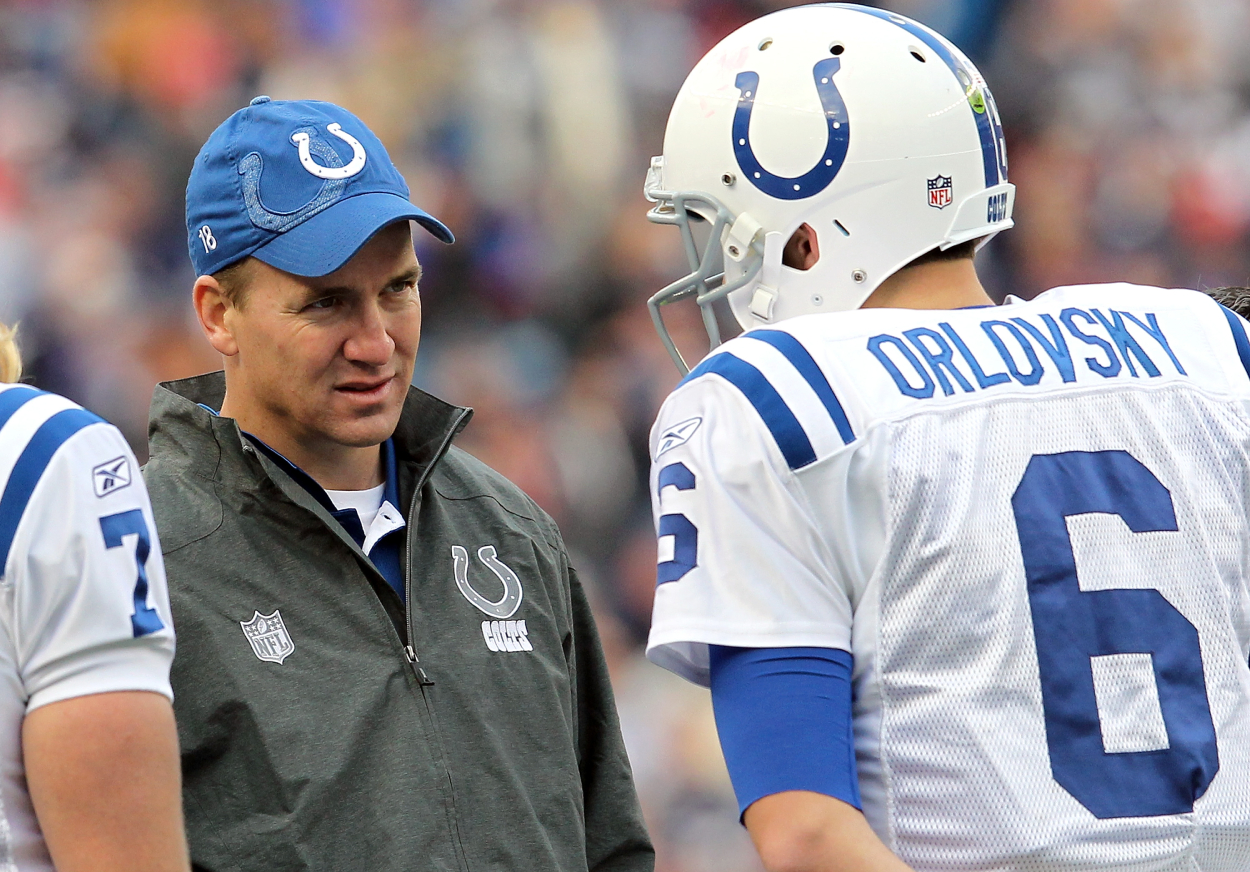 Peyton Manning had proven to be a pretty reliable quarterback for the Colts in terms of availability. He racked up 227 consecutive starts, including the postseason, and had a lot of success while doing it, winning four MVPs and leading Indy to two Super Bowl trips (winning one).
However, in 2011, it appeared Manning's NFL future was in jeopardy. He missed the entire season with a neck injury, and the Colts subsequently went from being looked at as an NFL powerhouse to a laughingstock.
Indy went 2-14 in 2011 and had various starting quarterbacks throughout the year, including Curtis Painter, Kerry Collins, and Dan Orlovsky.
Orlovsky was probably the most successful of the three, as Indy won its only two games of the year when he was the team's starter. He threw for 1,201 yards, six touchdowns, and four interceptions in eight appearances and five starts.
In the preseason, though, Orlovsky, the future ESPN personality, had the pleasure of crossing paths with Manning in a film room.
The Hall of Famer kicked Dan Orlovsky out of a film room
Dan Orlovsky recently appeared on The Pat McAfee Show, and while talking to the former Colts punter, he shared the story of the time Peyton Manning — who signed with the Denver Broncos the next season in 2012 — kicked him out of a film room during the 2011 preseason.
"When I was studying for a preseason game, I'm in the hotel room. I'm gonna play a bunch; I'm gonna watch film by myself," Orlovsky said on the Aug. 17 episode. "… He had thrown that morning, but he didn't want anyone to know about it or see it and whatnot. I'm watching film getting ready by myself in the room, and the door gets knocked on, and Peyton's there, and he peeks his head in. He's like, 'Hey, man.' I'm like, 'What's up?' He goes, 'You mind if I watch some film?' And, I'm like, 'Yeah, dude, you're Peyton Freakin' Manning. Come on, bud.'"
However, what Orlovsky thought Manning meant by watching film was not what he actually meant.
"So, I gather my stuff, and I go sit in a chair, and he sits in the chair that I was in, watching it with the teleprompter, and he looks around, and he goes, 'Alone,'" Orlovsky said. "I was like, 'Ah, my bad.' So, I packed my stuff up and left."
That's pretty savage. But The Sheriff took watching film seriously, and that's how he became a Pro Football Hall of Famer.
Peyton Manning was serious about watching film
Orlovsky shouldn't feel too bad about Manning kicking him out. The 1998 No. 1 overall pick was next level about film.
"He would blow you away with his memory recall," said Jim Sorgi, Manning's backup on the Colts from 2004 to 2009, per the IndyStar.
His recall was, indeed, incredible.
"We'd be in a meeting, and he'd say, 'Hey, Sorgi, I want you to go grab the film from the 1999 season, the third game, the second quarter, the camera looking left to right from our bench. Go grab it,'" Sorgi said.
When Manning later moved to the Broncos in 2012, he contacted Joe Harrington, the sports technology coordinator at his alma mater, Tennessee. He asked him to look for film of a play that took place during the third quarter of a game in 1996 called "flip right duo X motion fake roll 98 block pass special," per the New York Post. And he requested that Harrington digitize and send it to him.
So, was Manning right about the game and quarter that Tennessee ran that play? Of course. Harrington then sent it to the QB, and the Broncos plugged it into their game plan.
Orlovsky may have gotten kicked out of that room in 2011, but given Manning's attention to detail and dedication to watching film, he probably wasn't the first or last person that happened to.
Stats courtesy of Pro Football Reference