Peyton Manning Recently Threw for the First Time in 5 Years Just to Help the Manning Family's Next Great QB
The 2015 NFL season and Super Bowl 50 were the last times Peyton Manning played in the NFL. He didn't have a great final year, but he went out on top, winning a Super Bowl with the Denver Broncos. 
It had also pretty much been that long since Manning had gone out and thrown. That was, however, until recently when he helped out the next great quarterback of the Manning family: his nephew Arch Manning.
Arch Manning is supposed to be the Manning family's next great QB
Arch is heading into his junior year of high school at Isidore Newman in New Orleans, the same high school Peyton, Eli Manning, and Arch's dad, Cooper Manning, went to when they were younger.
According to 247Sports, the young phenom is a five-star quarterback and the No. 1-ranked QB in the 2023 class. He is also the second-ranked recruit in the entire country for 2023.
Arch, who stands at 6 feet, 4 inches and 208 pounds, has offers from almost all the top schools, including Alabama, Clemson, Georgia, LSU, Notre Dame, Texas, and others. According to the Daily Advertiser, he visited Texas, Clemson, and SMU in June and has an upcoming trip planned to Ole Miss.
While the potential is certainly there thanks to his genes, Arch has a great chance to live up to those lofty expectations if he keeps working with his uncle, Peyton.
Peyton Manning threw for the first time in five years to help his nephew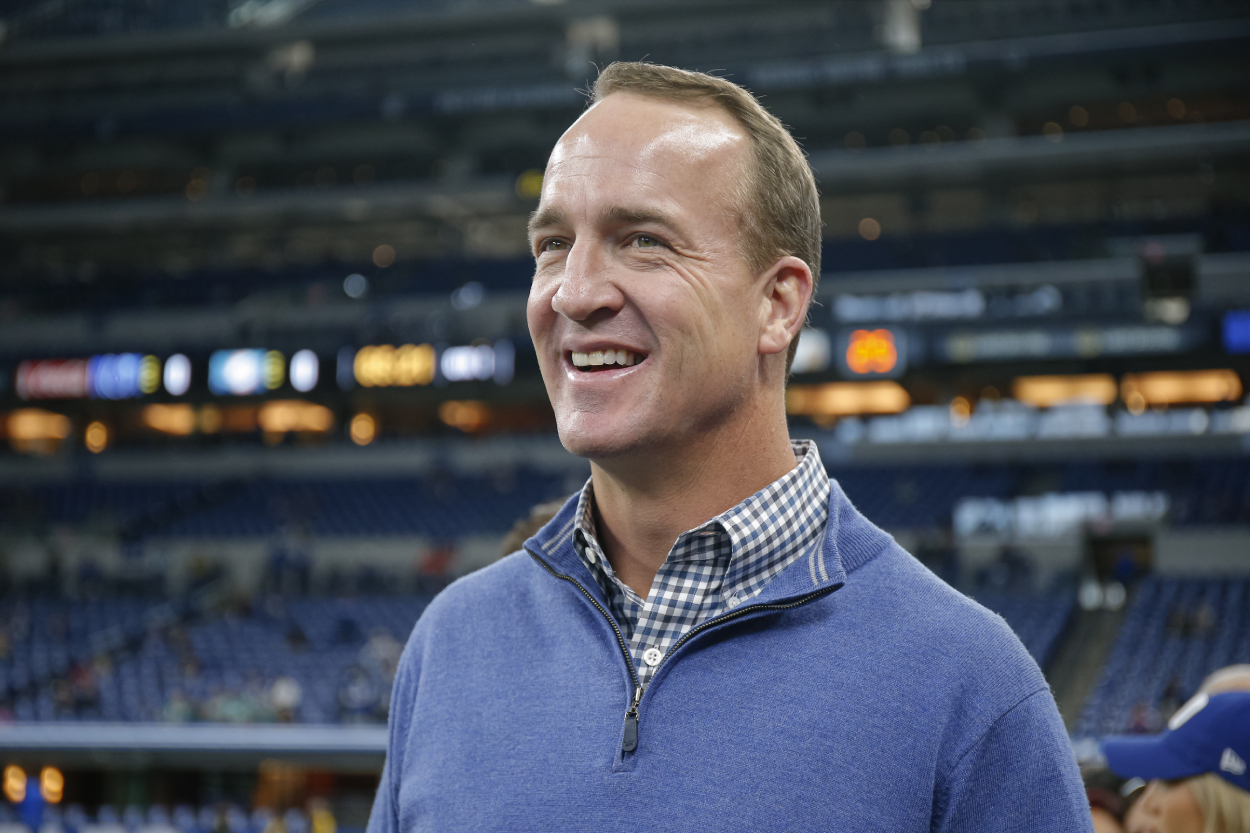 According to the Daily Advertiser, Eli said he isn't "super involved or giving too much advice" to Arch. Peyton, though, helped out his nephew in June, as Arch visited the five-time NFL MVP in Denver, where they conducted somewhat of a minicamp.
"He demanded that I throw with him because he wanted to sort of see some of the things that we were doing," Peyton said, per the Daily Advertiser. "It had been the first time I had thrown in five years, so we filmed it so we could study it."
He continued: "Arch said he got some good things out of it."
That's not, however, where the support ends. Peyton and Eli also plan to attend some of Arch's games during his upcoming year of high school ball.
"(I'm) looking forward to hopefully getting to a couple games," Peyton said, per the Daily Advertiser. "But I get to keep up with (the games) because they stream them now."
For whichever college program Arch joins in the future, those fans will be extremely lucky if he's just half as successful as his uncles and grandfather.
The Manning family has given Arch big shoes to fill
Arch is currently playing at a high school where he's expected to be great. Peyton, Eli, and Cooper all have their numbers retired there, and each of them were big-time recruits.
Peyton and Eli went on to have successful careers at Tennessee and Ole Miss. Cooper also committed to playing receiver at Ole Miss, but spinal stenosis ended his career early. Arch's grandfather, Archie Manning, also played college football at Ole Miss before becoming the second overall selection in the 1971 NFL draft.
Archie earned two Pro Bowl selections with the New Orleans Saints during his career, while Peyton earned 14 with the Indianapolis Colts and Broncos, and Eli earned four with the New York Giants. Peyton and Eli also won two Super Bowls apiece, and Peyton finished his career with a record five NFL MVPs to go with 71,940 career passing yards and 539 passing touchdowns, which are both third in NFL history.
Arch may have big shoes to fill, but Archie, Peyton, Eli, and his dad Cooper have all laid the groundwork for him to be the next great superstar quarterback of the Manning family.
Stats courtesy of Pro Football Reference
RELATED: Peyton Manning Was Nearly Late to His Own Draft Thanks to a Teenager's Fake ID