Peyton Manning's 5 Worst Three-Game Stretches Since 2006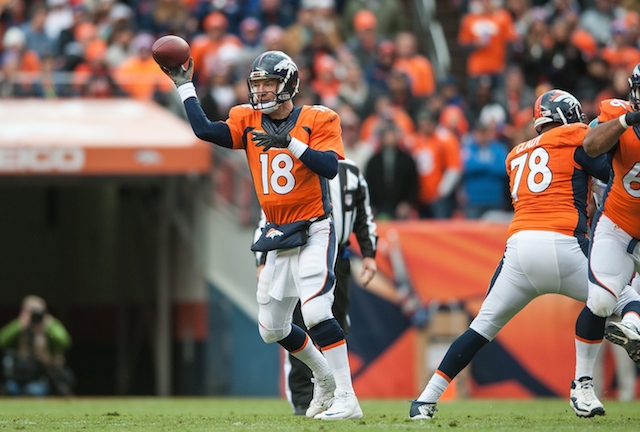 After a slow start against the Miami Dolphins in Week 12, Denver Broncos quarterback Peyton Manning regained his MVP-caliber form and led the Broncos to a 39-36 win. Against the Dolphins, Manning completed 80% of his passes for 257 yards, four touchdowns and a quarterback rating of 135.4, while looking like a vastly different – and better – quarterback than he had in the Broncos' previous three games. Here is a breakdown of Manning's performances in Weeks 9-11, one of the worst three-game stretches in the future Hall of Famer's career.
Week 9: @ New England Patriots
43-21 loss
59.6% completion percentage
438 yards
2 touchdown passes
2 interceptions
80.9 quarterback rating
54.3 QBR
Week 10: @ Oakland Raiders
41-17 win
70.5% completion percentage
340 yards
5 touchdown passes
2 interceptions
111.9 quarterback rating
62.5 QBR
Week 11: @ St. Louis Rams
22-7 loss
63% completion percentage
389 yards
1 touchdown pass
2 interceptions
75.3 quarterback rating
32.9 QBR
Manning's combined Total QBR for these three games was 48.9. ESPN recently compiled the data on the worst three-game stretches – based on Total QBR – for Manning since 2006. Where does his 2014 slump rank on the list? Here is a look at Manning's worst three-game stretches since 2006.
All statistics courtesy of Pro-Football-Reference.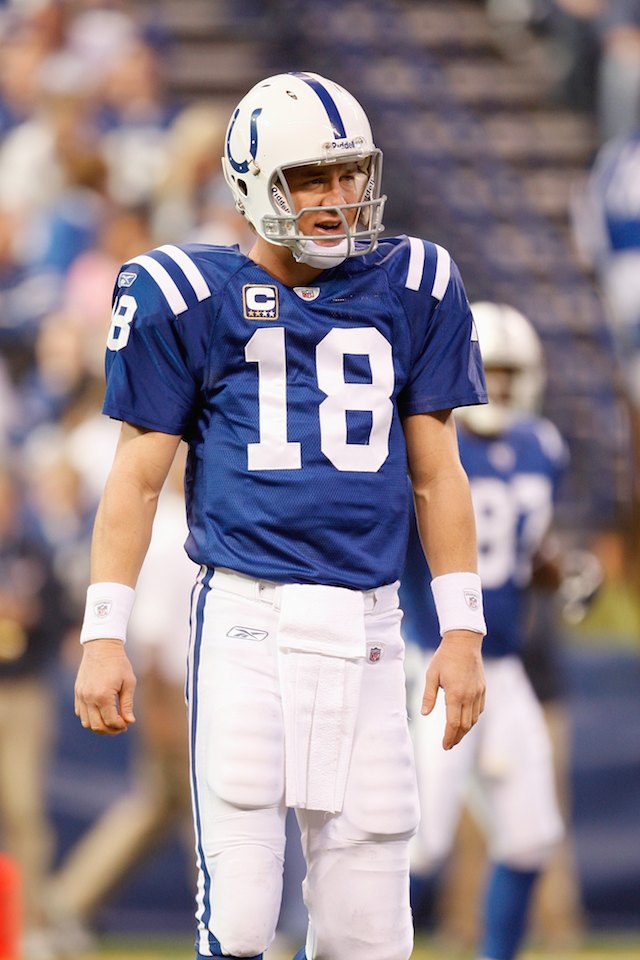 5.  Weeks 1-3 in 2008 – Indianapolis Colts
Manning's Total QBR was 51.3, and the Colts went 1-2 during this stretch. After the rough patch, Manning led the Colts to an 11-2 record over the next 13 weeks.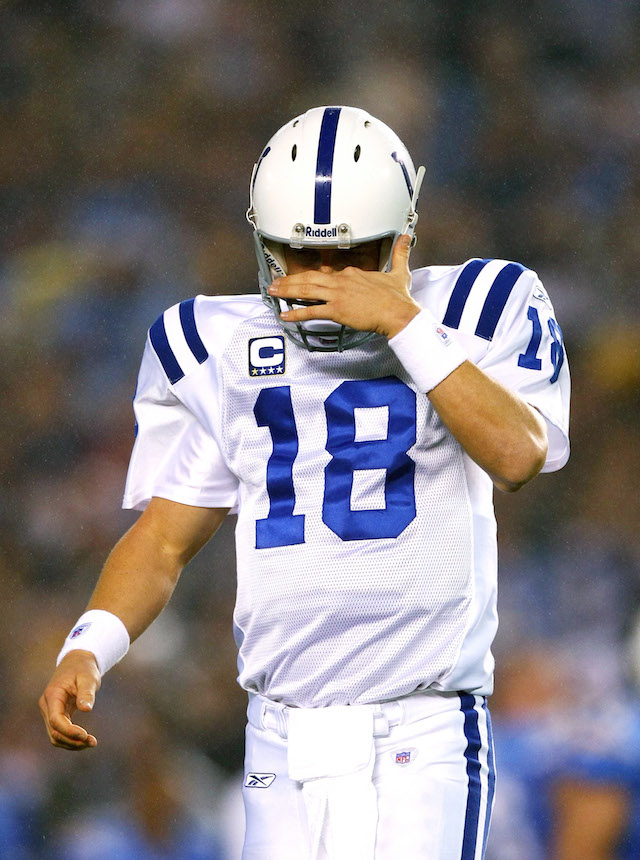 4.  Weeks 10-12 in 2007 – Indianapolis Colts 
Manning's Total QBR was 50.8, yet the Colts still went 3-0 over that stretch. He actually played well in two of the three games, but a terrible game against the Kansas City Chiefs in Week 10 dropped his three-game QBR substantially.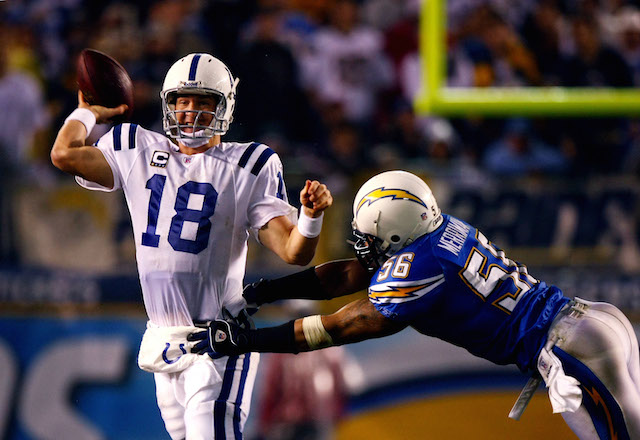 3.  Weeks 8-10 in 2007 – Indianapolis Colts
Manning's Total QBR was 50.0 and the Colts' record was 1-2 over this three-game stretch in 2007. In Week 9 against the San Diego Chargers, Manning threw a single-game career-high six interceptions.
2.  Weeks 9-11 in 2014 – Denver Broncos
This was by far Manning's worst three-game stretch as a member of the Denver Broncos. His Total QBR was 48.9 and the Broncos went 1-2 over this stretch with blowout losses to both the New England Patriots and St. Louis Rams.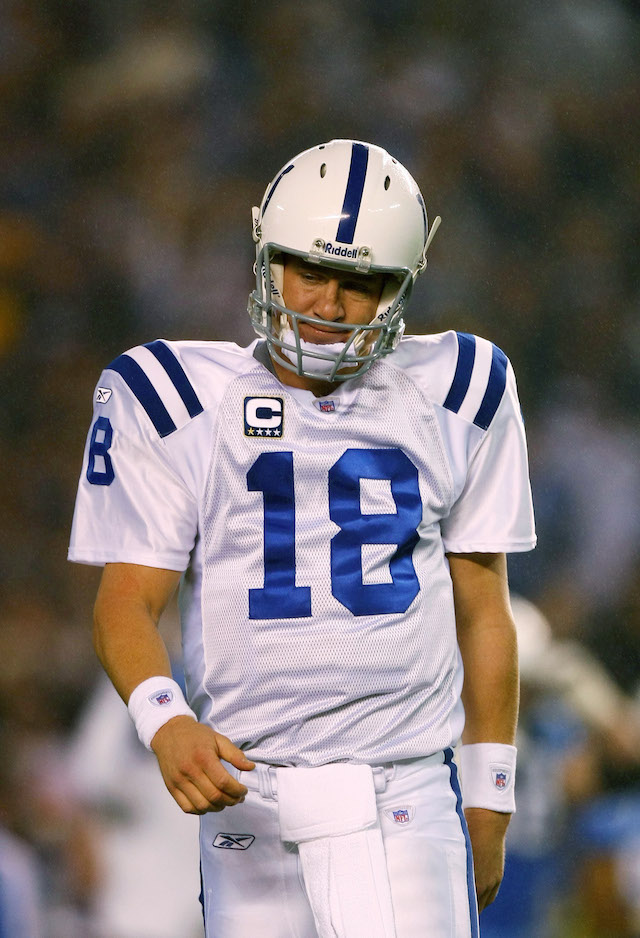 1.  Weeks 9-11 in 2007 – Indianapolis Colts
There is a common theme here; Manning did not play well for a large chunk of time in 2007. In his worst three-game stretch since 2006, Manning had a Total QBR of 36.6, yet the Colts managed to go 2-1 over that time.