Peyton Manning's Net Worth After Football Might Surprise You
Strange but true: Peyton Manning is going on five full seasons out of the NFL. However, the former quarterback continues to be a huge presence in the league. It's partly due to Manning's reputation as a hard worker who got results, netting Super Bowl wins with both the Colts and Broncos. His grinning, welcoming personality also makes him an indelible figure.
But there's something surprising about Manning's career. For a future Hall of Famer, he didn't make quite as much money as many assume.
How much money did Peyton Manning make in the NFL?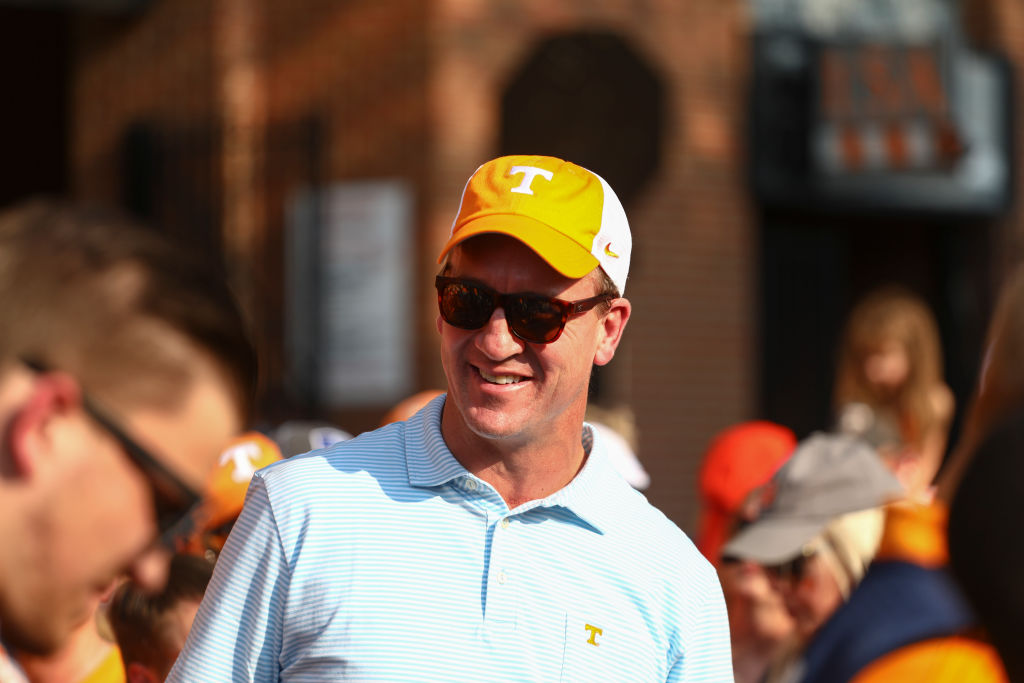 The Hall of Fame campaign for Manning starts in 2021. His resume makes a strong case. Two Super Bowls. 14 Pro Bowl appearances. Offensive player of the year awards in 2004 and 2013 — two totally different phases of his career. The 43-year-old holds two all-time records: most passing touchdowns in a season (55) and most passing yards in a season (5,477).
But the older Manning brother may have been underpaid if anything. The QB took in $161 million over 14 years with the Colts, reports FanBuzz, and $87 million over four years with the Broncos. This is an enormous total.
Then you can consider how Atlanta Falcons quarterback Matt Ryan has $223.5 million across 12 seasons, with more earnings to come. And he has exactly zero Super Bowl wins so far.
Who made more money playing: Peyton or Eli Manning?
There is little argument that Peyton Manning is one of the best of his generation, despite some off years due to injuries and age. His brother Eli Manning, on the other hand, was inconsistent throughout his time with the New York Giants. There is halfhearted pushback against Eli's inevitable campaign.
Make no mistake: the Giants quarterback hit incredible highs during his career. Eli deserves every penny he made. He also won two Super Bowls. It's just a twist of fate that he ended up making more money than his brother.
Eli made $252 million during his career, just edging out Peyton's $248 million total. That said, Eli likely won't make anywhere close to his big brother's total earnings.
How endorsements contribute to Peyton Mannings's net worth
Manning's net worth is reportedly $200 million. Somehow, he's worth just $48 million less than all of the money he took in over 14 years in the NFL. How did that happen?
Peyton's work outside of football more than makes up for his slightly low-balled NFL earnings. He has endorsement deals with DirecTV, ESPN, Gatorade, Master Card, Sony, and Sprint. He directly appeared in ads for Sprint, and Papa John's, among others.
His current campaign with Nationwide revealed Peyton as a comedic actor, complete with polished timing. These not only increase his wealth directly from the paycheck, but they create new opportunities like appearing on a Saturday Night Live special.
How broadcasting and investments bolster Peyton's net worth
Peyton isn't content to put in a day's work filming an ad and letting the checks roll in. He continues to push himself to work consistently, regularly appearing as an ESPN commentator, He even hosted the 2017 ESPY awards. The multi-talented man parlayed this into an ESPN+ series, Peyton's Places, where he explores the NFL's greatest moments.
From 2012 to 2018, Manning owned and operated 31 Papa John's stores in the Denver region. He sold these all at once, just days before the NFL decided to end their longtime partnership with the chain.
Shaq stepped in to help Papa John's recover their faltering reputation. But Peyton, so far, seems happy staying away from the restaurant business. He focuses on his on-camera work, as well as managing his charitable foundation behind the scenes.
Follow more updates from Sportscasting on our Facebook page.