Phil Hughes Went From $82 Million Pitcher to Baseball Card Fanatic
The Yankees wanted Phil Hughes to become the next Roger Clemens. Then, they wanted to see if he could become the next Mariano Rivera.
Although Phil Hughes never blossomed into either of those baseball legends, the veteran right-hander had a productive career and won a World Series with the Yankees in 2009.
Now two years after potentially throwing his final pitch, Hughes moved into the virtual world as a card reviewer on YouTube.
Phil Hughes was a top prospect with the Yankees
Much like the New York Mets once had 'Generation K,' the Yankees had their own Big Three pitching prospects. Hughes, Joba Chamberlain, and Ian Kennedy all entered the major leagues in 2007 with high expectations.
Hughes showed immediate signs he belonged in the majors that year. He went 5-3 with a 4.46 ERA in 13 games and nearly no-hit the Texas Rangers.
Hughes impressed with 3.2 shutout innings against the Cleveland Indians that postseason. Considered a breakout candidate for 2008, Hughes instead struggled with his command and went 0-4 with a 6.62 ERA in eight games.
Phil Hughes' most successful season with the Yankees came in the bullpen, though. After he opened the 2009 season in the rotation, Hughes went 5-1 with a 1.40 ERA and three saves across 44 games as a reliever.
Hughes struck out 65 hitters and walked only 13 in those 51.1 innings. The workload caught up to Hughes, though, and he had an 8.53 ERA that postseason.
Hughes had a moderately successful MLB career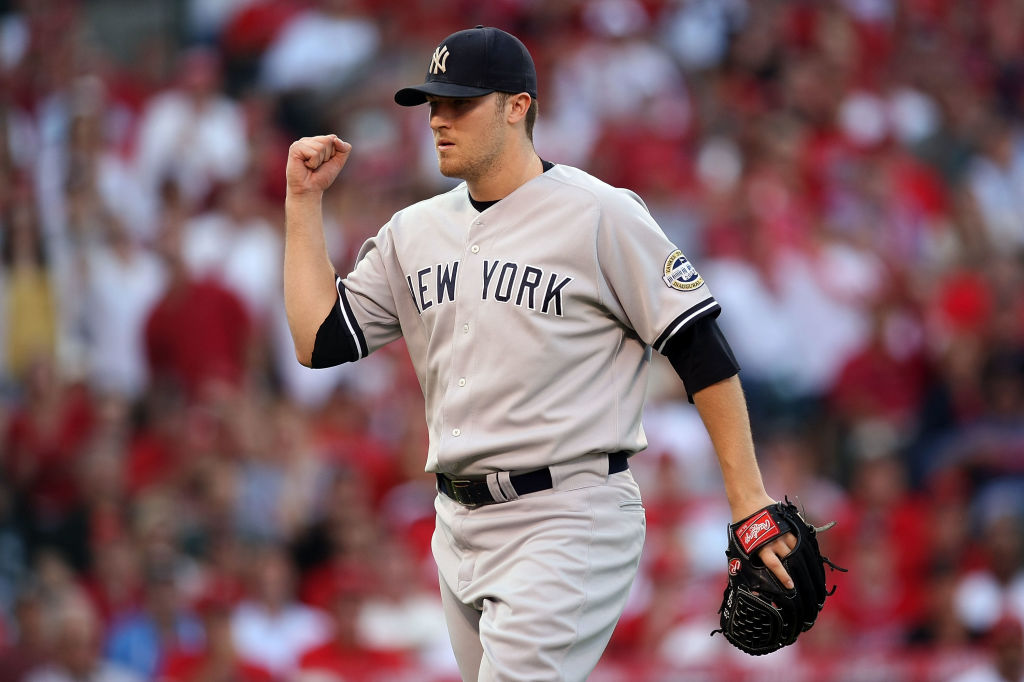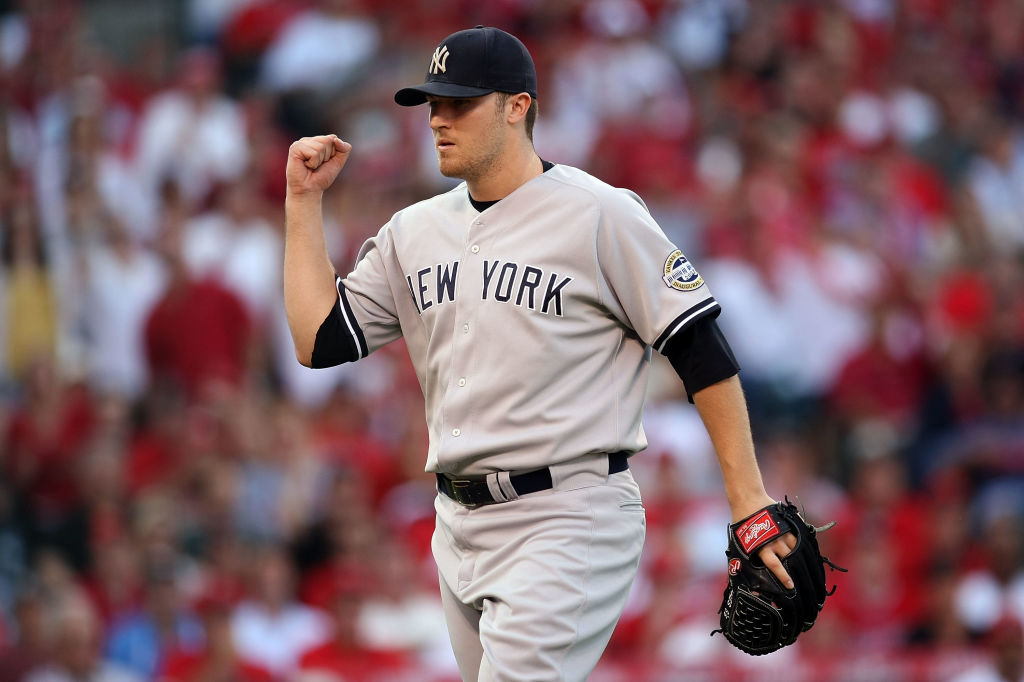 Phil Hughes retired with an 88-79 record and a 4.52 ERA in 290 career games. He made the All-Star team in 2010 and flashed signs of brilliance with both the Yankees and the Twins.
Ultimately, Phil Hughes never lived up to the expectations he entered the majors with as a 20-year-old. Whether more of the blame for that is on him or the Yankees is up for debate.
It can certainly be said, however, that Hughes had a better career than fellow top prospect Joba Chamberlain.
Hughes retired with a Wins Above Replacement score of 11.2, according to Baseball-Reference. A sizable chunk of that came in 2014 when he was worth 4.6 WAR in his first year with the Twins.
Phil Hughes now reviews baseball cards on YouTube
Phil Hughes made over $82 million in his career, according to Spotrac. Surprisingly, far more of that — over $50 million in fact — came from the Twins rather than the Yankees.
Of all the post-career ventures one would have expected an All-Star pitcher to go into, it's unlikely reviewing baseball cards is one of them. Try telling that to Phil Hughes, though. Hughes started a YouTube channel, "Phil's Pulls," in September 2019.
Now living in Laguna Beach, Calif., Hughes reviewed everything from modern baseball cards to Pokemon trading cards. The channel has nearly 40,000 subscribers as of May 2020.
Hughes told The Athletic earlier this year he didn't consider himself retired. The YouTube channel is his role now, and it may stay that way.
If it doesn't, and Hughes feels the urge to try a comeback attempt, that door is still open.
"I don't need to write a message on Twitter to say that I've retired. Is that, like 'the rule'? Who knows? Maybe I'll wake up at 35 and want to go play catch, and feel like I can do it."