Phil Jackson Used Horace Grant as a Scapegoat Early in His Bulls Career: 'Coach Jackson Needs You to Be a Sacrificial Person Sometimes'
Former Chicago Bulls and Los Angeles Lakers head coach Phil Jackson wasn't afraid to pit his players against one another or vilify guys on his roster if he felt it would eventually bring the team together. Such was the case with former Bulls power forward Horace Grant.
Jackson said the Bulls teams of old used to pin their faults on Grant as a motivational mechanism. Grant's willingness to be the fall guy might also explain the growing tension he developed with Michael Jordan.
Phil Jackson and the Bulls made Horace Grant a "sacrificial" figure to try to bring the team together
Phil Jackson had some curious methods during his coaching career. From spraying sage in the locker room to sparking drama in the media, Jackson never seemed shy about taking unorthodox methods in the pursuit of team success.
Jackson's motivational tactics when he first took over the Bulls were every bit as curious.
The 11-time champion told a story about Horace Grant in an interview with Positive Coaching Alliance back in 2012. Jackson explained that one of his assistant coaches essentially used Grant's affinity for the Marine Corps as a means of suggesting he be a scapegoat when the team wasn't performing.
Jackson said that initially, Grant signed off on this tactic. However, years of excessive criticism wore on the Bulls power forward.
According to Jackson, Grant finally snapped during a playoff series in which he had to guard Charles Barkley. Jackson said that moment forced him to change his approach with Grant and use positive reinforcement to boost the big man's confidence.
Maybe the blame-placing served as a rallying cry for the Bulls dynasty in the early 1990s. However, it's also easy to see why the constant negativity surrounding Grant sparked some frustration within him, especially as it pertained to Michael Jordan.
The tension between Michael Jordan and Horace Grant is still palpable
The release of ESPN's The Last Dance and the discussion surrounding the documentary did even more to heighten the idea of Horace Grant as a scapegoat for the Bulls. It also hinted at the hard feelings that exist between Grant and Michael Jordan.
Jordan claimed Grant was the one who fed former Chicago Tribune writer Sam Smith with team information that then became public knowledge with the release of Smith's book, The Jordan Rules. Other Bulls players, including Will Perdue, said Grant was upset at being in MJ's shadow.
Grant denied divulging information to Smith. He subsequently unleashed criticisms on Jordan and suggested he could have pummeled the Bulls star in a physical altercation. Meanwhile, Smith stoked the fire even more by saying Jordan refused to let Grant eat after bad games.
The dynamic between MJ and The Enforcer is a complicated one, and a lot of it seems to stem from everybody — especially Jordan — constantly pointing fingers at Grant.
Phil Jackson probably could have done more to intervene. But the Zen Master likely hoped that internal conflict would eventually pay dividends. The history books would prove him right.
Grant was an integral part of the Bulls dynasty and later joined Jackson in LA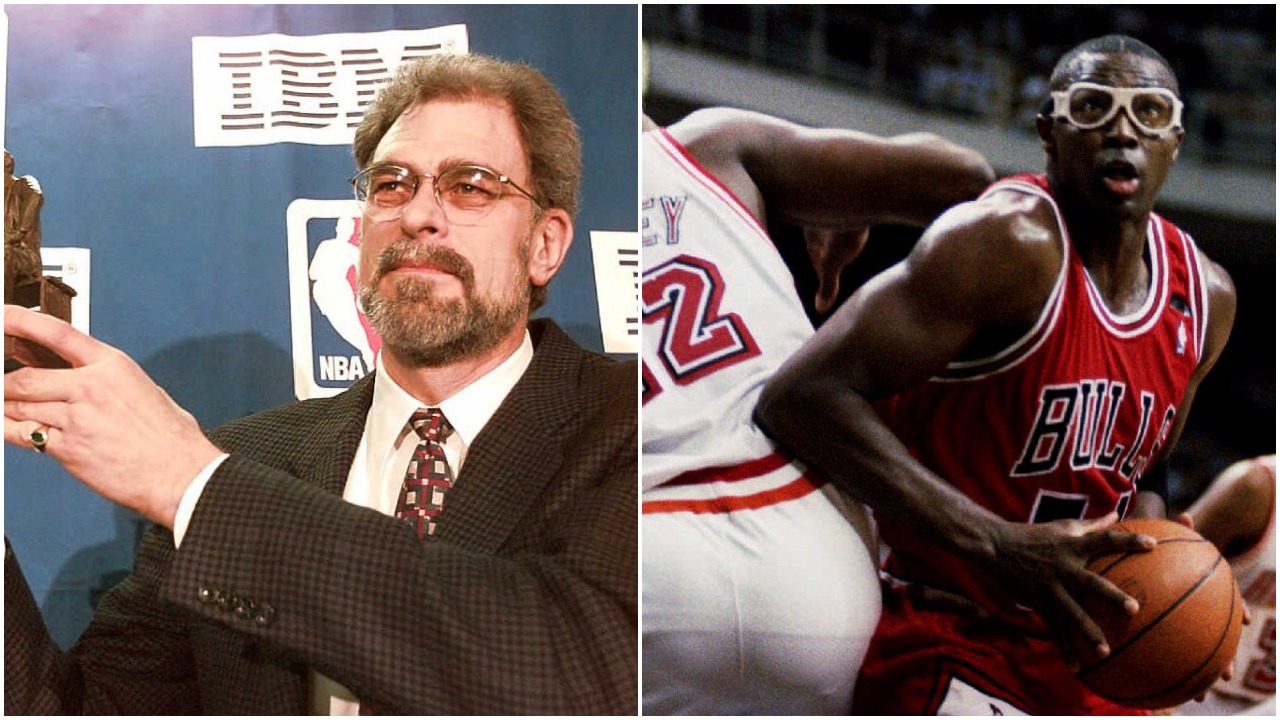 Whether Horace Grant deserved such punishment is up for debate. What is clear, however, is that he was an essential piece of the Bulls dynasty.
Grant was a tireless worker who gave Chicago a necessary frontcourt presence. He averaged 13.8 points, 9.7 rebounds, 2.7 assists, 1.2 steals, and 1.2 blocks between the Bulls' first title (in 1991) and the 1993-94 season, when he made his first and only All-Star team. The Augusta, Georgia native also earned a pair of All-Defensive selections in Chicago.
While the best part of Grant's career came with the Bulls and the Orlando Magic, he wasn't quite done with Jackson. Grant started at power forward for the 2000-01 Los Angeles Lakers, winning his fourth and final championship. Incidentally, that season sort of marked the start of Jackson's insistence on stirring the pot between Kobe Bryant and Shaquille O'Neal.
Michael Jordan and Scottie Pippen rightfully get the overwhelming majority of the credit as the two superstars on the Chicago Bulls teams of the 1990s. But Chicago probably doesn't win without Grant's blue-collar effort and hard-nosed style.
Phil Jackson's methods needed changing, and Grant's unrest from being made a scapegoat remains to this day. Still, winning speaks for itself, and the Jackson-Grant partnership yielded plenty of positive results.
Stats courtesy of Basketball Reference.
RELATED: Phil Jackson Revealed How Badly Kobe Bryant's Teammates Wanted Him Gone From the Lakers: 'Kobe Was a Juvenile Narcissist'