Phil Jackson Rescued the Los Angeles Lakers From a Coach Incapable of Shutting Up: 'It Was Like Hearing Your Grandfather Talk Sometimes'
The Los Angeles Lakers had a pair of legendary eras very close to one another. One was Showtime, where Magic Johnson, Kareem Abdul-Jabbar, and Pat Riley helped bring five championships to LA between 1979 and 1991. The other was the 'Three-peat' era, as Shaquille O'Neal, Kobe Bryant, and Phil Jackson won three consecutive titles for the Purple and Gold from 2000 to 2002.
However, the in-between period is often forgotten when discussing Lakers history. The 90s featured players like Nick Van Exel, Eddie Jones, and Cedric Ceballos putting up buckets at The Forum. They also had a collection of six different head coaches separating Riley and Jackson, one of whom was the sweet yet talkative Del Harris.
Del Harris brought stability to the Los Angeles Lakers after Showtime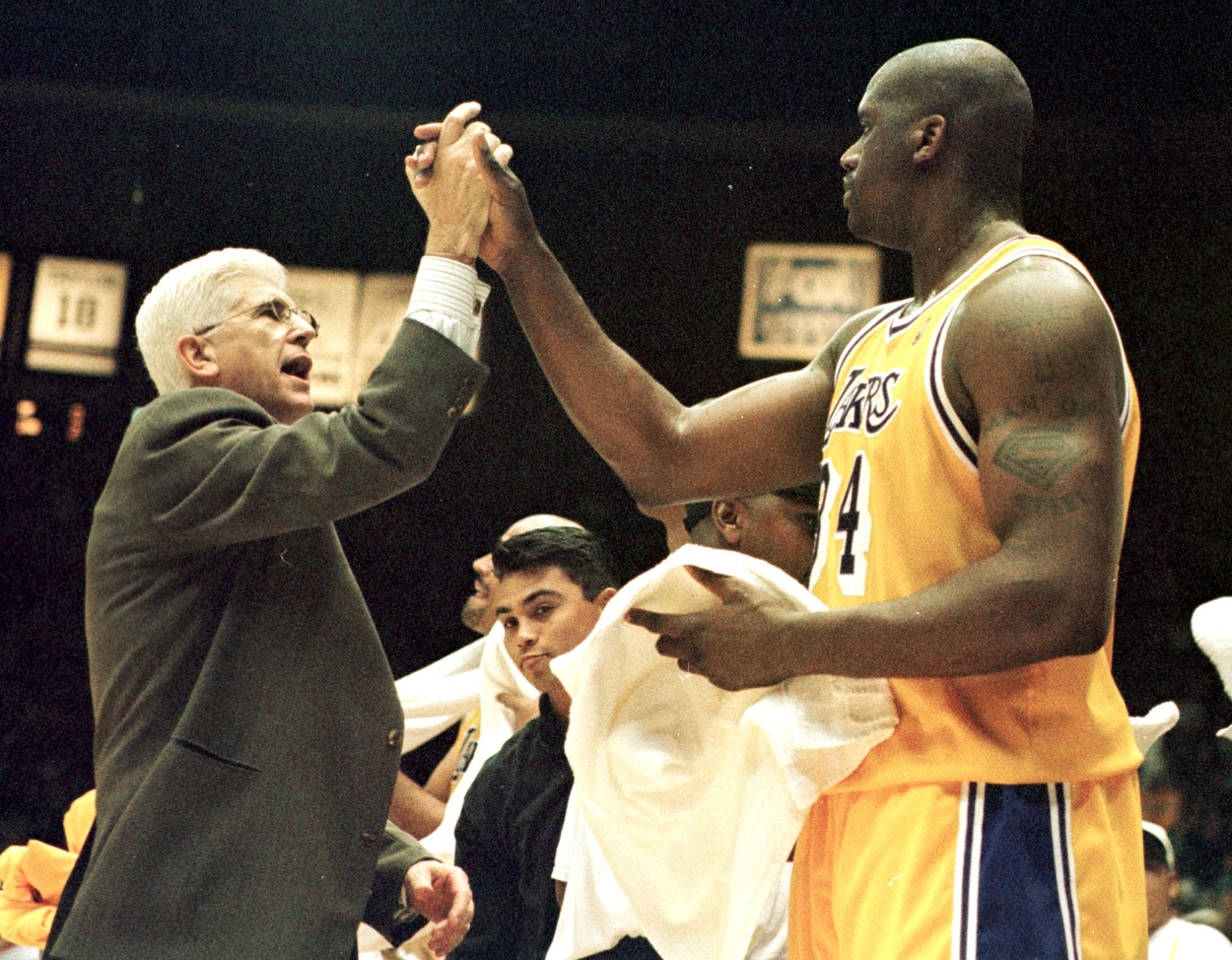 After a decade-plus of consistent success, Showtime ended in LA. Magic retired in 1991 after testing positive for HIV, one year after Riley stepped down as coach. For the next three seasons, the Lakers won 43, 39, and 33 games, with four coaches all seeing time on the bench. Finally, after a failed experiment with Johnson as head coach, Harris was hired ahead of the 1994-95 season.
Harris had previously coached the Houston Rockets and Milwaukee Bucks. He made the playoffs in seven of his eight full seasons, but only led his team past the conference semifinals once. However, Harris immediately helped make LA relevant again.
In Harris' first season, the Lakers had a 15-game turnaround, going 48-34 and advancing past the first-round for the first time since 1991. As a result, he was named NBA Coach of the Year, the first and only time he received the award. The following year, LA won 53 games, its most since '91. Once O'Neal and Bryant arrived ahead of the 1996-97 season, the Lakers won 56 and 61 games in each of the next two years. However, their best ending was a four-game loss against the Utah Jazz in the 1998 Western Conference Finals.
The Lakers liked Harris as a person, but his constant talking was too much
With a lot of experience under his belt and a young team eager to learn, Harris wanted to communicate as much as possible. And communicate he did, often to the point of losing any attention his players were giving him.
As detailed in Jeff Pearlman's book Three Ring Circus: Kobe, Shaq, Phil, and the Crazy Years of the Lakers Dynasty, Harris would talk about commitment, shot selection, his childhood, coaching the Rockets, his wife and kids, his least favorite restaurants, and so much more. Usually, all in one meeting. It's one of the reasons his nickname, even before his time with the Lakers, was 'Dull Harris'.
"There are long-winded people in this world," former Laker Corie Blount told Pearlman. "But Del takes it to a different level. Nobody dislikes him. But basketball players want to play. And Del wanted to discuss every way to get open. Then reexamine the discussion."
"I really like Del," said Van Exel, who joined the Lakers one year before Harris. "But the meetings — they weren't short."
"It was like hearing your grandfather talk sometimes," O'Neal also recalled.
"Chuck Daly had a saying when he coached the [Detroit] Pistons," added former NBA coach Brendan Suhr. "He'd say, 'You have to learn to speak to the players in sound bites.' Del would speak for 45 minutes on a press defense. Chuck would do it in 30 seconds."
Phil Jackson brought the Lakers back to championship glory
Harris' tenure was hardly a failure. Under his tutelage, LA made the playoffs in four straight seasons, finishing no worse than 48-34 and winning four playoff series. However, the lockout-shortened 1998-99 season got off to a slow start, as LA went 6-6 to open play. The skid was enough to cost Harris his job.
"We were not playing up to our potential and we needed change," said former general manager Jerry West in Three Ring Circus. "But that doesn't mean Del wasn't a terrific man. He was. Man and coach. Sometimes you just need a different look."
Thanks to interim head coach Kurt Rambis, the Lakers salvaged the season by finishing 31-19 and advancing to the Western Conference semifinals. But after another playoff loss, Phil Jackson was brought into the fold.
Immediately, Phil managed to get the most out of his players. His communication and leadership style was far different than Harris', but it paid off in a big way. The Lakers went 67-15 in 1999-00 and captured their first championship since Showtime in 1988. The following two years ended with two more titles, giving Jackson nine rings as a head coach. Meanwhile, Harris served as an assistant coach for three NBA teams after getting canned and never won a ring of his own.
Ultimately, Del Harris played a key role in helping the Lakers return to their championship ways. But perhaps if he edited himself a little bit more, he could've been the coach to get them to the promised land.
All statistics courtesy of Basketball Reference.
RELATED: Phil Jackson Used an Undrafted Rookie to Prepare the Los Angeles Lakers for Allen Iverson