Phil Jackson Used an Undrafted Rookie to Prepare the Los Angeles Lakers for Allen Iverson
When the Los Angeles Lakers and Philadelphia 76ers met in the NBA Finals in 2001, there were two big storylines. First, how would Shaquille O'Neal and Kobe Bryant perform in their second straight Finals appearance? And second, who was going to stop Allen Iverson?
Lakers head coach Phil Jackson was particularly concerned with the second storyline. Iverson was the 2000-01 league MVP, nearly single-handedly guiding the Sixers to the Finals. Even with two All-Stars of their own, LA knew they were going to have their hands full defending a unique player like Iverson.
So ahead of the Finals, the Zen Master sought help from an unusual source, hoping he would provide an answer for … The Answer.
Allen Iverson had a historic MVP season
As good as Shaq and Kobe were in 2000-01, Iverson was better. The six-foot guard from Georgetown led the league in scoring for the second time in his career, averaging 31.1 points per game. It was the first of four times A.I. would average 30 or more points in a season, a feat surpassed by only Michael Jordan, Wilt Chamberlain, and Oscar Robertson.
Iverson's regular-season accolades were impressive, especially given his small stature in a league dominated by big men. But his playoff performance was even more of a testament to how good The Answer was that season.
Following a home loss in Game 1 of the Eastern Conference Semifinals, Iverson dropped 54 points on the Toronto Raptors in Game 2. In Game 5, he racked up another 52 points, while in Game 7 he dished out 16 assists to survive and advance. In the Eastern Conference Finals, A.I. set the tone with a 34-point performance in Game 1. But his closeout of the Milwaukee Bucks was epic, as Iverson scored 46 and 44 points in Games 6 and 7 to send Philly to the NBA Finals for the first time since 1983.
"He was special," said 76ers coach Larry Brown. "The most special player I ever had on a team."
To prep for Iverson, Phil Jackson enlisted the help of an undrafted rookie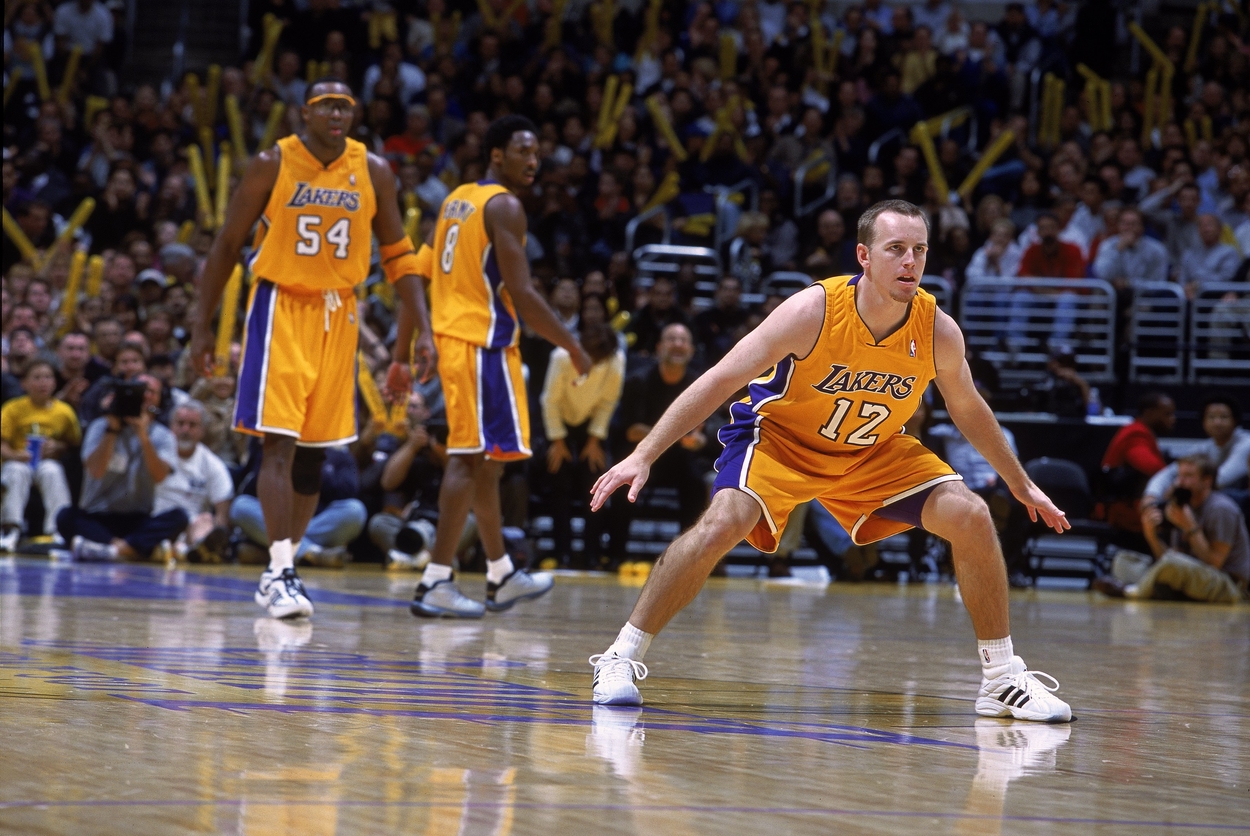 Mike Penberthy was a 6-foot-3 point guard from The Master's College (now The Master's University), a private Christian school in the NAIA. His NBA career lasted two seasons, where 53 of his 56 career games came off the bench for the 2000-01 Lakers. Penberthy averaged 4.9 points in two NBA seasons before playing overseas for the majority of his career.
He was also, at one point, Allen Iverson.
Penberthy was deactivated for the playoffs, but it didn't mean he wasn't serving an important role for the Lakers. In practices, Jackson had the rookie mimicking the point guards LA was going up against in the postseason. Over the last several weeks, Penberthy had imitated the habits and mannerisms of Portland Trail Blazers point guard Damon Stoudamire, the Sacramento Kings' Jason Williams, and the San Antonio Spurs' Avery Johnson.
With one series to go, Jackson had Penberthy mimic Iverson to help his players prepare for the league MVP (h/t Three-Ring Circus: Kobe, Shaq, Phil, and the Crazy Years of the Lakers Dynasty by Jeff Pearlman).
"'Mike,' Jackson said on the first day of Iverson 101, 'I'm giving you the green light. Go out there and gun.' Penberthy was a whirling dervish of energy and emotion. All the discipline of the triangle could be — needed to be — set aside. Day after day, he beat up on [starting point guard Derek] Fisher, beat up on [Tyronn] Lue, pulled up on Kobe and fired."

Jeff Pearlman
Not only were the Lakers getting a crash course in defending the MVP, but Penberthy was soaking up the praise he was receiving.
"Guys would say, 'Mike, you're an amazing player!'" Penberthy later recalled. "It was so much fun to break out."
Penberthy helped the Lakers beat Iverson and the 76ers
"Iverson 101" didn't completely neutralize Iverson. A.I.'s 48 points in Game 1 helped guide Philadelphia to an early series lead. But over the next few days — headlined by more practices with Penberthy — the Lakers held Iverson to under 40 percent from the field, winning four in a row to claim their second straight title.
Penberthy would eventually find his way back to Los Angeles. The former Laker won a championship in 2020 while serving as an assistant under head coach Frank Vogel. Prior to his return to LA, he was an assistant with the New Orleans Pelicans and Minnesota Timberwolves, as well as a private trainer.
The former star from The Master's College is still on Vogel's bench and has a chance to add more championships to his resume. But few memories will top when, for a few practices in 2001, he became Allen Iverson.
All statistics courtesy of Basketball Reference.