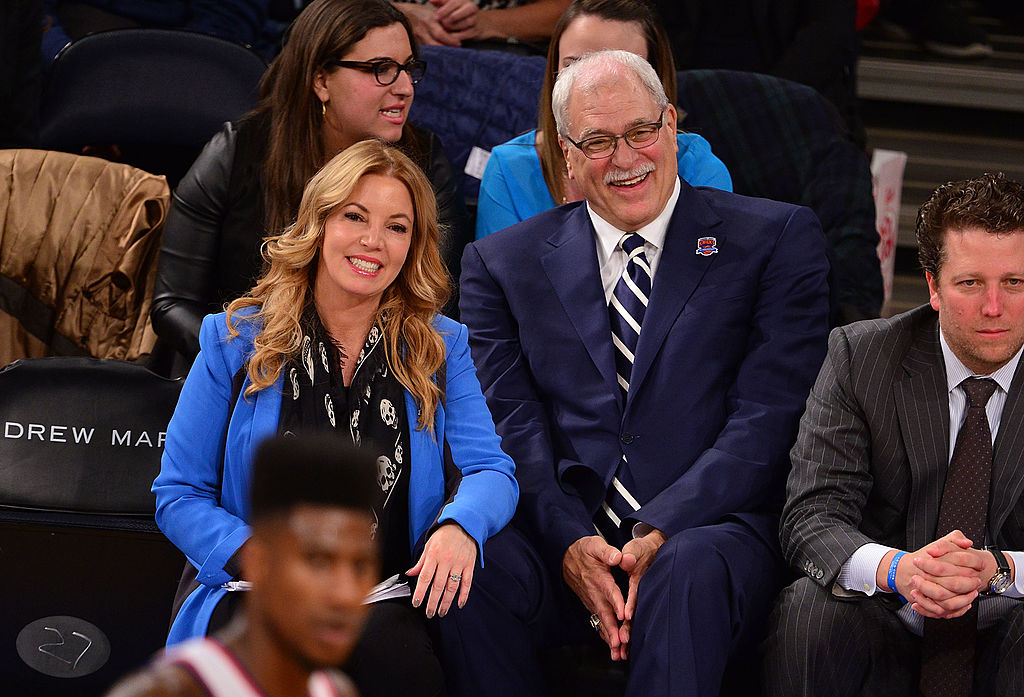 Phil Jackson's Romantic Relationship With Lakers Owner Jeanie Buss Was Great but Also Complicated
Phil Jackson and Los Angeles Lakers owner Jeanie Buss were together for a long time. Their relationship was great too, but also complicated.
Phil Jackson is one of the greatest coaches to ever coach in the NBA. He has 11 championship rings to show for it too. He was also a part of one of the most well-known power couples in sports history. Jackson had a long romantic relationship with the current controlling owner of the Los Angeles Lakers, Jeanie Buss. While they had what seems like a great relationship. It was also very complicated.
Jackson went to the Lakers as one of the greatest coaches in NBA history
After spending time as an assistant coach and as a coach in the CBA, which also followed a successful playing career in the NBA, Phil Jackson found immediate success as head coach of the Chicago Bulls. Jackson's first season as head coach of the Bulls was in 1989-90. In his second season, the Bulls, led by Michael Jordan, won the NBA championship. They did not just do that, though. The Bulls completed a three-peat over the next three seasons. So, in Jackson's first four seasons as head coach, he won three championships.
Then after not winning championships during the time Jordan decided to try playing baseball, the Bulls won three more championships in a row from 1996-96 through 1997-98. However, Jackson did not return to the Bulls after the 1997-98 season. The franchise ultimately decided to go in a different direction. 
Jackson did not coach during the 1998-99 season. However, he then coached the Los Angeles Lakers starting in the 1999-2000 season. The Lakers then won a three-peat in Jackson's first three seasons there. He then won two more championships with them 2008-09 and 2009-10 as he has 11 championships as a head coach. 
The last season Jackson ever coached was in 2010-11. 
Jeanie Buss and Phil Jackson were a power couple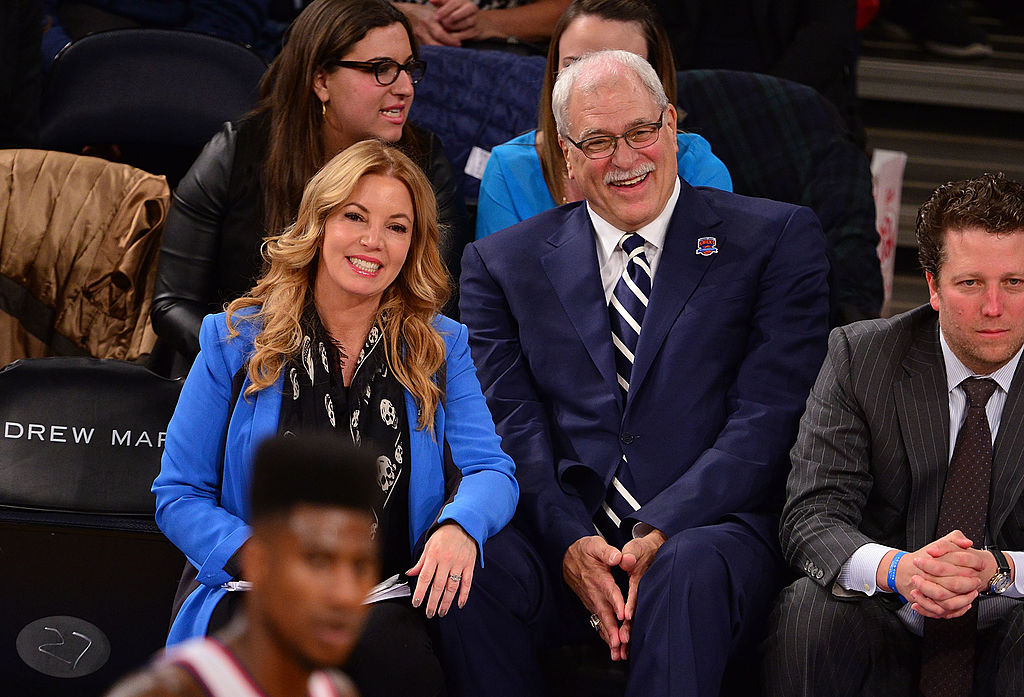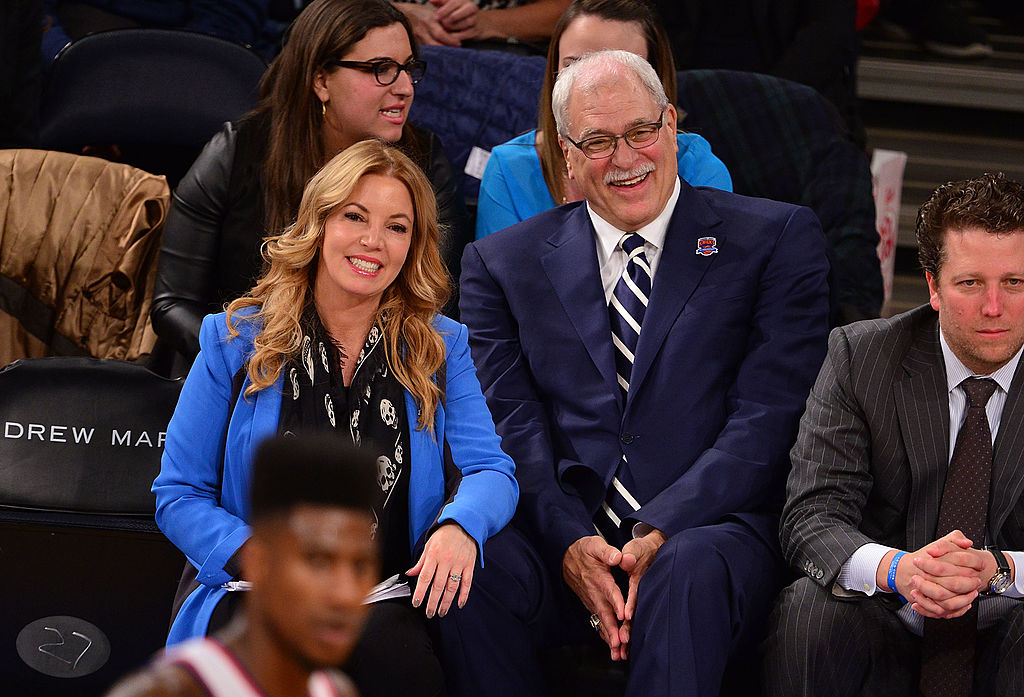 Jeanie Buss is the daughter of the late Los Angeles Lakers owner, Dr. Jerry Buss. She is also very successful and has climbed her way up in the organization over the years. In fact, in 1999, Jeanie was promoted to executive vice president of business operations, according to USA Today. Also in 1999 was when Jeanie and Phil Jackson started dating.
One of the greatest coaches in NBA history dating the daughter of one of the most powerful owners in the history of sports is pretty crazy to think about. They did it, though, and it worked for a while. This is what ESPN's Ramona Shelburne wrote about their relationship back in 2016. 
"During the best of times, when the Lakers were winning NBA championships, they'd ride to the arena together from their house in Marina Del Rey," Shelburne wrote. "Once on the drive in, Jackson mentioned Lamar Odom needed a little extra encouragement as he adjusted to his new role as a sixth man. So during the game, Buss and her girlfriends made a point of cheering for Odom as he checked into the game. 'Take your pants off!' they yelled out, as Odom shed his warm-ups near the scorers' table. He beamed at the attention."

Ramona Shelburne
The two worked together to help the Los Angeles Lakers win five NBA championships. The franchise continued to thrive post-Magic Johnson, and they both had a lot to do with it. Lakers fans owe them a lot. However, their romantic relationship did not last forever.
Breaking off an engagement
Dr. Jerry Buss was diagnosed with terminal cancer in 2012, according to ESPN. Despite there being some drama regarding who would be the Lakers' head coach at that time, (Jackson offered to do it despite being retired, but GM Mitch Kupchak and the team selected Mike D'Antoni instead, according to ESPN) Phil Jackson proposed to Jeanie in December 2012, according to Sports Illustrated. After dating for over a decade, it looked like the two were on the verge of getting married.
However, Jackson became president of the New York Knicks in 2014. Jeanie's role in the Lakers' organization began to increase too, as Jerry died in 2013. This led to them living apart and they could not discuss their jobs with one another as they signed documents saying there would be no conflicts of interest between the Lakers and Knicks, according to ESPN.
They then ultimately broke off their engagement in 2016. Jackson said this, according to Sports Illustrated, "With the nature of our professional obligations and the geographic distance between us, sustaining the relationship has been difficult. We have shared many wonderful moments through the years, and we expect to remain supportive of each other in the future."
Since then, the Knicks and Jackson have parted ways, and Jeanie has become the governor and controlling owner of the Lakers. The two seem to be friends still as Jeanie recently posted a picture on Instagram of Jackson with Kobe Bryant taken earlier this year before Bryant's death, according to Sports Illustrated. The power couple is no more, though.
Phil Jackson and Jeanie Buss were the most powerful couple in NBA history. Their relationship, from the outside, seemed complicated at times, but it ultimately led to multiple rings. Five championship rings and one engagement ring.